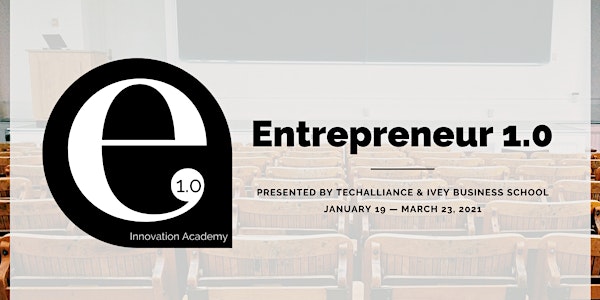 Entrepreneur 1.0 Innovation Academy
Bringing your world-changing idea to life takes a bold vision and decisive action.
Refund Policy
Contact the organizer to request a refund.
About this event
Entrepreneurship isn't a straight path, and the fastest-growing companies aren't running alone.
Entrepreneurs need a place to build, reflect, and finesse their plans in the company of likeminded, passionate founders. The Entrepreneur 1.0 Innovation Academy will provide the perfect ecosystem for your venture to thrive as you embark on the journey of a lifetime.
Hosted in partnership by TechAlliance and the Ivey Business School at Western University, E1.0 equips you with the practical tools and knowledge required to manage the challenges your startup will face and help you develop the network of peers and mentors that every entrepreneur needs.
Across 10 weeks, you will craft the critical components of your business plan while gaining an understanding of finance fundamentals and how to attract investment, determine how to find product-market fit and grow sales, communicate your value proposition, and determine your growth goals through esteemed Ivey faculty, seasoned entrepreneurs, and subject matter experts, including interaction and coaching through our Venture Growth & Corporate Innovation team.
Invest in your venture's growth and develop a deep understanding of how to tackle challenges, put the right advisors in place, and gain the knowledge to prepare and pivot for your business to thrive.
Course Schedule:
January 19 | The Evolution of a Business
January 26 | Startup Legal & Protecting Intellectual Property
February 2 | Communicating Your Value Proposition
February 9 | Market Strategy
February 16 | Sales
February 23 | Cash Flow Management
March 2 | Growth Management
March 9 | Operations
March 16 | Funding Your Business
March 23 | The Business Plan & Founders Panel
E1.0 is designed for those with an idea ready for takeoff or a launched venture needing the tools to soar. At TechAlliance, we serve businesses at all stages of growth. If you have a product or technology in-market, have early customer traction and revenue our GROW Accelerator may be a fit. Let us know if you'd like to be considered for our next GROW cohort.