Entrepreneurs Unplugged with Myles McGovern

Monday, 8 May 2017 from 6:00 PM to 8:00 PM (PDT)
Event Details
Powered by Accelerate Okanagan and Grant Thornton, Entrepreneurs Unplugged features an experienced entrepreneur who shares their startup experiences. Community members will have an opportunity to learn how a successful startup is created, as well as the chance to ask questions to the guest entrepreneur. This event is well attended by the Kelowna community and it's an excellent opportunity to network with members of the local entrepreneurial ecosystem.
Past guests of Entrepreneurs Unplugged have included Mike Checkley, Warren Houston, Chris Heivly, Delna Bhesania, Brenda Gershkovitch, Ryan Holmes, Steve Blank, Geoffrey Moore, Rasool Rayani, Jonathan Wolske, Sascha Williams, Robert Reich, Lane Merrifield and Lance Priebe.
On May 8th, 2017, come join us for a fireside chat in our new lounge space at the Okanagan Centre for Innovation where Myles McGovern, former President and CEO of Immersive Media will tell his story.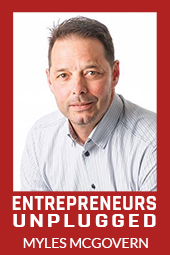 Myles McGovern was the President and CEO of Immersive Media Company (IMC) and the President of IM360, a joint venture between IMC and Digital Domain Holdings Limited before Digital Domain acquired IMC in Dec 2015.  IMC's revolutionary 360° video technology has been changing the face of interactivity across the web, mobile devices and VR, creating a new standard for the way we interact with video in the entertainment market.
Under Myles' direction Immersive Media pioneered and became the world's leading provider of 360° interactive video. Starting with military and intelligence applications, the technology was popularized when Immersive Media brought the concept of "Street View" to Google. It has since become the industry standard for interactive second screen experiences. From working with top brands such as Converse, Samsung and Mountain Dew, breaking new ground for American Express "Unstaged," with the Taylor Swift video, "Blank Spaces," to the live streaming of an NHL game, Immersive Media is changing the way we view entertainment.
Prior to joining Immersive Media in 2004 Myles was Founder, President and CEO of Centrinity/MC2. It was there he spearheaded the company's rapid growth into 55 countries and was twice nominated for Canadian Entrepreneur of the year. In addition, Myles spent 10 years at Xerox working in product management for digital product integration strategy. Myles is a graduate of Simon Fraser University.
 *Please note that the venue has limited capacity. Tickets are limited and based on availability
*This event is brought to you by Accelerate Okanagan and Grant Thornton.
When & Where

Accelerate Okanagan
#201 - 460 Doyle Ave.
AO Lounge
Kelowna, BC V1Y 0C2
Canada

Monday, 8 May 2017 from 6:00 PM to 8:00 PM (PDT)
Add to my calendar
Organizer
Accelerate Okanagan focuses on helping to develop and support a vibrant entreprenuerial, creative and innovative technology community throughout the Okanagan