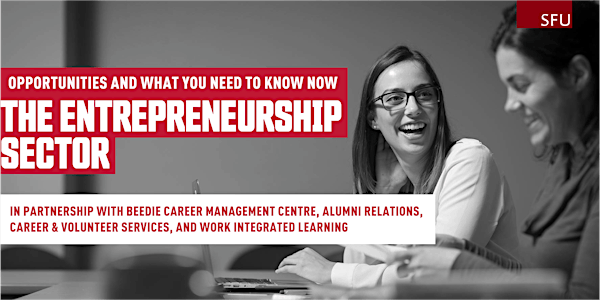 Entrepreneurship: Opportunities and what you need to know now!
Entrepreneurship: Opportunities and what you need to know now!
About this event
Ask the Entrepreneur…
Are you a senior student, new grad or alumni wanting to move your side hustle to a full hustle or have a great idea you want to take to market?
You are not alone. With 500,000 small businesses in BC, they are a vital part of our economy with BC leading Canada's growth in the number of small businesses as well as the small business job growth, each year between 2014 – 2018.
Join us for an engaging panel moderated by SFU's Director of Entrepreneurship, Sarah Lubik, and featuring SFU alumni entrepreneurs from a variety of industries who have taken their ideas and developed them into successful businesses.These innovative entrepreneurs will share their stories, insights, lessons learned as well as the many resources available, with the aim of inspiring you to take the leap to becoming an entrepreneur.
Bring your questions; there will be plenty of time allocated for the Q&A.
Please note: Zoom login information will be sent to you the day of the event.
Panelists include:
Geof Auchinleck, Co-founder and CEO, Claris Healthcare Inc.
Geof has 35 years of experience with medical device startups field. He has worked on surgical robotics, joint implants, minimally invasive surgery, lab automation and blood transfusion management. Most recently he co-founded Claris Healthcare to develop a platform for the delivery of care into the home – including social isolation prevention, remote patient monitoring and coaching for recovery from surgery. Geof is active in the Vancouver community through Creative Destruction Labs, the Medical Device Development Centre and the boards of several medical device companies.
Christina Wong, Executive Director and Co-Founder, Employ to Empower
Christina Wong is Executive Director and Co-Founder of Employ to Empower, an organization that provides access development and entrepreneurial resources to local residents. Using a "hand-up, not hand out" approach, Christina developed programs that offer affordable micro-loans and business mentorship to people facing work and social barriers. She was instrumental in developing the organization's Basic Business Fundamentals and Soft Skills Course for local artists and entrepreneurs. Employ to Empower advocates to bring about positive change for residents in the Downtown Eastside to create a community free of stigma, where residents are seen, heard, and validated. To encourage dialogue, Christina created the Cardboard Project which seeks to engage local entrepreneurs in the Downtown Eastside with the other members of the public to raise awareness and showcase artists' voices. In 2020, Christina was selected as one of the nominees for the YWCA Women of Distinction Awards in the Non-Profit category
Benjamin Britton, Founder and the Chief Strategy Officer, Ionomr Innovations Inc.
Dr. Benjamin Britton is a founder and the Chief Strategy Officer of Ionomr Innovations Inc., producer of breakthrough advanced materials significantly enabling cost-effective hydrogen technologies and profit-positive CO2 utilization. He is a World Energy Council 'Expert in Innovation,' Business in Vancouver 'Top 40 under 40,' Hong Kong Canada Business Association 'Entrepreneurial Achiever Under 35,' and author on seven patents & twenty scientific papers. He has been instrumental in raising more than $8M in funding from angels & venture capitals, and more than $5M in government grants, both figures set to more than triple in the coming year. As a native Vancouverite and Swiss-Canadian, Benjamin maintains the requisite interests in sushimongering together with hiking, kayaking, and other activities related to travel, topography, and the various physical states of water.
Benjamin holds a BSc from TWU, a PhD in Chemistry from SFU as well as a graduate certificate from Beedie's Idea to Innovation program.
Farah Saad, Founder and CEO, Be Kalm
Farah Saad founded Be Kalm, a mindfulness consulting agency that specializes in stress and anxiety management and integrating wellness into the workplace through a full range of practical, results driven services including customized workshops, internal audits and mindfulness implementation plans to help businesses maximize their team's potential. Farah studied Eastern wellness practices through training with spiritual healers and silent meditation retreats in Myanmar and temples in Bali, Indonesia. She is passionate about living life whole-heartedly and embracing mindfulness daily. Farah has worked with Global Affairs Canada, CFIA, iQmetrix, Simon Fraser University, Work BC, and Department of Canadian Heritage. Farah's goal is to shift the corporate culture in North America through making mindfulness a daily practice in the workplace and community at large.
Moderator:
Sarah Lubik, Director of SFU's Charles Chang Institute for Entrepreneurship
Dr. Sarah Lubik is an award-winning educator, entrepreneur, researcher and intrapreneur. Currently, Sarah is the Director of the Charles Chang Institute for Entrepreneurship, where she promotes the power of, and need for, interdisciplinary teams, experiential education and empathy to solve the wicked problems currently facing our world, as well as co-champion of the Technology Entrepreneurship@SFU program.
Sarah has coordinated pan-European startup support programs, is a certified expert business coach and is the co-founder and marketing director of a high-tech startup. In addition, Sarah is on the boards of Young Entrepreneur Leadership Launchpad, PowerPlay Young Entrepreneurs, and the IINC Foundation.
Named one of Business in Vancouver's Top 40 under 40 and an Innovation Leader by the Government of Canada in 2016 and 2018, Sarah has been noted in BC Business magazine's Women of Influence and been a finalist for the 2017 YWCA Women of Distinction awards. Sarah holds a BBA (honours) from SFU and a masters and PhD from the University of Cambridge.
For any event inquiries, please contact alum_asst@sfu.ca.