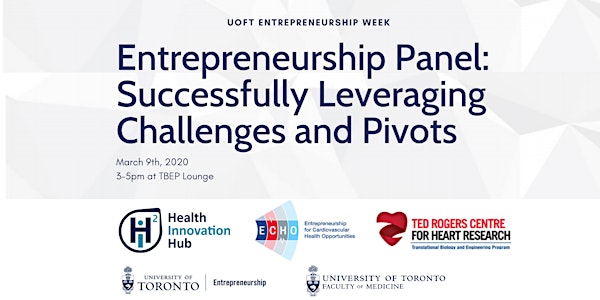 Entrepreneurship Panel : Successfully Leveraging Challenges and Pivots!
Entrepreneurship Week 2020
When and where
Location
Ted Rogers Centre For Heart Research 661 University Avenue 14th Floor, Translational Biology and Engineering Program (TBEP) Lounge Toronto, ON M5G 1X8 Canada
About this event
As part of UofT Entrepreneurship Week, H2i has collaborated with the ECHO Program to bring together an amazing panel of innovators that will discuss how they have successfully leveraged challenges and pivots throughout their entrepreneurial journey.
Moderator
• Luke Brzozowski, Ph.D., Senior Director, Techna and Diagnostic Innovation, Leads Techna's Technology Development Team and UHN's Diagnostic Research Office (Joint Department of Medical Imaging and Laboratory Medicine Program)
Dr. Luke Brzozowski leads Techna's Technology Development Team, comprising over fifty technical project managers, engineers, and software developers, as well as operational, quality, regulatory, marketing, and financial professionals who lead, manage, and carry out health technology productization programs and projects in a hospital environment. Luke also leads the Diagnostic Research Office for the Joint Department of Medical Imaging and Laboratory Medicine Program at UHN and serves as the Secretary of the Board for CanProbe, a startup in the field of molecular imaging and theranostics.
Prior to joining Techna at its inception (then as Director of Operations and Engineering), Luke held management positions in the development, marketing, legal, and regulatory departments in the health technology industry and pharmaceutical CRO. Luke is the recipient of the 2003 Governor General's Gold Medal for his Doctorate.
Panelists
• Robert Brooks, CEO of Forcen
• Natalie Galant, CEO Paradox Immunotherapeutics
• Derek Sham, CEO COSM Medical
Robert Brooks is the founder and CEO of Forcen a Toronto-based deeptech company focused on creating a digital sense of touch for surgical robotics and advanced automation. Robert has a PhD in Mechanical Engineering from the University of Toronto where his thesis focused on the next generation of surgical robotic sensors and mechanisms. Beyond that, Robert has over 8 years of high-reliability industry experience across the nuclear, robotics, manufacturing, and pharmaceutical automation fields with a BASc in Mechatronics from the University of Waterloo.
Dr. Natalie J. Galant completed her PhD in Medical Biophysics at the University of Toronto. Together with Dr. Yulong Sun, she co-founded Paradox Immunotherapeutics, a UHN spin-out company that develops novel immunotherapies to reverse organ failure. Paradox recently won the Ted Rogers Centre for Heart Research ECHO 2019 pitch competition.
Derek Sham is the founder and CEO of Cosm Medical, a Toronto-based medical device company creating and commercializing Personal Pelvic Health. By building a platform that combines a proprietary ultrasound technology, cloud SW, and 3D Printing, they are working with clinicians to offer women suffering from pelvic floor disorders, Gynethotics, or the world's first commercial intravaginal prosthetic or custom pessary. Pelvic floor disorders, such as prolapse and incontinence, drastically affects quality of life and are a common (1 in 4 adult women), growing (1 in 2 80 years of age), and underserved global women's health issue.
Prior to launching Cosm Medical, Derek has worked on the development and commercialization of over 10 medical devices in fields including cardiology, neurology, GI and urology in a range of capacities including systems engineer, clinical specialist, R&D manager, product manager, and leadership roles including global marketing director and general manager. After a successful private-equity backed exit in urological diagnostic devices, he was inspired to launch Cosm Medical on a mission for Personal Pelvic Health based upon a health episode with his grandmother. Derek is a biomedical engineer from the University of Guelph and completed an MBA at UofT's Rotman School of Management.