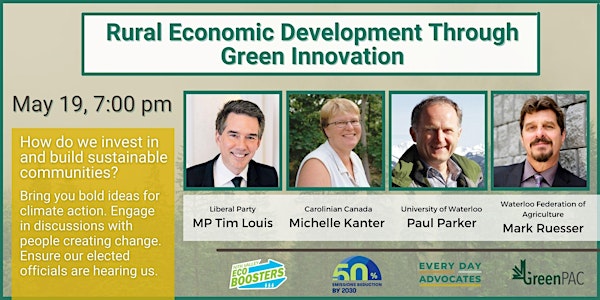 Environmental Townhall: Rural Economic Growth Through Green Innovation
Rural Economic Development Through Green Innovation and Initiatives
About this event
50by30WR and Nith Valley EcoBoosters are collaborating in response to Green PAC's challenge to hold a townhall.
The world is changing. People are looking forward to emerging from this pandemic in new courageous ways that recognize we cannot return to "normal". In fact, we don't want to return to normal. Investments in infrastructure, business, jobs, social justice, and lifting people out of poverty are part of our conversations on the street and in politics.
So what does our future look like in rural Waterloo Region? What is the vision and what are you and I doing about it? What do we need locally from our elected officials, at all levels of government, to make a successful transition out of the pandemic?
Attend and listen to inspiring stories of how our local community, the community around us, and the rest of the world are creating green new jobs.
Guests
Kitchener-Conestoga MP Louis
University of Waterloo Director of Economic Development Program, Paul Parker:
Paul is the director of the Economic Development Program and a professor in the Faculty of Environment. His research focuses on building sustainable communities by creating win-win opportunities for the environment and economy. Paul combines his research background with direct experience engaging local representatives from communities across Canada and overseas to envision and build local capacity, vitality and sustainability.
Carolinian Canada Executive Director, Michelle Kanter:
Nature Smart Climate Solutions what is it and what can they do? This is a huge industry right at our fingertips. What does it look like for landowners or even people who have a small yard? There is a lot of money being assigned for nature-based solutions but we need to start planning now. Diverse green jobs are possible.
https://caroliniancanada.ca/cib
Vice President of the Waterloo Federation of Agriculture, Mark Reusser:
Farming and forestry are the two sectors, in all of the Canadian economy, that have the potential to sequester carbon. Neither the provincial nor the federal gov't are willing to acknowledge that farming is the answer to the problem of mass carbon sequestration. There need to be incentives for farmers to participate in research in order to build this momentum. There is an ever-growing need for physical labour as well as highly skilled labour. Farmland in Waterloo Region is the best combination of land, climate and skilled labour.
Bring you bold ideas for climate action and a just transition for a livable future. Be prepared to ask our elected officials and guests what rural Waterloo Region needs to build better.
Courage calls on courage everywhere.
Presentation Opportunity
Are you interested in MP Louis and other guests and community members hearing about the amazing work your group, business, organization is doing? What is your vision for a strong green future? What are you doing to contribute to our rural economic development through green initiatives? How should our municipal, provincial and federal governments play their part? We will only be accepting requests until May 15. Complete the application form here
---------------------------
The federal government has stated that Climate Change is real and it is bolstering its Climate Plan with $17.6 billion in new spending. Climate Action creates new opportunities for engineers, farmers, construction workers, tradespeople, energy workers, researchers, and more. Attend and learn how our federal and local governments will be boosting jobs and our economy through green innovation.