Description
enVision is proud to present, a Vision Board Workshop.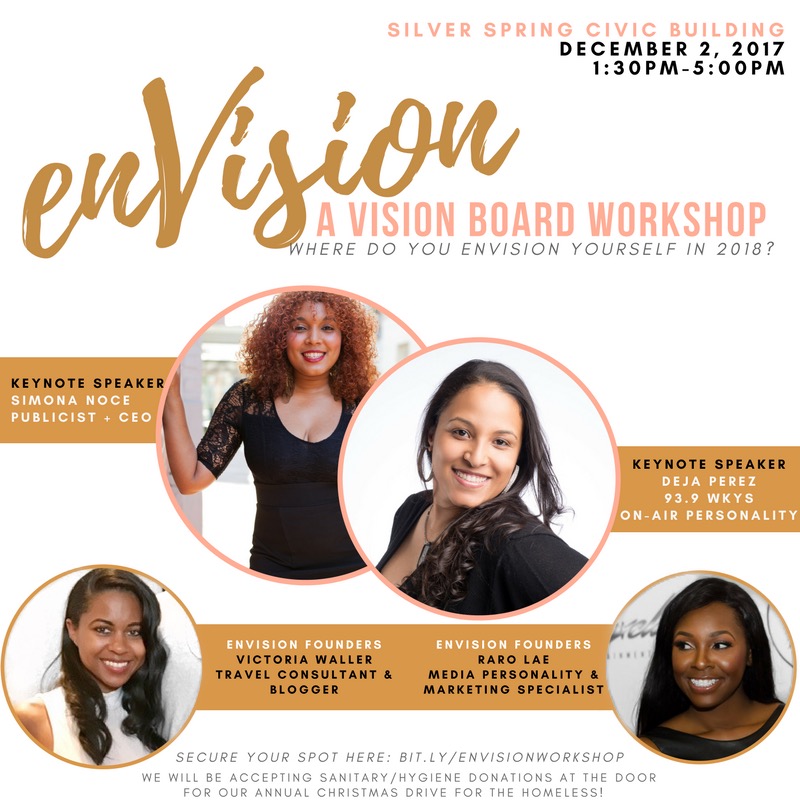 ---
enVision Founders Victoria Waller (Travel Consultant and Blogger) and Raro Lae (Media Personality and Marketing Specialist) created enVision: A Vision Board Workshop to ensure that each and every single budding entrepreneur, business owner and blogger is fully prepared as we step into 2018.
Nobody plans to fail, they just fail to plan.
enVision is set to take place on Saturday, December 2, 2017 from 1:30PM - 5PM at the Silver Spring Civic Building. enVision will include a series of mini-workshops helping attendees to narrow down goals and objectives in 2018, network with other goal-driven individuals as well as equipping them with tangible and visible materials and resources to make this possible!
Keynote Speakers: Highly renowned PR Specialist and business owner, Simona Noce and 93.9 WKYS On-Air Personality Deja Perez will also be sharing gems and exclusive tips with attendees!
Our mission is not only to empower and inspire our community, but to equip each attendee with valuable resources to take with them including: your very own vision board, free business templates, guides and more!
So come prepared with your business cards, because your next customer or loyal viewer will be in attendance as well!
Complimentary Vision board materials will be provided to all attendees, however we welcome bringing any items you feel will let your own unique personality show through!
For more information, sponsorship or vendor opportunities email: theenvisionworkshop@gmail.com