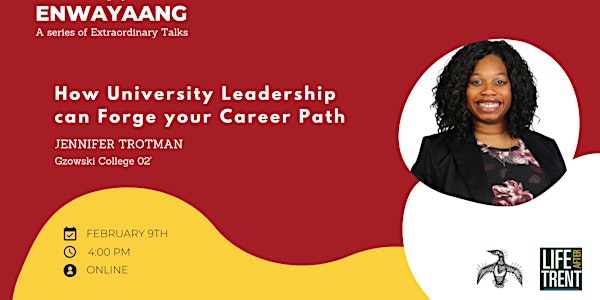 Enwayaang: A Series of Extraordinary Talks - Jennifer Trotman
How University Leadership Can Forge your Career Path
Date and time
Thu, Feb 9, 2023 1:00 PM - 2:00 PM PST
About this event
Jennifer Trotman made her university experiece challenging and engaging inside and outside the classroom: she became one of the first resident dons at Gzowski and took on the first Cabinet President role and Introductory Experience Ambassador Co-chair position. Those early experiences set her on a path towards a career in residence life. She is now the Director of Campus Living at The University of Winnipeg, where she is responsible for all aspects of the University residences. JOIN US at 4:00 Thursday on Zoom by clicking here
In this lecture she will talk about the leadership opportunities she took on as a student and the impact they had in her future career path.
This is our fourth Enwayaang Talk of the academic year, and the first of the Winter term. Every Enwayaang Talk is also a Life After Trent event - a chance to hear more from Alumni about their life paths, their careers, and their Trent experiences.
These lectures are open to the public: all are welcome.
Jennifer Trotman - bio
Jennifer Trotman (GC 02) majored in English and Sociology, focusing her studies on women and gender, race and class, abnormal and social psychology, and crime and deviance. Outside of the classroom, Jennifer worked as a resident don, became the first Cabinet President role and Introductory Experience Ambassador Co-chair position. At Trent she also spent time working events with the Trent African Carribean Association (TACSU) and in 2006 she was the recipient of the Sociology Collective award and the Trent University Alumni Award for Outstanding Achievement in Campus Leadership.
Jennifer has recently obtained her Masters of Arts in Interdisciplinary Studies at Athabasca University with a focus in Educational Studies. Her thesis work was titled Structural Racism In Canadian Universities: The Lack Of Racial Diversity Among Staff And Faculty, exploring the colonial roots that exists in the power hierarchy of Canadian universities, leading to low recruitment and retention of staff and faculty of colour.
Jennifer is currently the Director of Campus Living at The University of Winnipeg since 2014. She is responsible for all aspects of the Universities residences including budgets, human resources, programming, conduct, and services for students. In addition, she has participated on the New Student Orientation Committee, the Health and Wellness working group, the Equiy Diversity and Inclusion Advisory Committee, Health and Safety Committee, Black Indigenous People of Colour Task Force, and is a member of the Sexual Violence Response Team.