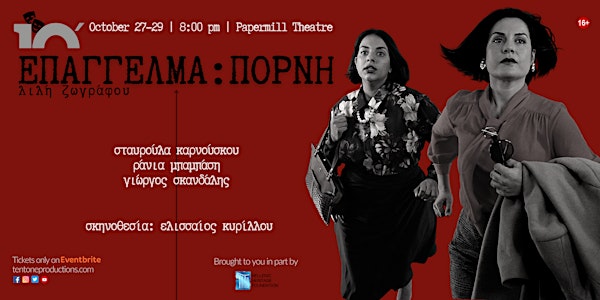 Epaggelma: Porni - October 27-29th TORONTO (Greek Theatre)
Epaggelma: Porni is a socio-political theatrical play that focuses on two different real stories during "Junta" in Greece from 1967-1974.
When and where
Location
Papermill Theatre and Gallery 67 Pottery Road Toronto, ON M4K 2B9 Canada
About this event
Ten Tone Productions returns with a new theatrical adaptation of the incredibly important socio-political work of Lili Zografou, "Epaggelma: Porni" (Occupation: Prostitute). Lili was born 1922 and we are thrilled to be presenting this work in celebration of her centennial.
This will be Elisseos Kyrillou's directorial debut of his adapted screenplay and he is honored to produce this historical masterpiece to the Greek diaspora. It is a provocative piece that will bring back memories for some of our earlier generations and also portray the challenges they faced for our younger generations.
The play brings to life two different stories from the book, which narrate experiences of the author herself during the "Junta" period in Greece from 1967-1974. In the first part, we watch the heroine try to renew her passport and prove her existence at the Ministry of the Interior, and the immense risks Lili had to take to retain agency over her life and occupation. In the second part we witness the consequences of a woman fighting for agency within a fascist system, and her experience in a psychiatric private clinic after her failed suicide attempt.
A role-playing game unfolds on stage and a revolution comes to life in front of the audience, aiming to awaken our consciousness about our role in our community; how power and privilege can corrupt our personal morals and strain the fabric of society. This is a timely subject and one that remains relevant 45 years after the book's original publication.
Brought to you in part by Hellenic Heritage Foundation
Cast: Rania Bampasi, Stavy Karnouskou and George Scandalis
Director & Theatrical Adaptation: Elisseos Kyrillou
Three performances: October 27, 28 & 29 at 8 pm
Papermill Theatre - 67 Pottery Rd
Suitable for people over 16 years
Duration: 90' - no intermission
Ticket price: $35 - Language: Greek
PLEASE NOTE: the show is intended for mature audiences. It includes themes of of violence, harsh language, rape and suicide. Viewer discretion is advised.