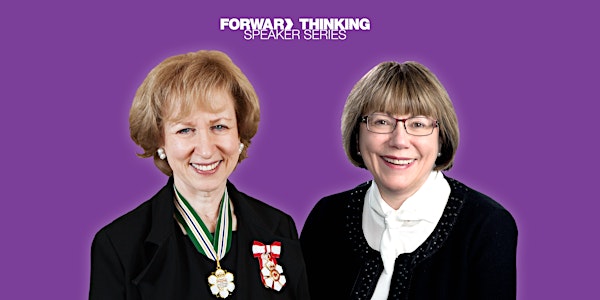 EPL Forward Thinking Speaker Series: Women in Politics
When and where
Location
Chateau Lacombe Hotel 10111 Bellamy Hill Road NW Main Ballroom Edmonton, AB T5J 1N7
Description
Since 2014, the Forward Thinking Speaker Series has showcased more than fifteen leaders who have challenged our way of thinking and have shared their stories with Edmontonians. On September 26th, EPL is proud to welcome Canada's 19th Prime Minister, Rt. Honourable Kim Campbell, and former Deputy Prime Minister, the Honourable Anne McLellan, to this esteemed list. Join us as they reflect on their remarkable careers and experiences as women taking prime positions in what is otherwise an underrepresented role for women, and share insight into the future of the political realm of Canada.
Tickets will go on sale for EPL cardholders starting at 10am on August 9 for $10. There will also be limited $75 VIP tickets available. All proceeds from the event will support the Stanley A. Milner Library revitalization project.
The Forward Thinking Speaker Series reflects EPL's rich history of taking risks, trying new things out and redefining the modern library. EPL is inviting thought-leaders from a variety of industries and around a variety of topics to share their insights, ideas, experiences and viewpoints, with the goal of helping us purposefully build better organizations, neighborhoods and communities.