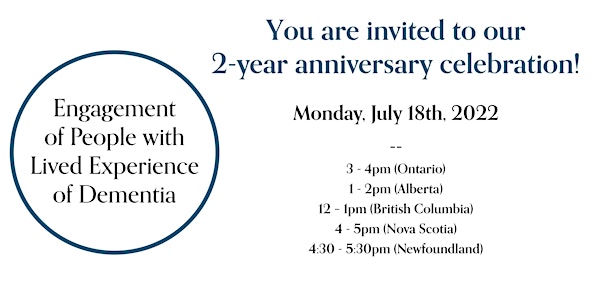 EPLED 2-Year Anniversary Celebration!
Join us to celebrate the Engagement of People with lived Experience of Dementia (EPLED) 2-year anniversary!
About this event
Event:
We welcome EPLED and CCNA members as well as their guests to celebrate EPLED's 2-year anniversary! We will play a virtual bingo game (optional, we promise!) introduce newcomers to EPLED and reminisce about our favourite EPLED moments over the past 2-years. Please feel free to attend for 5 minutes - or stay for the whole hour.
About EPLED:
The Engagement of People with Lived Experience of Dementia (EPLED) is a new program introduced for the Canadian Consortium on Neurodegeneration in Aging (CCNA) phase II.
Through this program, we will work to enable those with lived experience of dementia – persons with dementia and their care partners (i.e., friends, family and caregivers) – to be meaningfully and actively involved in the CCNA research process, including governance, priority setting, conducting research and knowledge translation.
For more information, visit us at: www.epled.ca
Current Members:
Heather Eagleson
Faye Forbes
Daniel Gaetano
Linda Grossman
Wayne Hykaway
Catherine Ann Kelly
Meghan Lau
Paul Lea
Tony Leamon
Rosette Fernandez Loughlin
Emily McLellan
Karen Myers Barnett
Myrna Norman
Denis O'Connor
Jody Peters
Christine Thelker
Leads:
Jennifer Bethell
Kathy McGilton
Coordinator:
Ellen Snowball
Questions?:
Please contact ellen.snowball@uhn.ca