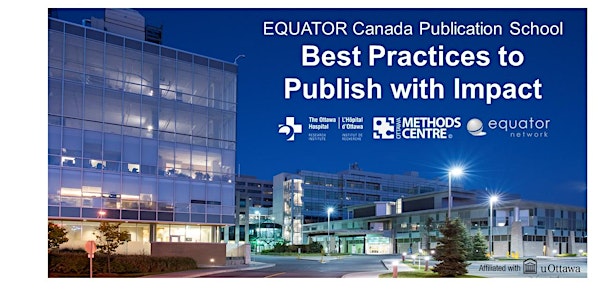 EQUATOR Canada Publication School: Best Practices to Publish with Impact
Learn from world-renowned leaders in the science of publication practices about practical tools for maximum success in publishing
When and where
Location
University of Ottawa - Alta Vista Campus, Peter Morand Building 850 Peter Morand Crescent Room 124 Ottawa, ON K1G 5Z3 Canada
About this event
This two-day course involving interactive lectures, student presentations, small group work and case studies will enable participants to improve their results at any stage of the publication cycle (research and idea generation, presentation of preliminary findings, reporting the research, publishing the research, disseminate the findings). The course will prepare participants to:
1. Understand the depth and breadth of the academic publishing landscape.
2. Identify trusted sources for scholarly publication.
3. Assign appropriate reporting guidelines when writing up clinical epidemiological studies, dependent upon study design.
4. Assess published research for appropriate use of reporting guidelines.
5. Contribute to improving the quality of health research with the use of transparent reporting of health research studies.
6. Critically appraise academic writing for ethical principles and academic integrity.
7. Develop core competencies needed for academic peer review.
8. Interpret and utilize publication metrics and other measures of research impact.
Advance reading material will be provided ahead of the course dates.
Evaluation: Participants will be expected to actively participate in interactive workshop sessions and will receive a certificate of completion at the end of day
Daily Schedule for both November 20th & November 21st:
The workshop runs from 9:00 am to 5:00 pm each day.
Breakfast, lunch, and snacks will be provided.
Dietary restrictions can be indicated on the registration form.
Pricing:
Academic (e.g. Investigator, Research Professional, Professor, etc.), Non-Profit, and Public Sector: $695
Students: $250
Industry: $1095
Please note there will be NO refunds issued once you register.
Questions or concerns?
Please contact Lisa McGovern at 613-737-8899 ext.73833 or methodscentre@toh.ca.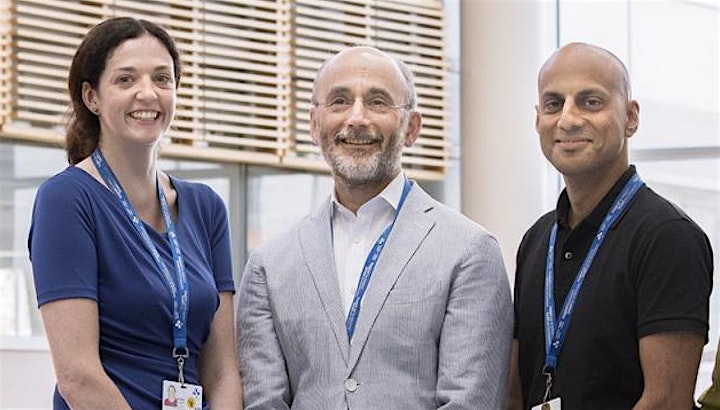 (from left to right) Dr. Kelly Cobey, Dr. David Moher, Dr. Manoj Lalu
Course Lead - David Moher, PhD.
Dr. Moher is a senior scientist at the Clinical Epidemiology Program, Ottawa Hospital Research Institute, where he directs the Centre for Journalology. Dr. Moher is also an Associate Professor, School of Epidemiology and Public Health, Faculty of Medicine, University of Ottawa, where he holds a University Research Chair.
Course Lead - Manoj Matthew Lalu, MD, PhD, FRCPC
Dr. Lalu is a practicing Anesthesiologist, and an Assistant Professor in the Department of Anesthesiology and Pain Medicine at The Ottawa Hospital. He holds an Associate Scientist appointment at the Ottawa Hospital Research Institute in Clinical Epidemiology and Regenerative Medicine Programs. In one area of Dr. Lalu's research, he has helped assess the global burden of illegitimate (i.e. 'predatory') journals. He is also studying reporting and bias in preclinical (i.e. bench) research.
Course Lead - Kelly Cobey, PhD.
Dr. Cobey is an Investigator in the Centre for Journalology, at the Ottawa Methods Centre within the Clinical Epidemiology Program at the Ottawa Hospital Research Institute. Dr. Cobey is also an Adjunct Professor in the School of Epidemiology and Public Health, Faculty of Medicine, University of Ottawa. In her capacity as Publications Officer at OHRI, she provides educational outreach on best practice in academic biomedical publishing.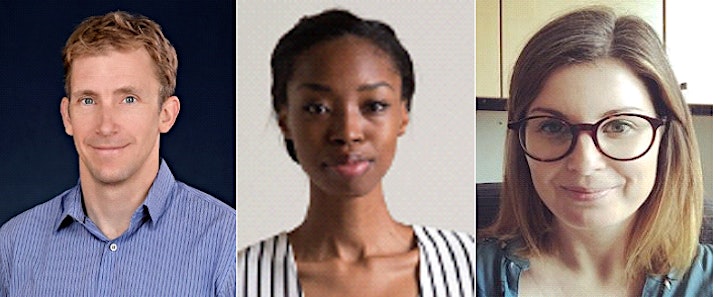 (from left to right) Dr. Matthew McInnes, Dr.Lisa Caulley, Dr. Stephanie Haustein
Course Lead - Matthew McInnes, MD PhD FRCPC
Dr. McInnes is an Associate Professor at the University of Ottawa and is currently the Diagnostic Radiology Residency Research Director. He works as a radiologist in the divisions of Abdominal and Chest radiology in the Department of Medical Imaging at The Ottawa Hospital and is an Associate Scientist in the Ottawa Hospital Research Institute Clinical Epidemiology program. Dr. McInnes' research interests are centered on meta-research and imaging test accuracy. He is the lead author of the PRISMA-DTA statement, and is on the advisory board for the STARD group and QUADAS-2 for comparative accuracy.
Course Lead - Lisa Caulley, MD, MPH, FRCPC
Dr. Caulley is an otolaryngologist – head and neck surgeon, and is currently completing a fellowship in advanced sinus and skull base surgery at the Guy's and St. Thomas' NHS Foundation Trust and pursuing a doctoral degree in clinical epidemiology from Erasmus University Medical Center Rotterdam. Her research focuses on establishing cost-effective approaches to medical and surgical interventions in the head and neck, predictors of outcomes in malignancies of the head and neck and novel treatment strategies for diseases of the nose, paranasal sinuses and skull base.
Course Lead - Stephanie Haustein, PhD.
Dr. Haustein is an assistant professor at the University of Ottawa's School of Information Studies, where she teaches research methods and evaluation, social network analysis and knowledge organization. Her research focuses on scholarly communication, bibliometrics, altmetrics and open science and analyzes the role of social media in academia.