About this Event
How do we grieve for the many losses we have had these short few months? How can we come together, when we need to be apart? The spirit of Equinox Vigil is returning to respond to the need for community comfort and connection, to acknowledge and honour those who have died, and the times we are living in.
From 2012-2018 Equinox Vigil supported artist-led responses to death and loss, transforming the historic Union Cemetery into a world of shrines, music, poetry and community. Occurring on the Autumnal Equinox, a time for reflection, introspection and change, this participatory event created a sacred, non-denominational space for the public to reflect on love and loss - inevitable, twinned parts of our human experience.
This year, Equinox Vigil is bringing together visual art, music, poetry and more into a live-streamed one-hour event on Saturday September 19. We encourage you to join us, but also to use this time to mark your own rituals, to remember your loved ones: create a shrine, gather in small safe groups, lighting candles ...we all are the creators of our own ceremonies.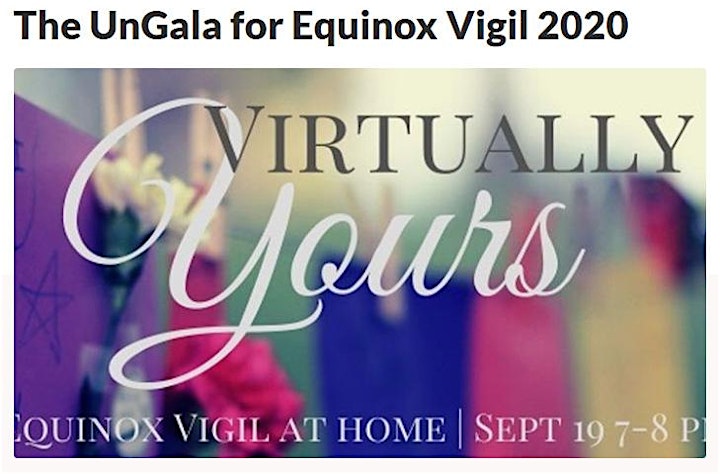 The Ungala returns!
With the launch of Virtually Yours, we are also re-launching our online fundraiser called the UnGala. While the cost of a virtual event is considerably lower, there are still costs involved and we are reaching out for your support.Our UnGala fundraiser makes it easy to support Equinox Vigil without having to leave home!Here's a breakdown of some of our costs:
$150 artist fee for a poetry readings featuring Cheryl Foggo, Miranda Martini, Cobra Collins, Kris Demeanor
$300 for the Opening and Closing Ceremony
$250 for an artist to provide a visual ritual featuring Noble Beasts by Lisa Hodgkinson returning from 2017 and 2018
$1000 for sound and original music compositions
$500 for Digital Shrine upgrade
$100 pays for online subscriptions
$500 technology upgrades
$1500 for technical support for the online streaming
Donate today at https://gf.me/u/yv2cjz