Deep conversation about equity, diversity and inclusion in different workplaces.
About this event
Meeting Details:
The IWS team is excited to organize a webinar to speak about the science workspace where equity, diversity, and inclusion (ED&I) are constantly at the forefront of the topics for women in STEM. As part of the IWS network, we often dip into conversations about ED&I because our purpose is, in fact, to create more awareness about equitable workspaces to encourage talented women in STEM to thrive.
So, we have been brainstorming ideas on how to best deliver our organization focus on ED&I. We realized that ED&I gets different definitions depending on the group we are working with. Therefore, we invited 3 amazing women working in industry, academia and the government to shed more light on their experience and understanding of ED&I in their workplace.
The link to connect to the event will be sent to participants 1 day prior the event.
City-organized breakout rooms will be held at the end of the webinar to reach out members from your canadian city.
Bibiana is Cofounder and Executive Director of the RIQEDI, a non-profit organization that brings together Quebec universities and several university stakeholders who have the mandate or desire to promote and integrate the values of equity, diversity and inclusion within their institutions. She is also at the moment Assistant Director of l'Institut EDI2. Researcher and manager with more than ten years of experience in the field of human resources management. Her areas of expertise are related to the analysis of innovative, creative and academic industries, equity, diversity and inclusion management, workplace well-being, knowledge management , discriminations in workplaces and unconscious bias. She is also a consultant for her company (CIDI) and has worked on various projects in the video game industry, the artificial intelligence ecosystem, non profit organizations, and academia. Doctoral candidate in industrial relations (specializing in human resources) and recognized for her dedication to teaching, student supervision, university research and community engagement.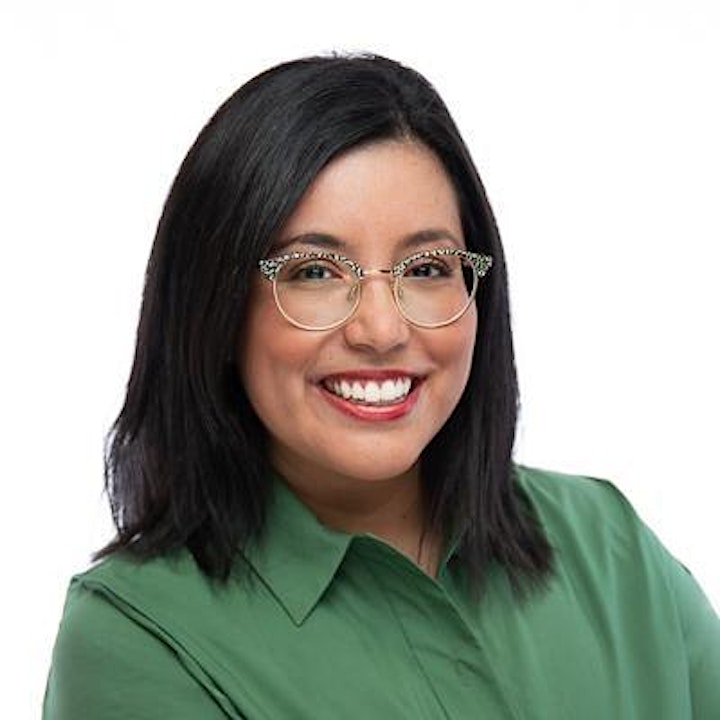 Jacquelyn holds a PhD in Chemistry from the University of Manchester (UK) and, is a Canadian immigrant and woman of colour currently working as a Research Scientist at a biopharmaceutical company in Québec city. She was born in Guyana (South America) and was fortunate to train and work as a scientific researcher in three countries on three continents allowing a diversity of experiences and the involvement in various equity, diversity and inclusion initiatives. She brings her perspectives from these experiences and from working in Industry Canada.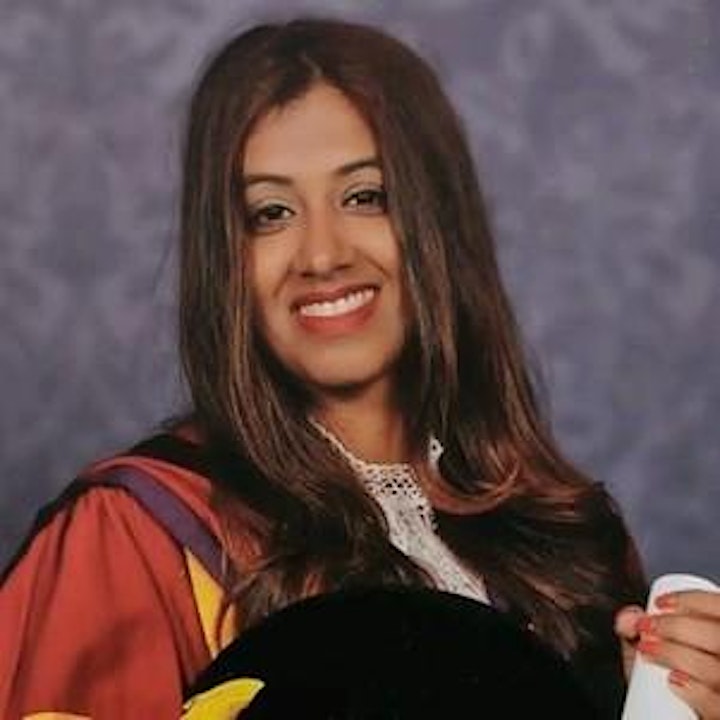 Having held various mandates in the federal public service since 2004, Rachel is passionate about all the issues surrounding the creation of an inclusive and accessible workplace. After a Bachelor in Art History and studies in HR management, she found her true calling in participating in bringing true diversity and inclusion in the fore front of everything she's doing. For one, equal employment opportunities for all is a priority for her. She has worked at the Public Service Commission of Canada where she was mandated to put in place programs and practices to increase hiring and retention of persons with disability within the Public Service. Now as the Senior Advisor for Equity, Diversity and Inclusion at the National Research Council as well as a member of the working group for employment of persons with disability within the Canadian Accessibility Network, she works on bringing awareness on best practices to allow everyone to shine in the work environment including and especially those with disability. She aspires to do more every day to support and lift people's engagement in making a true inclusive workplace. Diversity is what she's looking for in her work environment and Inclusion is what she hopes her workplace will offer to all.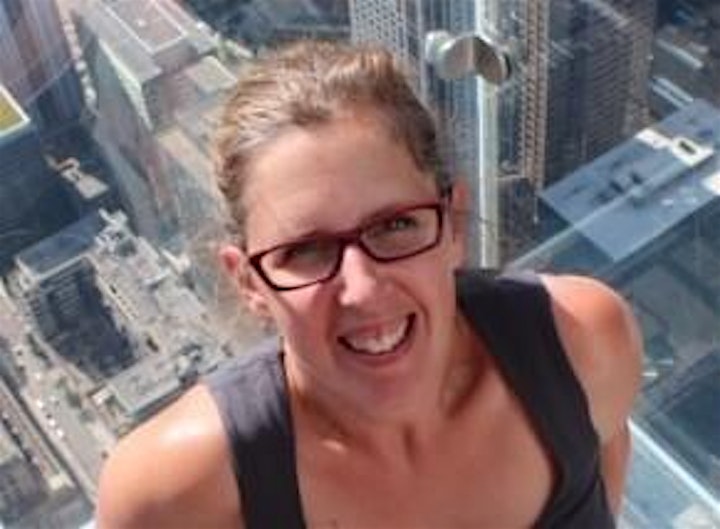 Who can attend:
This event will be primarily tailored to immigrant or international womxn from a STEM background in Canada. We welcome everyone interested in respectfully participating in our events to join us.
I am originally from Amman, Jordan. I have moved to Canada in 2004, when I started my BSc at UBC Vancouver B.C. I have had my fair share of moving across countries. I have finished a masters from UNIL in Lausanne, Switzerland and then moved back to Canada and got a PhD from Laval in Quebec City. I have started my post-doctoral training fueled by my passion for scientific research and strong desire to prepare myself both at the scientific and professional level for an independent scientific career in academia. My work is currently focused on the molecular biology aspects of Neurodegenerative diseases, more specifically Parkinson's Disease (PD). I enjoy using my research skills to contribute to the advancement of understanding PD disease progression.All throughout my undergraduate and graduate career, I constantly participated in events that aimed to inspire more young women to pursue careers in science. I constantly strive to be part of networks that can provide support and allow for different expressions of scientific work and excellence. I am very lucky to be part of the IWS team, and very excited to continue working with inspiring women in STEM.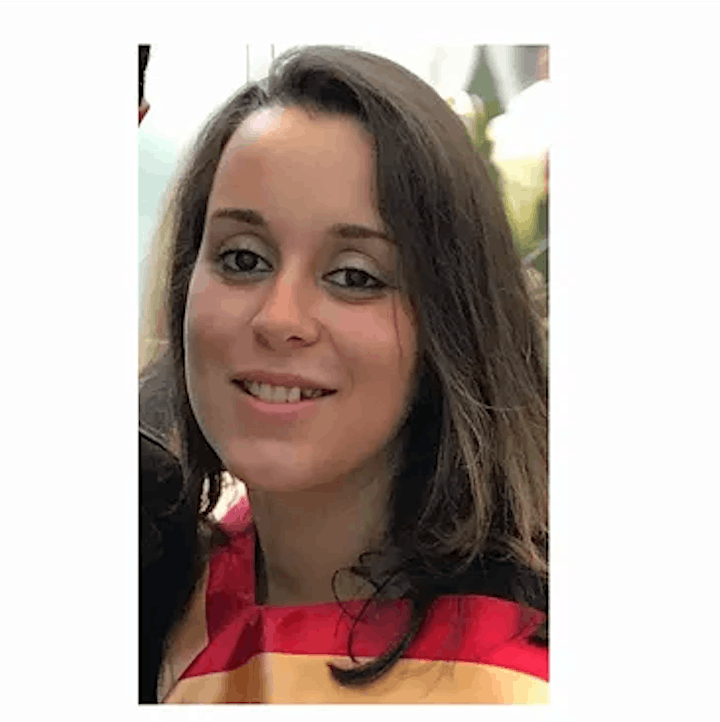 I am Uruguayan but currently living in Quebec City. I am a PhD candidate in Neuroscience in Laval University. I have been working on neurodegenerative diseases for more than 7 years. I consider myself a highly motivated and passionate researcher and I work every day trying to contribute to improve the quality of life of people affected by these diseases. I have dedicated great part of my life to do community work, always trying to empower less privileged communities. Since I arrived in Quebec, I am part of the student committee of my research center and I have been part of IWS Quebec City node since the very beginning as a member and as recently as a co-leader.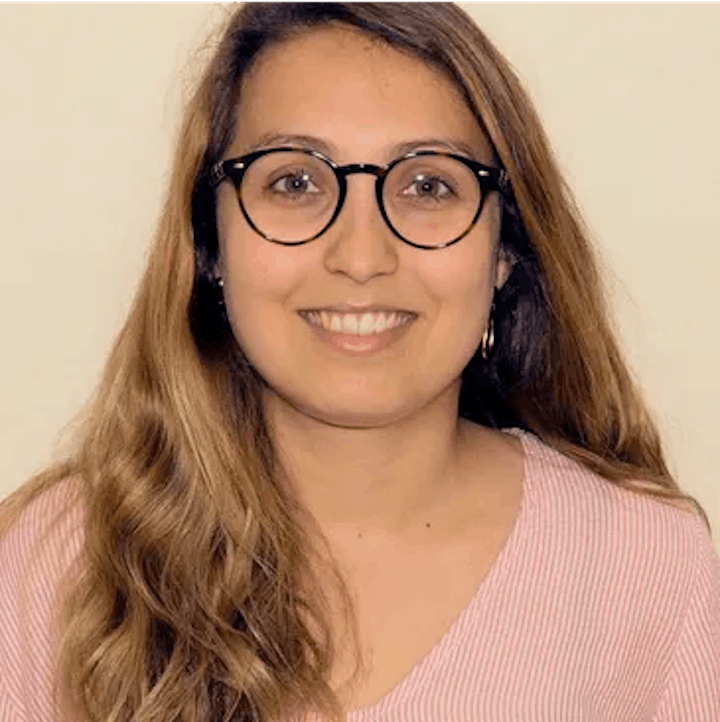 I was born in Cosenza, south of Italy, where together with the passion for good food I also developed the passion for science. My academic path started with a B.Sc. in Life Science obtained in Cosenza, followed by a M.Sc. in Cellular and Molecular Biology obtained in Bologna. During these years in Italy, I have been absorbed in a dynamic and vivid scientific environment and I became a passionate scientist. My first international experience was a period as research assistant at the University of Zurich (Switzerland). Here, I learnt the difficulties of being an immigrant woman, but also the beauty of knowing a different culture and of broadening my horizons. I arrived in Quebec city in 2018 and I have achieved a master's degree in neuroscience at Université Laval. I am currently working as a research professional in the field of oncology at CHU de Québec-Université Laval research Center. I care about equity, diversity and inclusion in the workplace and in everyday life, and I am thrilled to join the IWS team to support and empower immigrant women in STEM.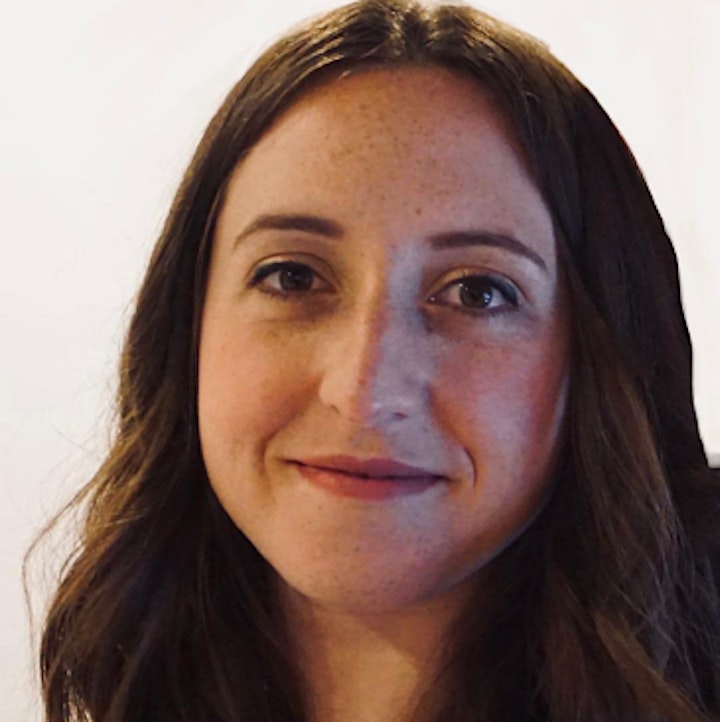 Participant Agreement:
Mutual respect for individual perspectives.
Listen with generosity and empathy.
Contribute ideas, resources, and experiences.
Confidentiality for any details shared during the meeting.
Hold the space for each participant to share.
About IWS Network
Immigrant and International Women in Science (IWS Network) is a grassroots organization which has a growing social impact network with chapters across Canada.
Established in 2018, our vision is to build a collaborative environment for immigrant and international womxn in STEM fields that promotes equity, diversity and inclusion in Canada.
We hold monthly meetings facilitated by committed volunteer IWS leaders on various opportunities and challenges unique to womxn from culturally diverse backgrounds.
As a completely self-funded organization, we invite you to support our continued operations by kindly donating when registering. We highly appreciate every dollar contributed!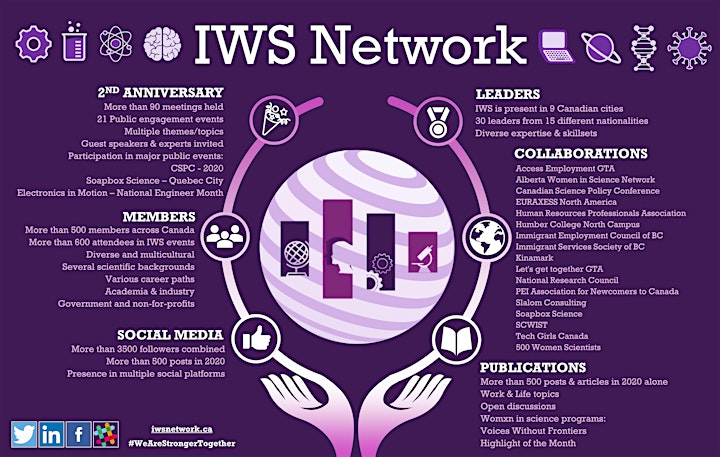 Consent for photos, videos and other recordings:
By registering and attending this event, you consent to be photographed, filmed and/or otherwise recorded. Your attendance of this event constitutes your consent to such photography, filming and/or recording and to any use, in any and all media throughout the universe in perpetuity, of your appearance, voice and name for any purpose whatsoever in connection with the organization presently entitled: Immigrant and International Women in Science. By registering, you also understand that all photography, filming and/or recording will be done in reliance on this consent given by you by attending this event.
Please get in touch with one of your local city leaders if you would like to abstain from any recording.
Note:
Signing up for an event automatically subscribes you to our mailing list. To stop getting monthly updates on our events via email, please contact your IWS city chapter leader.
For more information visit: https://iwsnetwork.ca/