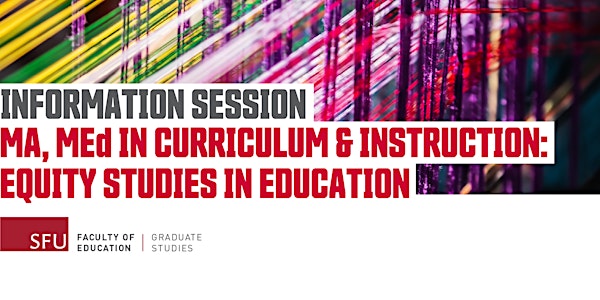 Equity Studies Information Session (Zoom)
Information Session for Equity Studies.
About this event
Host: Dr. Ena Lee
Date: Wednesday, December 14, 2022
Time: 4:30-5:30 pm (PT)
Location: Zoom
Attend an information session to learn more about our Equity Studies in Education program. Study and develop expertise in an equity framework for education. The program conceptualizes education broadly as a concept that includes schooling, but also includes other social forces that shape knowledge in society.
Ideally Suited For:
Educators and administrators who wish to move into leadership roles with regards to equity practices in their schools and districts
Advocates and educators who work in nonprofit agencies, such as the immigrant/settlement services sector
Advocates and educators working with adult learners in formal or informal learning settings
Policy analysts working in government and non-government sectors
Media workers interested in studying the informal education that occurs via media and popular culture
Diversity and equity officers working in fields such as corrections, health, military, and law enforcement