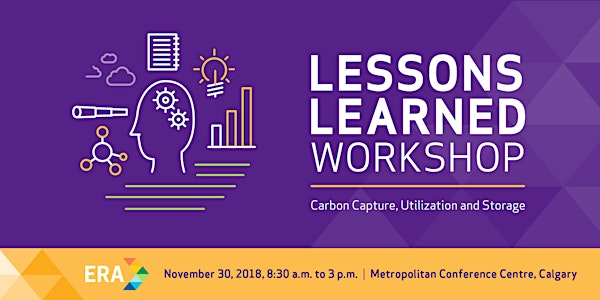 ERA Lessons Learned Workshop: Carbon Capture, Utilization and Storage (CCUS)
By Emissions Reduction Alberta
Date and time
Fri, Nov 30, 2018 8:30 AM - 3:00 PM MST
Location
Metropolitan Conference Centre 333 4 Avenue Southwest Calgary, AB T2P 0J4 Canada
Description
OVERVIEW
As innovators, we imagine a better future. Imagine capturing carbon dioxide and embedding it into concrete to make the product stronger. Imagine creating high quality fuels from CO2 emissions and wastewater by using just solar power. Imagine the limitless potential of turning CO2 into carbon nanofibres, a valuable manufacturing material. This is the lower carbon future.
Emissions Reduction Alberta's latest Lessons Learned workshop will focus on CCUS investments in Alberta today and into the future.
Are you a technology developer, industry member, investor, or government employee who has completed a carbon capture, utilization or storage project? Do you have a project in progress? Are you interested in pursuing this CCUS technology development in Alberta? If so, this workshop is for you.

AGENDA


8:30 a.m. Networking and registration

9 a.m. Welcoming remarks: Steve MacDonald, CEO, Emissions Reduction Alberta

9:15 a.m. Industry Demand Panel: Learn more about carbon capture projects, carbon end-use and how these technologies can be used in other sectors. The panel will highlight the business case for carbon capture and use, as well as current and future demand for capture and use technologies and their market potential.
Panelists include: Matt McCulloch, COSIA (moderator); Brian Vaasjo, Capital Power; Meera Nathwani-Crowe, Canadian Natural Resources Limited; and Jon Moser, Lafarge.

10:45 a.m. Commercial Projects Presentations: Speakers will share knowledge on commercial CCUS facilities and discuss firsthand experience operating these facilities. Presentations will explore lessons learned in technology implementation, financing, and overcoming social license and policy/regulatory barriers.
Speakers include: Robert Mitchell, Global CCS Institute (introductions); and Kevin Jabusch, Enhance Energy.

11:30 a.m. Lunchtime Keynote: Issam Dairanieh, Operating Partner at Ascent Capital Holdings, will discuss global CCUS trends, commercial export potential of carbon-based products, the need for a circular carbon economy, and how these technologies will affect a low carbon future. Issam is the former CEO of CO2 Sciences at the Global CO2 Initiative and former managing director at BP Ventures, and has over 30 years experience in technology assessment, development, deployment and investment in CCUS.

12:30 p.m. Technology Development Panel: Gain insights on successes, challenges, and lessons learned in developing and scaling up CCUS technologies. Discussions will also highlight future technology impacts and market adoption potential.
Panelists include: John Zhou, Alberta Innovates (moderator); Brett Henkel, Inventys; Zetian Mi, McGill – Lumenfab; and Apoorv Sinha, Carbon Upcycling Technologies Inc.

2 p.m. Enabling CCUS Panel: Explore infrastructure, policy, and other enabling conditions for CCUS in Alberta. Participants will discuss successes, lessons learned and consider what is possible in the future to create the conditions for CCUS success in Alberta.
Panelists include: Sandra Odendahl, CMC Research Institutes (moderator); Jeff Pearson, Wolf Midstream; Herald Krenkel, Alberta Carbon Conversion Technology Centre; Michael Leitch, Technical Manager, XPRIZE; and Kevin Parks, Alberta Energy Regulator.