Join universities from EMEA North to compete and have fun!
About this event
About the competition
Higher Ed students taking part in ERPsim competitions appreciate a unique experience that enables them to put into practice the knowledge acquired in their courses, develop interpersonal and communication skills, build a professional network, and attract the attention of potential recruiters.
Students can test their skills against teams from all around the world!
This regional competition is offered in a virtual format.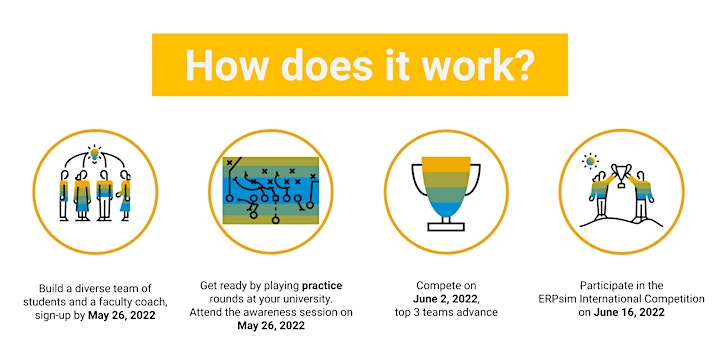 All you need to know
The competition
Teams will play the ERPsim Manufacturing Extended game. Students apply their business knowledge to make strategic decisions about their virtual company and input their plans to SAP S/4HANA. The ERPsim platform simulates business activity based on these decisions. Teams use analytics tools to understand the impact of their decisions and modify their business plan accordingly.​
The virtual company with the highest company valuation at the end of the game is the winner.​
Who can register?
Your university must be members of SAP University Alliances at the time of the competition and be located in EMEA North to participate.
Teams are encouraged to have experience with SAP S/4 HANA and ERPsim prior to event - no training is provided on the event day.
Each university may register one team of 3 to 5 students and one faculty coach. The coach will register the team. We will communicate with the team through the coach.
Rules
There is no cost to participate
Registration will close when teams are at capacity.
Students should have some experience with SAP S/4 HANA and SAP Fiori.
Each team has a minimum of 3 and maximum of 5 students, plus one faculty coach.
Students may be taking undergraduate or graduate programs from any discipline. Diverse teams are encouraged.
The coach is the point of contact for all event logistics / communications and is responsible for registering the team.
Student details including full name and university email address are provided during registration.
Teams play 4 rounds of the ERPsim Manufacturing Extended Game. Each round will be of 20 virtual days of 1 minute each.
Teams will be ranked based on their company valuation.
Teams with the three highest company valuations at the end of the game move on to the virtual ERPsim International competition on June 16, 2022.
No cheating is allowed! All teams must always behave ethically. The organizers reserve the rights to disqualify teams who are not playing ethically and fairly.