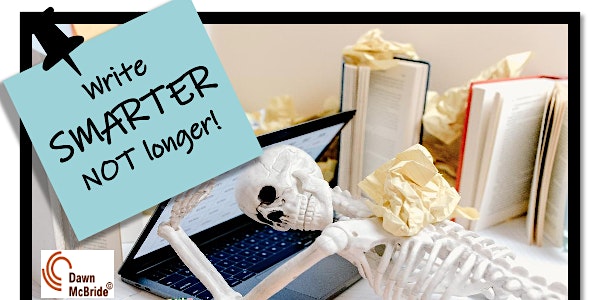 ETHICS #1of 3: WRITING EFFICIENT - USEFUL SESSION NOTES (SOLD OUT)
Learn some strategies of how to write clients' notes in under 5 minutes –session notes that are brief, meaningful, and ethical.
Refund Policy
Contact the organizer to request a refund.
Eventbrite's fee is nonrefundable.
About this event
ETHICS TRAINING SERIES #1 OF 3: WRITING EFFICIENT, ETHICAL, & USEFUL COUNSELLING SESSION NOTES.
This session note ethics training has been described by many as highly valuable, intense, and fast-paced. An ethics learning day with Dr. Dawn McBride is packed with ample information dedicated to helping you make your session notes ethical, useful, and efficient (ideally written in under 5 mins.). Yes, it can be done!
Overall, Dawn will share various strategies she uses to complete brief, meaningful session notes – which includes adding intentional, creative structure in sessions (e.g., at the start, middle, and end of each session) to ensure there is ample documentation on tracking safety and change.
Dr. Dawn will begin your training day by highlighting how helpers/therapists document things differently compared to the medical model of documentation. Thereafter, Dawn will focus on what NOT to record in counselling related session notes (e.g., do not have a 'second set' of private session notes, we are not a client's life historian, we do not have to record 'everything' we heard in a session). She will also address the value of knowing the difference between being a fact and an expert witness, and how this information impacts what you put in a client file.
Ample time will be spent exploring the main topics (themes) that can be useful to record in session notes while at the same time ensuring there is enough substance in your notes to meet the continuation of care mandate. Near the end of the training day, you will be ready to make sense of one of Dawn McBride/DPS's very efficient session note templates. Since you attended this training, you will have Dawn's permission to use/adapt her form (with full citation) in your practice.
EXTRA BONUS: Throughout the training, you will be introduced to Dawn's counselling stance and style since she advocates that refined documentation practices is closely related to one's case conceptualization, session management/time structuring skills, and treatment strategies. As a result, you might even gain some counselling tips and strategies during this ethics training :). Truly, this training has been described as covering many topics in short period of time!
WHO IS THIS TRAINING FOR? This training caters to those working on the front line within a helping/counselling context within Canada. Some attention will be given to Alberta's unique issues (e.g., Limitations Act). Dawn's ethical recommendations are integrated with her counselling style and are highly relevant to front line counselling staff (e.g., CCC, social workers, psychologists, school counsellors, therapists/counsellors, outreach workers, shelter staff). Examples in the training will be focused on adult 1:1 work, with limited reference to working with couples, groups, and/or youth/parents(*these are topics covered in specialized modules).
NO SHOULDS: In no way is Dawn indicating or advocating her approach is the only way - she is simply sharing what has worked for her and what makes sense to her when it comes to handling these topics in the counselling field. The ideas presented in this training are based on Dawn McBride's professional knowledge (stemming from her clinical, research, & career experiences), her counselling values and beliefs, and her ethical approach to the counselling field.
YOU DECIDE WHAT TO USE, MODIFY, OR REJECT: It is vital to convey that Dawn's training material/ideas do NOT represent any legal or absolute opinion. Further, Dawn is NOT representing any regulatory body, training association, or counselling organization. Thus, all audience members are expected to critically reflect upon any of Dawn's/DPS training material so they can take from this training what fits –accept, reject, or modify– according to their counselling practice and style, agency expectations and protocols, their values, and their code of ethics/standards of practice. BONUS: Dawn offers consultations services (on a sliding scale) to help you digest (modify) any of her material to ensure a good fit that align with your values, counselling style, and needs.
OTHER INFORMATION:
A. DATE & TIMES: Our training day will be on December 8, 2022 (Thursday) and will start at 9:00 a.m. MT (Calgary time). You are asked to please sign on (via Zoom link - camera use is optional) anytime between 8:30 a.m. and 8:50 a.m. MT (Calgary time) to complete some housekeeping tasks (i.e., receive the handout, answer a poll, etc. ). Lunch is around 12:15 p.m. for 50 minutes. The morning break is usually 10:30 for 15 minutes. The training will conclude around 5:00 p.m. MT (Calgary time) and Dawn will 'hang around' until 5:30 p.m. MT (Calgary time) for informal discussions about the day's content.
B. VIRTUAL TRAINING: Platform is Zoom Pro, purchased by DPS. Camera use is optional. Zoom polls will be used during the day. DPS does not supply technical support so please ensure on the day of training you have your IT support on standby and use the most current version of Zoom - these recommendations might reduce your stress when trying to access/use Zoom.
C. COME & GO: The training day is full of a variety of issues/topics - some of which may interest you and other topics might not be of interest. Please know you are welcome to come and go as needed.
D. PERMISSION TO USE but NOT DISTRIBUTE: The material in these trainings will be published by Dawn McBride, and are under the intellectual property of Dawn McBride/DPS. Participants in the trainings are given the right to use/modify the material provided they give credit for the borrowed material and do not publish Dawn/DPS material (e.g., do not post Dawn's material on the web, do not distribute the handout).
E. PUBLISHING RIGHTS: Publishing rights remain with Dawn McBride/DPS, and she is currently working on a book on consent and documentation. Please note her handouts are NOT to be published or shared with those who have NOT paid to take the training. Thank you for respecting Dawn's intellectual property.
F. NO RECORDINGS: No recordings, video or audio, are permitted of Dawn or of the material she is presenting/discussing. There is no permission to take screen shots of Dawn's material.
G. FEES, EXIT POLL, & CERTIFICATE OF ATTENDANCE: For a full, intense day of learning, fee is charged in Canadian funds with additional no choice add on charges (i.e., GST & Eventbrite hosting fees). The fee is posted in Eventbrite. A receipt, issued immediately via email from Eventbrite, will include the GST amount. We have a cancellation policy (see below). An exit poll and certificate of attendance (e.g., Google docs) will be provided to each registrant within 3 days of the event being held. Please let us know if you need further documentation to earn credit for attendance at this training event - we are happy to help how we can.
H. REFUND, CANCELLATION, & TRANSFER POLICIES: You are welcome to cancel your registration for a full refund (minus Eventbrite fees, approx. $9) up to seven (7) days before the training event is held. Due to the work involved in offering these trainings our cancellation policy is firm: NO refunds are issued within seven (7) days of the training event being held. However, up to 48 hours of the training event being held, we can transfer your registration to another DPS training event (subject to availability & eligibility) for an additional administrative fee of $20 and you will need to pay any difference in fees. Also, we do not issue refunds if a participant has technical issues on the day of the training so please make sure you have your IT person/computer expert on standby on the day of your training. Thank you for respecting these policies - it is very much appreciated.
I. IF WE CANCEL: We reserve the right to reschedule or cancel a training event, at any time, due to unforeseen circumstances (e.g., equipment/software failure, lack of staff availability such as car/traffic problems or illnesses). If we need to cancel the event due to insufficient registration, we will do so within six (6) days of the event being held. If we cancel the event, we will issue full refunds (or if you wish, offer you a credit to apply to another DPS training event). We have not canceled a training at the last minute and continue to keep our fingers crossed we never have to :)
J. ZOOM LINK & HANDOUT: At least once before the event begins, participants will be sent a reminder about the event and the Zoom link (sent to the email you used to register for this training). The handout is usually emailed the day before the training and posted on the day of the training (via Zoom chat room). Remember, the handout is NOT to be published (e.g., not posted on the web) nor is it to be shared with those who have NOT paid to take the training.
* DO YOU NEED MORE INFORMATION about this training?
* WOULD YOU LIKE TO BE NOTIFIED OF UPCOMING TRAININGS VIA YOUR EMAIL?
•IF YES: Please feel free to contact us at our business email at admin@dawn-mcbride.com or you are welcome to use the contact tab on Dawn's informative webpage: www.dawn-mcbride.com
Thank you so much for your interest in this training. We look forward to meeting you. Many people tell us it is a great learning day! We are eager to meet you and to learn of your issues/ concerns about writing session notes.
We hope to see you :)
Thank you again for your interest.