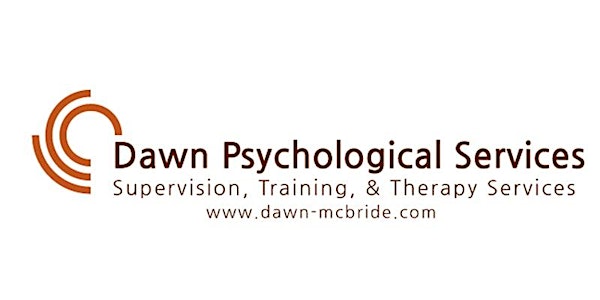 ETHICS -WRITING ETHICAL & EFFICIENT COUNSELLING NOTES - SOLD OUT
Refund policy
Contact the organizer to request a refund.
Eventbrite's fee is nonrefundable.
Learn some strategies of how to write clients' notes in under 5 minutes –session notes that are brief, meaningful, & ethical. Full PD day.
About this event
This session note ethics training is an intense ethics learning day – it is packed with ample information on how to document client sessions – specifically how to ensure your session notes are efficient (ideally under 5 mins.), ethical, and useful. It can be done! Let Dr. Dawn show you how in just one day.
We will begin the day by examining why helpers/therapists should not use the medical model of documentation. Thereafter, we will explore what NOT to record in counselling related session notes (e.g., using 'second set' of private session notes, being a client's life historian, writing down 'everything' you heard in a session and/or so you can remember everything). We shall also address the value of knowing the difference between being a fact and an expert witness, and how this information impacts what you document.
You will also learn specific topics to include in session notes that will offer enough information to meet the continuation of care and substance mandate. Additional information will include how to start and end sessions so note-taking becomes a collaboration, power-sharing process that is transparent and efficient.
Overall, you will learn various strategies to complete brief, meaningful session notes – which includes adding intentional, creative structure in sessions to ensure the focus of session work is on tracking safety and inviting change.
In addition, you will receive a copy of Dawn McBride's very efficient session note template with permission to use/adapt (with full citation) as needed for your practice when you attended this training. There will be ample time for discussion and questions. There is an extensive handout and the learning objectives will be included in the handout. We will also be using Zoom polls during the training as well as an exit poll to gather your feedback. Be warned - it is an intense learning day.
This training caters to those working on the front line within some sort of helping/counselling context within Canada with some focus on Alberta issues ( e.g., our Limitations Act). Dawn's ethical recommendations are highly relevant to front line counselling staff (e.g., social workers, counsellors, psychologists, school counsellors, outreach workers).
Please note: The ideas presented are based on Dawn McBride's professional knowledge, clinical work, and career experiences. Her ideas do not represent a legal or absolute opinion nor is she representing any regulatory body or counselling association. The ideas she is sharing reflects her ethical style. Thus, all audience members are encouraged to take from this training what fits - accept, reject, or modify- according to one's own: counselling style; critical reflection on the material Dawn shares; agency expectations and protocol; as well as one's code of ethics/standards of practice.
OTHER INFORMATION YOU MAY WANT TO KNOW:
A. The training starts at 9:15 a.m. MT (Calgary time) with opening remarks at 9:00 a.m. MT (Calgary time) -- You are asked to please sign on early (via Zoom link - camera use is optional) around 8:30 a.m. MT (Calgary time) to complete some housekeeping tasks (i.e., receive the handout, answer a poll, network, etc. ). Lunch will likely start at 12:15 p.m. for 60 minutes. The workshop will conclude around 4:30 p.m. MT (Calgary time) and Dawn will 'hang around' until 5:00 p.m. MT (Calgary time) for informal discussions about the day's content.
B. Each participant base fee, for a full, intense day of learning, is $140.00 Canadian and then there are no choice add on charges (i.e., GST & Eventbrite hosting fees, which are added on at the end). Your receipt, issued immediately via email, will include the GST amount.
C. Platform is Zoom Pro, purchased by DPS. No recordings are permitted. You are welcome to come and go as needed - as we fully recognize that everyone is very busy wearing many hats. Camera use is optional.
D. Cancellation policy: Full refund minus Eventbrite fees (approx. $9.00) no later than 7 days before the event. No refunds are available if requested on/after this period.
E. We need a minimal number of participants for this workshop to be held within six (6) days of the event scheduled to be held. If we do not reach this number then we will cancel the training and everyone will be refunded their full fees.
F. You will be sent the zoom link and handout on the day of the workshop.
Thank you so much for your interested in this workshop. We look forward to meeting you.
DO YOU NEED MORE INFORMATION? WOULD YOU LIKE TO RECEIVE EMAIL NOTIFICATIONS OF DAWN'S UPCOMING TRAININGS?
•Please feel free to contact us at our business email: workshops@dawn-mcbride.com or please use the contact tab on Dawn's informative webpage: www.dawn-mcbride.com