Ethnic Food Incubator Info Session #4
About this event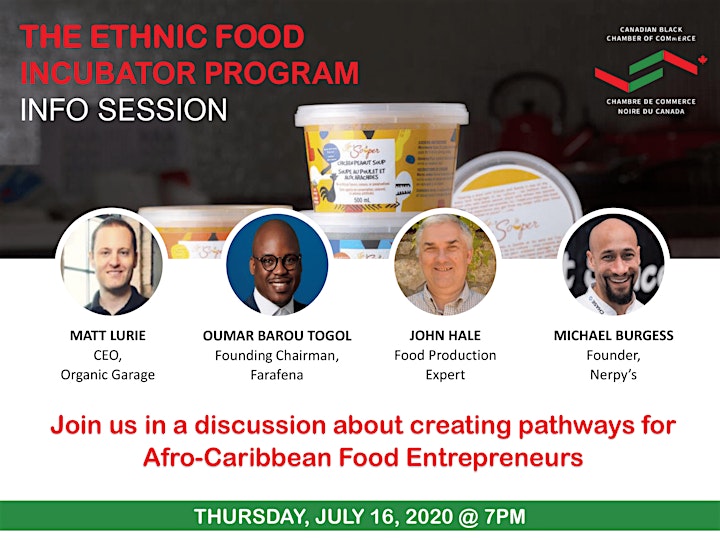 The CBCC Ethnic Food Incubator Program is a Canada-wide Business Incubator that enables food startups to take scalable business ideas from beta into revenue-producing businesses, thereby enabling them to enter grocery stores.
The program is spearheaded by The Canadian Black Chamber of Commerce (CBCC) and hopes to take out all the questions and guesswork when it comes to product development and market feasibility.
Having access to a variety of ethnic and diverse foods are an important part of the immigrant/Canadian experience and lifestyle. Yet while there's a need, many Black Canadian food businesses don't know how to develop their product into something that can scale.
The program runs for 12 weeks and participants must attend one 3-hour class per week learning valuable food startup knowledge from our industry experts.
Food entrepreneurs will learn:
Product Development
Legal Aspects
Money Management
Product Design
Technology
Marketing
Revenue
For more information, please contact info@BlackChamber.ca
Link to join Webinar
https://zoom.us/j/91943355701
These terms and conditions (these "Terms") govern your registration for and participation in this event (the "Event") and are an agreement between the Canadian Black Chamber of Commerce (Event Producer) and you. You represent to us that you are authorized to enter into these Terms. EVENT You may only register for and attend the Event in accordance with these Terms. To register for the Event, you must complete the Event registration process. Sharing your registration with another person(s) is a violation of the Code of Conduct and may result in your access to the event being terminated. AGE LIMITATION Attendees must be 18 years of age on the first day of the Event to attend this event. PHOTOGRAPHY, AUDIO AND VIDEO RECORDING By attending this event, you acknowledge and agree that the Event Producer has the right to use, reproduce, broadcast, rebroadcast, or incorporate in any manner whatsoever, all or any portion of photographs and/or videos of you or your participation in the Event for use in marketing materials and/or training materials and for internal use ("Materials"). You irrevocably, grant, transfer, and assign a nonexclusive, perpetual, worldwide, royalty free right and license to the Event Producer, if any, in and to the Materials and all copyrights in the Materials arising in any jurisdiction throughout the world, including the right to register and sue to enforce such copyrights against infringers. You understand that the Materials may be substantially edited, altered, rearranged or modified. To the maximum extent permitted by law, You hereby waive any moral rights you may have in the Materials. INFORMATION The Producer may collect, manage and share your information in accordance with its Privacy Policy: we do not sell, give or share any information to anyone without your consent. You will receive email notices with details for this event, and notices of relevant events. You may opt out of these email notices at any time. LEAD RETRIEVAL By allowing an industry partner or sponsor to receive your contact information throughout the event, you are opting-in to receiving communications from that entity. You will be subject to their communications and privacy policy and must opt-out with them directly. CODE OF CONDUCT We are committed to creating a safe environment that is inclusive and free from discrimination, regardless of race, religion, color, national origin, sexual orientation, gender expression or identity, transgender status, age, disability, veteran or marital status, or any other protected categories under applicable law. All participants must abide by the following policy: Expected Behavior Be considerate of those around you. Be respectful of others and viewpoints that may be different from your own. Be mindful of your words and actions. Unacceptable Behavior Unacceptable behaviors may include, but are not limited to: Offensive or unwanted behavior or language related to race, religion, color, national origin, sexual orientation, gender expression or identity, transgender status, age, disability, veteran or marital status, or any other protected categories under applicable law. Visual harassment, such as sexual images or sexual language at the Event, including presentations and slide decks. Intimidation or bullying Any other illegal activity not already covered above. Sharing your event registration with another person(s). Failure to follow any of the rules or regulations of the event or instructions of the event staff. VIEWS The views expressed by any event attendee, speaker, exhibitor or sponsor are not necessarily those of the Producer. All event attendees, speakers, exhibitors and sponsors are solely responsible for the content of any and all individual or corporation presentations, marketing collateral, advertising and online Web content. DISCLAIMER The Producer will provide You online access to and use of the Event via the Internet by use of a attendee-provided browser. You are solely responsible for obtaining and maintaining at its own expense, all equipment needed to access the Event, including but not limited to Internet access and adequate bandwidth. Registering to attend this event acknowledges acceptance of these terms and provisions of registration.