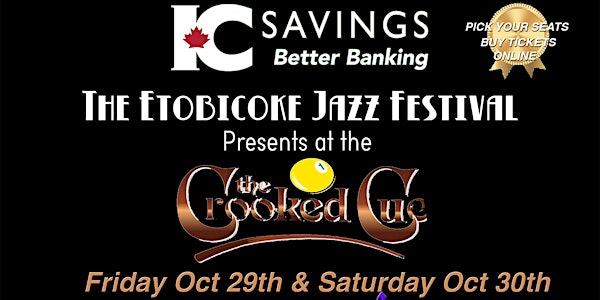 Etobicoke Jazz Festival 2021
EJF has been Running since 2015. and we are excited, once again, to bring our community a weekend of top-notch talent.
When and where
Location
The Crooked Cue 3056 Bloor Street West Toronto, ON M8X 1C4 Canada
Refund Policy
Contact the organizer to request a refund.
Eventbrite's fee is nonrefundable.
About this event
Friday October 29th
Etobicoke Jazz Student Project
7:00 -7:45
Christian Antonacci is an up and coming young Toronto jazz musician, coming from a musical family that has offered great musicians as early as the 1940s. Christian is just completing his music studies at the University of Toronto. Even though he is young in years his trumpet style he is steeped in an earlier jazz tradition and emulates a beautiful low register sound very similar to the great Miles Davis. He is very comfortable in both big band and combo playing and shows a remarkably fast fleeting skill at improvisation. His melodic approach is well beyond his years. Christian stays busy working on his craft and getting out to play with his peers as much as possible while dealing with Covid. He is featured once again at the Etobicoke Jazz Festival with a quintet made up of students from both U of T and the Humber music program.
Liala Biali Trio
8:00 - 9:00 pm
Laila Biali Born in Vancouver, Laila began playing piano at a young age. She studied classical piano for many years with the Royal Conservatory and at age 19 moved to Toronto to enroll in the Humber College Music Program. Four years later she released her first album "Introducing Laila Biali". Since then her musical life has been busy with her move to New York City where she has met, played and toured with many big names, including Sting. Her style is unique, working with many pop songs and adding her own jazz flavour along with her incredible, expansive vocals. She is truly one of the most personable and relatable musicians out there today.
The Trio
Robi Botos & Mike Downes
9:30 - 10:30 pm
The Trio with Robi Botos and Mike Downes From the hard bop style of Bill Evans and Herbie Hancock, to the swing of Oscar Peterson, Robi has managed to master the technique of his idols all while showing his musical expression in a voice of his own. Bassist Mike Downes is also an acclaimed composer and jazz educator. He has been a mainstay on the Canadian jazz scene for many years. Both accomplished musicians have shared the leadership of a trio that has produced JUNO award winning albums. Mike in 2018 for "Root Structure" and Robi in 2019 for "Old Soul"
Pretzel Logic
11:00 pm - 12:30 am
Pretzel Logic This inspired musical ensemble was founded by saxophonist/singer, Peter Graham, in 1994. In his own words, "At the nexus of jazz, blues and rock lies Steely Dan, the musician's band. Pretzel Logic is a ten piece band dedicated to the exploration and rendition of the music of Steely Dan. We began as a labour of love continues as such". The result is the listener gets the complete spectrum of Steely Dan's book. You will say it sounds amazingly like the records but with their own flair. The musicianship is top notch and features not only Peter, but Michael Shotton on vocals, Marco Luciani on keys and the famed drummer, Paul DeLong, to mention only a few. As they will close out the festival on Friday night, I am sure that they will rock you. Don't miss this one!
Saturday October 30th
Queen Pepper with Alison Young & Lorne Lofsky
7:30 - 8:30 pm
Queen Pepper (aka Mary Vanden Enden) Is the complete package. She is a vocal powerhouse, accomplished song writer and she graces the stage with a spellbinding magnetic pull. Starting to sing at a young age and influenced by the church and gospel music she developed her multi-genre style with the help of studying in the jazz vocal program at Mohawk College and by paying her dues with years of appearances at local Toronto clubs. Prior to Covid she wrote her first original album with the collaboration of musician/writer Dave Antonacci and released a special single, "One Step Closer to Home" with many more to come in the near future. She can often be found playing at the Reservoir Lounge in downtown Toronto where she has been on Thursdays for the last eight years. Check her out on QueenPepper.com
Alison Young A rising star on the Toronto jazz scene, saxophonist Alison Young is from Ottawa where she cut her teeth in the local jazz and blues community. Since moving to Toronto she has studied at the University of Toronto with Phil Nimmons, Mike Murley and Kirk McDonald. Prior to Covid she released her first jazz album "So Here We Are" where her style was compared to many of the old hard swinging sax legends. As a result she was nominated for the year's JUNO jazz award. Very much in demand these days Alison is busing working both locally and on the road. You can often find her at the Reservoir Lounge, in downtown Toronto as a permanent member of the Queen Pepper group.
Lorne Lofsky Is an internationally recognized jazz guitarist. Born and raised in Toronto he has been playing professionally for over forty years. He has toured, played and recorded with a who's who of the jazz world including Oscar Peterson, Ed Bickert, Rob McConnell, Joey DeFrancesco, Ray Brown, Chet Baker, Dave Holland, Kirk McDonald and numerous other jazz stars. He has performed at many international jazz festivals. In addition he has been a faculty member at York University for many years, teaches online through his website and is a mainstay in the Humber Music Community Music Program. He is considered world-wide as a guitarist's guitarist.
Hilario Duran's Contumbao
9:00 -10:00 pm
Hilario Duran has been based in Toronto for the last two decades but his music heart and soul remain near to the land of his birth. Hilario was born and raised in Havana, Cuba in a musical family surrounded by a variety of musical influences. Before arriving in Canada he established himself as an international latin jazz pianist working with such giants as Dizzy Gillespie, Michel Legrand and Arturo Sandoval. He is also an acclaimed music writer and recently established a large orchestra that features many orhis inspired originals. As a result of all his experiences and endeavours he is a multi-JUNO winner and nominee, a Grammy nominee and a winner of countless other accolades.
Alexander Brown is a hard bop, post bop and Latin oriented musician. He became one of Cuba's prominent trumpet players in the late 1990's and now is one of the most vital players and composers on Toronto's dynamic music scene. A resident of Toronto since 2005, Alexander Brown has collaborated with national bands lead by Jane Bunnett, Hilario Duran, Amanda Martinez, Dave Young, Carla Bley, Danilo Perez, Paquito D'Rivera and many others. He has recorded two albums under his own name emphasizing ensemble work in his compositions.
Alex Dean - Tenor Madness
10:30 pm - 12:30 am
Alex Dean One of Canada's foremost saxophonists has been a vital force on the Canadian jazz scene for many years. He has played and recorded with artists such as Gil Evans, Harry Connick Jr, Phil Nimmons and the Toronto Symphony Orchestra among many others. Alex held the tenor sax chair with Rob McConnell's Grammy award winning Boss Brass and JUNO winning Tentet. Also a member of the Humber music program, Alex has been a longtime friend and supporter of the EJF and we celebrate his release of his first big band album, which debuted just before Covid.