Description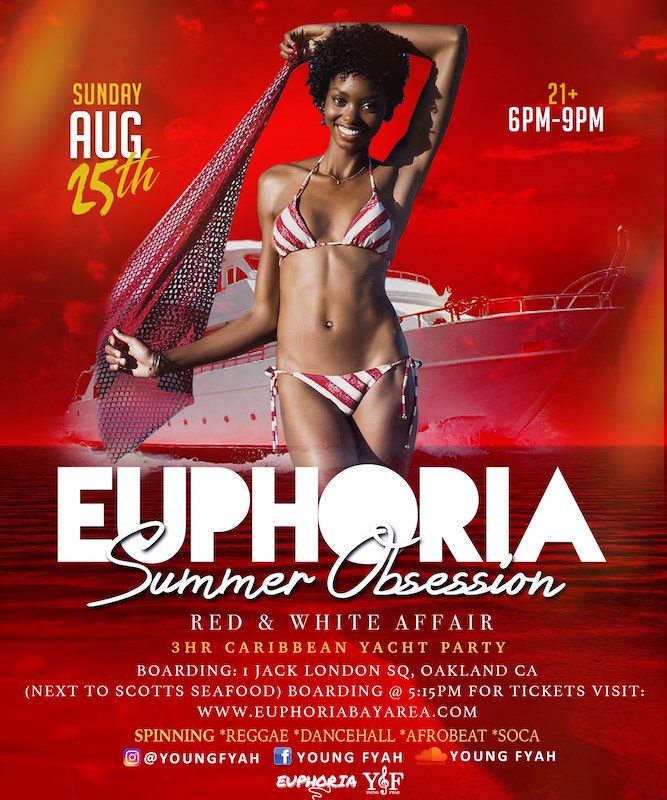 It's that time once again for Euphoria Caribbean Yacht Party ! A three hour premier cruise around the bay listening to your favorite old and new Reggae/Dancehall, Soca and Afrobeat hits! As we take our journey out of Jack London Square we will cruise all the way under the Bay Bridge to McCovey Cove in San Francisco. If you love authentic Caribbean Music and culture this event is for you!
Music will be provided by:
Young fyah X Dj Doogie and Guest
Caribbean food will be available.





CRUISE PARTY HIGHLIGHTS:

2 Fully stocked Bars
Full Panoramic Views of the aesthetic Bay, best Views of SF City Skyline, Bay Bridge
LIVE FORMAT DJ (Reggae, Dancehall, Soca, Afrobeat)
2 Levels of Entertainment and Fun
12000Watts of roaring Music

Cruise**

Boat Loads at 30 min before each cruise. All ticketed passengers will be boarded first.

all ticketed passengers must be in line or on the boat 15 min before boarding. YOUR TICKET WILL BE CANCELLED IF NOT CHECKED IN. No refunds

15 min before boarding, Cash only Tickets go on sale until the boat is full

The boat departs at "6:00 PM SHARP!!"

We "MUST" leave on time and keep on schedule folks. The boat will not wait for you so please arrive extra early to get good parking and familiarize yourselves with the area. There are big parking lots in the Jack London Square area close to our departing place, and public parking on the streets, but can be busy with the many restaurants and shops so please prepare.

((( BOAT DEPARTURE ADDRESS ))) ~>>> 1 BROADWAY, OAKLAND, CA 94607


...in the Jack London Square (area of Oakland) at the very end of Broadway Street (also next to Lungomare restaurant - in case you need another reference).


*Please remember to bring your PHOTO ID's to be checked thru security and for ticket purchase confirmation. Please bring your ticket print-outs (if possible). *If you have bought multiple tickets, please have these persons with you on arrival before entering the boat to avoid confusion! This is a 21+ event.

About the boat: "Bay Celebrations" is a locally owned, double-decked riverboat style vessel powered by twin engines. The boat is wheelchair accessible and features a full bar and indoor/outdoor areas. The boat moves slowly for maximum comfort and will tour the lovely waters of the SF Bay. This boats' capacity is 145 people.

Beverages (water, alcohol, soda, juice, etc.) sold at the boats two bars. We strongly suggest bringing a thick jacket as it can get chilly & windy during the evening hours and out on the deck. No backpacks and only good vibes on this journey...
Let's have some fun!


WHERE? 1 Broadway, Jack London Square behind Scotts Seafood near Plank






No REFUNDS, please! Ticket sales are FINAL. NO REFUNDS in case you miss the CRUISE. SORRY!




Pictures may be taken for marketing purposes. All passengers consent to use of their pictures by Bay Celebrations