Description
The CIC National Capital Branch presents
EUROPE POST BREXIT AND THE ELECTION OF DONALD TRUMP
Europe is at a critical juncture. Following the largest influx of refugees since World War II, Brexit, and the election of Donald Trump in the US, voters in key upcoming national elections in the U.K. (June 8), Germany (September 24), and a run-off for the presidency in France in May, will help determine the destiny of a continent in turmoil.
Join us for an evening with the Hon. Lawrence Cannon, Ambassador of Canada to France, and former Foreign Minister, to help us understand these developments and their implications for Canada. Ambassador Cannon will also comment on the significance of the Canada-European Union Comprehensive Economic and Trade Agreement (CETA) as Canadian business is likely to face growing pressure in US markets during the Trump era.
The Hon. Lawrence Cannon was named Canada's ambassador to France in May 2012. He was Minister of Foreign Affairs, and Minister of Transport, Infrastructure and Communities and Minister responsible for Québec, under Stephen Harper's government. He has worked extensively in private industry, within the telecommunications sector, including as Vice-President of Government Affairs at Unitel (now AT&T Canada Corp.), and within Québec provincial and municipal politics.

Sandelle Scrimshaw, having served as Minister Plenipotentiary at the Canadian Embassy in Paris 2006-2010 (and as a frequent visitor to France), will act as our moderator.
DATE AND TIME:
Tuesday, May 23, 2017
5:00 pm: Registration, reception and cash bar
6:00 pm: Presentation, discussion
7:30 pm: Dinner (optional)
Please notify us in advance of any special dietary requirements.
Deadline for registration and cancellation is noon on Saturday, May 20, 2017.
TICKET PRICES: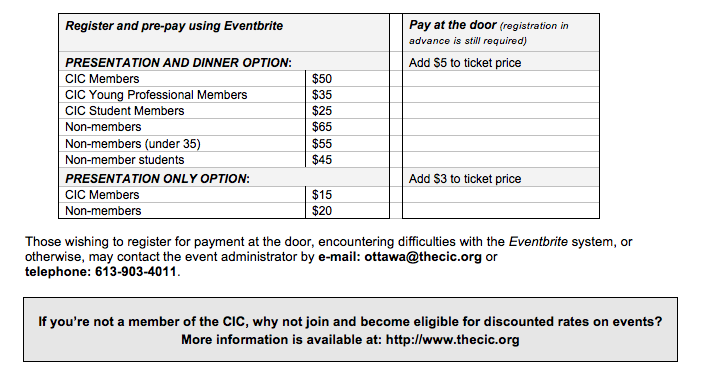 ---
Le chapitre de la Capitale nationale du CIC présente
L'EUROPE POST BREXIT ET L'ÉLECTION DE DONALD TRUMP
L'Europe se trouve à un moment critique. À la suite du plus grand afflux de réfugiés depuis la Seconde Guerre mondiale, du Brexit et de l'élection de Donald Trump aux États-Unis, les élections nationales à venir au Royaume-Uni (8 juin), en Allemagne (24 septembre) et après le run-off en mai pour la présidence en France vont aider à déterminer la destinée d'un continent dans la tourmente.
Nous vous invitons à vous joindre à nous pour une soirée avec l'hon. Lawrence Cannon, ambassadeur du Canada en France et ancien ministre des Affaires étrangères, qui nous aidera à comprendre ces développements et leurs implications pour le Canada. L'ambassadeur Cannon commentera également l'importance de l'Accord économique et commercial global (AECG) entre le Canada et l'Union européenne alors que les entreprises canadiennes feront face à une pression croissante sur les marchés américains pendant l'ère Trump.
L'hon. Lawrence Cannon a été nommé ambassadeur du Canada en France en mai 2012. Il a été ministre des Affaires étrangères et ministre des Transports, de l'Infrastructure et des Collectivités et ministre responsable du Québec, sous le gouvernement de Stephen Harper. Il a également beaucoup travaillé dans l'industrie privée, dans le secteur des télécommunications, notamment en tant que vice-président des affaires gouvernementales chez Unitel (maintenant AT&T Canada Corp.), et il a été actif sur la scène politique provinciale et municipale du Québec.
Sandelle Scrimshaw, qui a été ministre plénipotentiaire à l'ambassade du Canada à Paris entre 2006 et 2010 (et qui visite fréquemment la France), agira en tant que modératrice.
DATE ET HEURE:
Mardi 23 mai 2017
17 h 00: Inscription, réception et bar payant
18 h 00: Présentation et discussion
19 h 30: Repas (facultatif)

Veuillez nous avertir à l'avance de tout régime alimentaire particulier.
La date limite d'inscription est le samedi 20 mai, 2017 à midi.
PRIX DES BILLETS: