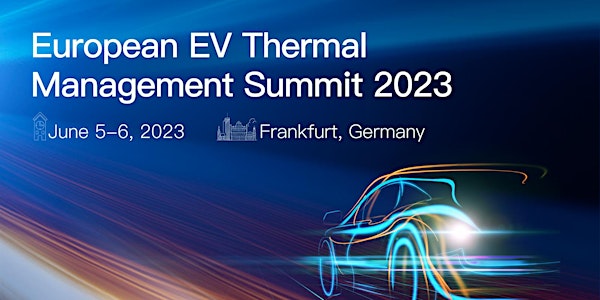 European EV Thermal Management Innovation Summit 2023
This summit will closely follow the latest industry trends and key technologies applications of EV thermal management under the background o
Date and time
Mon, 5 Jun 2023 09:00 - Tue, 6 Jun 2023 17:00 CEST
Location
美因河畔法兰克福 Frankfurt, Germany 999035 Frankfurt, Germany Germany
Refund Policy
Contact the organiser to request a refund.
About this event
1 day 8 hours

Mobile eTicket
Event Background
Under emerging technologies wave of automotive electrification and intelligence, also responding to climate change and energy crisis action, EV industry is developing rapidly while at the same time EVs' driving range anxiety, battery fire and explosions, energy consumption reduction becomes more and more urgent and prominent. Passengers are expecting more comfortable and safer driving experience as well. Thus thermal management plays an increasingly important role and taking more responsibilities. Compared with fuel cars, structures of EV thermal management systems are more complicated and challenging, while the supporting value of single vehicles is much higher. Therefore automotive industry has increased investment in developing EV thermal management technologies, particularly in battery thermal management. Safe, comfortable, reliable, energy-saving, green and economical thermal management has been core competitiveness for EV brands.
This summit will closely follow the latest industry trends and key technologies applications of EV thermal management under the background of "Carbon Peak & Carbon Neutrality". The conference will conduct in-depth research and cases study on EV thermal management policies & regulations, integrated thermal management systems, architectural design optimization, battery temperature control and safety, heat pump air conditioning system, cooling systems, waste heat recovery, refrigerant green replacement, smart control system and other key topics. Attendees at this two-day event will fully exchange their successful practices and sustainable development path of highly integrated and intelligent EV thermal management systems to co-promote the transformation and advanced innovation for next generation driving.
Event Date/ Location / Organizer
June 5-6 ,2023/ Frankfurt, Germany / ECV International
Hot Topics
Trends Analysis & Insights Sharing on the Future Development of EV Thermal Management
Optimization and Updates of EV Thermal Management Systems Architecture
Advanced Multifunctional and Sustainable Thermal Management Materials
Intelligent Thermal Management Systems
3D Simulation and Testing
High Voltage Battery Thermal Management Systems
Energy Management and Thermal Management on BEVs & PHEVs
CO2 Heat Pump Air Conditioning System Development and Mass Production Strategies
Safety Challenges and Prevention Management of Li-ion Batteries
Innovative Approaches to Transform Waste Heat into Electricity
Hybrid Electric Vehicles' Integrated Cabin Heating and Powertrain Thermal Energy Management
Lightweight and Integrated Structural Design of Thermal Management Components
Heat Dissipation Structure with Latest Generation High Power IGBT Modules
About Organizer
With a team of 100+ professionals specialized in events planning and execution, we held 60+ high-level online & in-person international summits around the world per year. The theme of the events involved in the fields of Vehicle, Energy, Manufacturing, Apparel & Textile, Footwear Industry, Digital Marketing, Carbon Neutral, Sustainability Development, Supply Chain, Finance, Digital Talent, Steel, Cyber Security and other traditional and emerging technology industries. We have served more than half of the Fortune 2000 companies and with 6000+ executives and delegates from top-notch corporations take part in our events each year.
We have successfully organized a number of industry-influential events through in-depth industry insight, well-managed customer relationship. Our mission is to provide professional services, connect and inform stakeholders the latest industry trends and best practices, and build a high-value social platform for industry executives. Help enterprise decision-makers meet challenges, seize opportunities and achieve efficient development and create more value.
European EV Thermal Management Innovation Summit 2023 is looking forward to your arrival.
If you are interested in participating in the summit, you can visit our official website or email us.
Event website: http://www.ecvinternational.com/EuropeanEVThermalManagement/
Contacts
Wes Wei
Tel:+86-21-8026 0707 ext 803
Phone: 13271915990
Email: marketing@ecvinternational.com
Linkedin:https://www.linkedin.com/company/ecv-international-shanghai/
About the organiser
ECV Retail Industry has hosted series of summits for consecutive 6 years, topics involving Ecommerce, digital marketing, digital supply chain, new retail, luxury retail, etc. We served executives and decision-makers from Walmart, Starbucks, Alibaba, Tencent, JD.com, Haier and other Fortune 2,000 company. Our database of high-end retail customer resources accumulated about 100 thousand.
Our speakers and participants are from SEPHORA, SWAROVSKI, Secoo, JD.com, Tencent, MEISTERKREIS, Hugo Boss, etc. The accumulation of high-end worldwide retail customer resources is nearly 10,000 people. ECV retail industry summits are committed to providing high quality learning, communication and resource platform for decision makers from all over the world.