EV Fest 2011, Electric Vehicle Show. Toronto's Premier Electric Vehicle Fall Festival

Sunday, October 23, 2011 from 10:00 AM to 5:00 PM (EDT)
Event Details
Date: Sunday, October 23, 2011
Public Show Time: 10:00 AM - 5:00 PM
Location: Evergreen Brickworks, 550 Bayview Ave.
Toronto, Ontario  M4W 3X8
Guest Just $5, Registration Required.
On Site Paid Parking - Shuttle Drop Off Point 
(See - Getting Here, below.) (Exhibitors - Register Here)
See: Electric Vehicles, including Cars, Trucks, Motorbikes, Hybrids,
Plug-in Hybrids, eBikes, Electric Scooters, Trikes, and More!
New for EV Fest 2011:
Ride & Drive Events; Longer Show Hours, More OEM EV's on site!
Tell your Friends, Business Associates, Suppliers, Customers, and Neighbors! 
Getting Here: (Bus, Car, Bike, and on Foot Instructions)
By Bus:
-Shuttle: There is a Free Shuttle Bus Departs from the parkette on Erindale Ave east of Broadview Ave (just north of Broadview subway station).
Shuttle bus pickup location on Google Maps The shuttle bus is wheelchair accessible.
Pets are not permitted on the shuttle bus, but service animals such as guide dogs are permitted.
- By TTC: Take the 28A bus from Davisville subway station. Sundays between 8:30am and 6pm. Service every 30 minutes. Departs from Davisville on the :00 and :30 and from Evergreen Brick Works on the :15 and :45.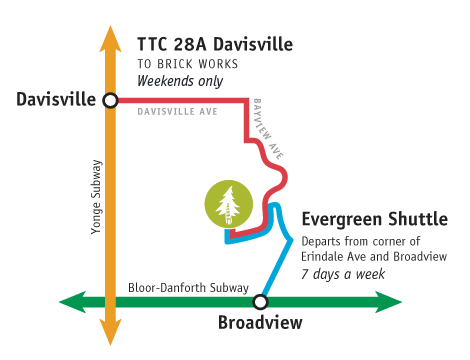 By Car:
- View the Map At the Right and zoom as needed, or Open this Map Link:
From the Don Valley Parkway: Take the exit for Bloor Street/Bayview Avenue and exit right to head north on Bayview for 300 metres until you come to Evergreen Brick Works.
From Downtown: It is easiest to access Bayview Avenue from River Street, which runs north from King Street and joins Bayview just north of Gerrard Street.
From East York: The easiest way to approach Bayview Avenue from the east is via Pottery Road, which runs between Broadview Avenue (north of Bloor) and Bayview Avenue. Travel 700 metres south on Bayview until you come to Evergreen Brick Works on your right.
Our on-site parking is managed by the Toronto Parking Authority, and paid parking is in effect. Parking is not permitted on Bayview Avenue. Parking on Bayview is very unsafe, and is signed "No Parking." City staff are obligated to issue parking tickets in this area.
Parking is Currently - Maximum $6.00 Per Day. Also $1.00 Per Half Hour.
If you must come by car, please consider reducing the environmental impact by sharing your ride.
For additional tips on sharing see the Evergreen Brickworks Carpool Zone information here.
By Bike - Instructions Here, and by Foot, Instructions here.
Have questions about EV Fest 2011, Electric Vehicle Show. Toronto's Premier Electric Vehicle Fall Festival?
Contact EV Fest
When & Where

Evergreen Brickworks - Holcim Gallery
550 Bayview Avenue
Toronto, Ontario M4W 3X8
Canada

Sunday, October 23, 2011 from 10:00 AM to 5:00 PM (EDT)
Add to my calendar
Organizer
EV Fest is a creation of many people - in the Electric Vehicle Industry, from Committed Electric Vehicle Owners and Enthusiasts; to Electric Vehicle Manufacturers and Dealers and Private Electric Vehicle Conversion Technicians, from Creating to Servicing, Driving, to Enhancing - EV Fest is about what can each of us do to bring forward Electric Propulsion, Transportation, Recreation, and Home Maintenance, to have a cleaner planet, more livable present, and survivable future.
As such, Electric Vehicles of all types, New Energy sources and Alternate Energy Sources like Wind, Solar, Micro-Hydro, BioMAss Electricity and Co-Generation are all relevant Technologies of interest to EV Fest Attendees and Exhibitors.
When we think of Electric Transportation, we might forget Personal Mobility Devices, or Mining Trucks, or even Ships, but they all are looking at increasing their reach to blending technologies, Solar & Wind Powered Cargo Ships, Solar  Car Parking Providing Power to Recharge Electric Vehicles, and even Battery Electric Hybrid Train Engines are all relevant!
Anything that is about reducing dependance on products that contaminate the air, water, or soil, are what EV Fest is really about, so - we hope you like the mix we are putting together, not just to look at, but to participate in, to take action, no matter how little, to help, or assist for those who need it - you are the spirit of EV Fest! Congratulations! This Show is For You!
We Seek to place EV Fest and any related shows at relevant Venues, and any leads you might discover to provide a more suitable, relevant, and beneficial location, we would be pleased if you could forward such Venue information to us, including Address, Emails, and Phone Numbers.
You can see our contact points below, but don't forget to check out our Blog from time to time, as well: http://blog.evfest.ca/