EV Fest 2012
Electric Vehicle Show
Toronto's Premier Electric Vehicle Festival

Sunday, 9 September 2012 from 10:00 AM to 5:00 PM (EDT)
Event Details
EV Fest 2012!
Sunday, September 9th, 2012
Hours: 10AM - 5PM! 
Evergreen Brick Works - 'The Pavilions' 
550 Bayview Avenue, Toronto, Ontario
---
See vehicles like the Toyota Prius PHV, Chevy Volt, Nissan LEAF, Tesla Roadster, Mercedes Smart ED, and other OEM EV and Plug-in Hybrid as well as Hybrid Vehicles.  See the 2012 Exhibitor List Here.

You will also see Electric Motorcycles, Personal Electric Vehicle Conversions, Electric Scooters and mobility devices, eBikes, and vendors supporting all theses areas, from OEM Electric Vehicle Charging Companies, Vehicle LED Lighting, Conversion Components, and more!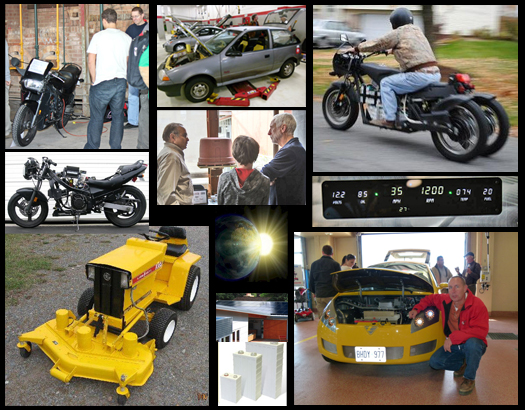 ---
Where is Evergreen Brick Works?
550 Bayview Avenue, Toronto, Ontario, Canada.
(Bayview Extension, North of the Bayview/Bloor Ramp)
It's Here:

Where at the Brick Works are 'The Pavilions'?
Building 'A' - Here:
Just Look for the Large Steel Roofed Building that is painted "EVERGREEN BRICK WORKS" - That's 'The Pavilions' and that's where we will be! Learn more about Evergreen Brick Works Here.
Check out the EV Fest main website here!
Have questions about EV Fest 2012 Electric Vehicle Show Toronto's Premier Electric Vehicle Festival?
Contact EV Fest
When & Where
550 Bayview Avenue
Toronto, M4W 3X8
Canada

Sunday, 9 September 2012 from 10:00 AM to 5:00 PM (EDT)
Add to my calendar
Organizer
EV Fest is a creation of many people - in the Electric Vehicle Industry, from Committed Electric Vehicle Owners and Enthusiasts; to Electric Vehicle Manufacturers and Dealers and Private Electric Vehicle Conversion Technicians, from Creating to Servicing, Driving, to Enhancing - EV Fest is about what can each of us do to bring forward Electric Propulsion, Transportation, Recreation, and Home Maintenance, to have a cleaner planet, more livable present, and survivable future.
As such, Electric Vehicles of all types, New Energy sources and Alternate Energy Sources like Wind, Solar, Micro-Hydro, BioMAss Electricity and Co-Generation are all relevant Technologies of interest to EV Fest Attendees and Exhibitors.
When we think of Electric Transportation, we might forget Personal Mobility Devices, or Mining Trucks, or even Ships, but they all are looking at increasing their reach to blending technologies, Solar & Wind Powered Cargo Ships, Solar  Car Parking Providing Power to Recharge Electric Vehicles, and even Battery Electric Hybrid Train Engines are all relevant!
Anything that is about reducing dependance on products that contaminate the air, water, or soil, are what EV Fest is really about, so - we hope you like the mix we are putting together, not just to look at, but to participate in, to take action, no matter how little, to help, or assist for those who need it - you are the spirit of EV Fest! Congratulations! This Show is For You!
We Seek to place EV Fest and any related shows at relevant Venues, and any leads you might discover to provide a more suitable, relevant, and beneficial location, we would be pleased if you could forward such Venue information to us, including Address, Emails, and Phone Numbers.
You can see our contact points below, but don't forget to check out our Blog from time to time, as well: http://blog.evfest.ca/