| | |
| --- | --- |
| E.V. Fest 2016 Saturday Electric Vehicle Tailgate Party - Cancelled | |
Event Details
New Event Activity! Special Changes have Been Made Due to Competing Events!
E.V. Fest© 2016
Electric Tailgate Party
Is Cancelled!
Saturday, 

July 16
Harry Howell Arena
10:00 AM to 5:00 PM,
27 Hwy 5 West
Electric Tailgate Party Scheduled for Saturday, July 16th, instead of the usual EV Fest indoor Event, will be Cancelled! 
My Sisters Husband died in the morning of July 10th/16. I just found out today after work (July 11th).
EV Fest's Electric Tailgate Party will have to be cancelled too! I will be in B.C that day for Funeral.
I Will Consider a future date to re-attempt some suitable event after my return!
Refunds will be processed shortly.
I thank you for your support and wished we could continue, but I can not be in two places at one time just yet.
Robert Weekley
EV Fest Lead Developer
PlugShare Link for Arena, taking you to their Map & Location:
At E.V. Fest 2016 Electric Tailgate Party, You will see a variety of Manufacturers Electric Vehicles, Electric Vehicle Conversions, Electric Vehicle Charging Station Options, have a chance to meet Local Electric Vehicle Organizations and their Organizers, and More!
*There are Ten (10) Level 2 EV Chargers on site at the Venue for our Show!
They will be divided typically at least 5 for Guests and up to 5 for Test Drive and Exhibitor Activity.


---
Where is Harry Howell Areana (North Wentworth Community Centre)?

It's Here: (Google Map Area View)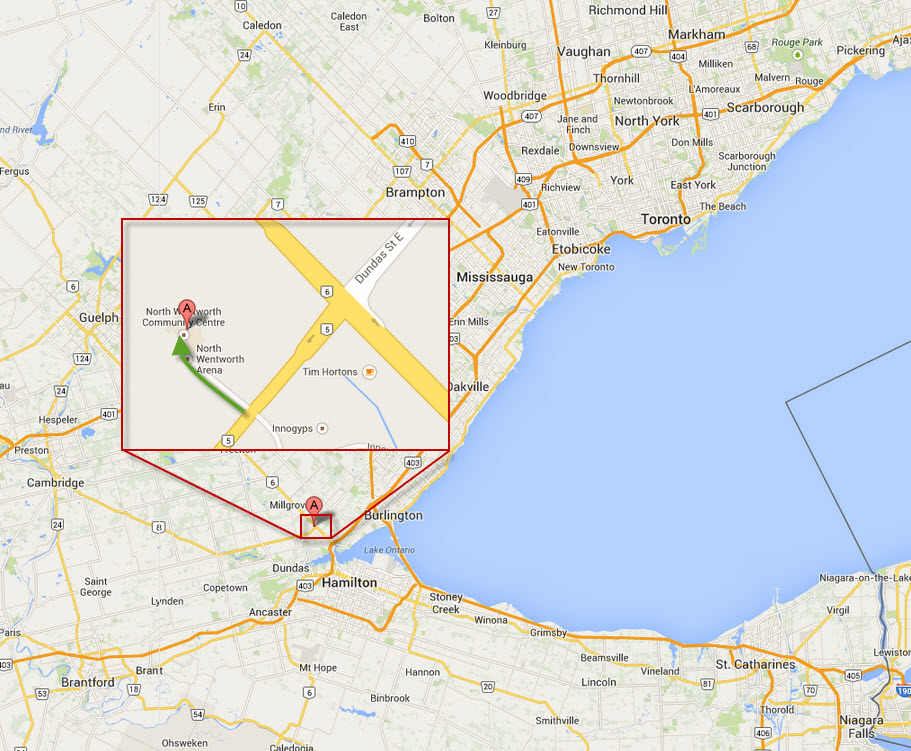 27 Hwy-5 West, Waterdown (Hamilton), Ontario.
Take Highway #6 to Dundas St./Highway 5 and turn West. The Driveway to the Community Centre/Twin Pad Arena, is: 1 Block West (300 Metres) of Highway 6, on Dundas Street (Highway 5), North Side. (Opposite 'South Drive').
Just East of Airways Transit Parking Lot, by ~10 metres.
Google Map View - Animations:
Driving North on Hwy 6 to North Wentworth Community Centre: Turn North on Wentworth Drive, about 300 Metres West from the Intersection of Hwy 6 and Dundas St. (Hwy 5)
[This Animation Runs in a loop of about 8 seconds.]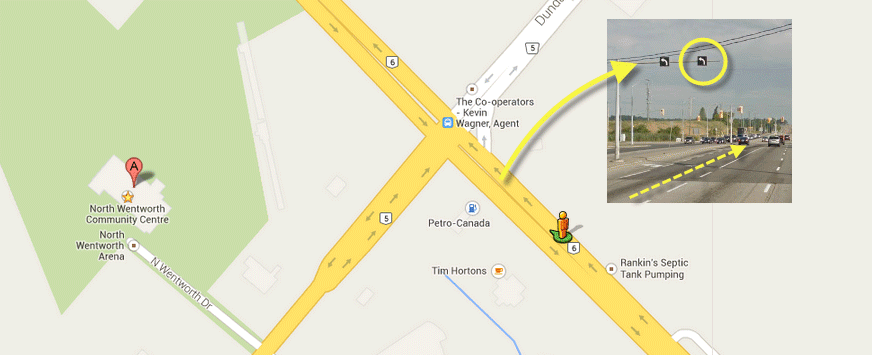 Driving South on Hwy 6 to North Wentworth Community Centre: Turn North on Wentworth Drive, about 300 Metres West from the Intersection of Hwy 6 and Dundas St. (Hwy 5) 
[This Animation Runs in a loop of about 16 seconds.]

Parking Lot, Showing the Arena & EV Chargers for Attending Guests with Electric Vehicles: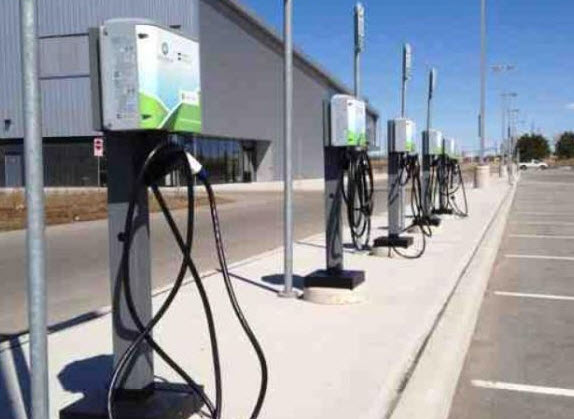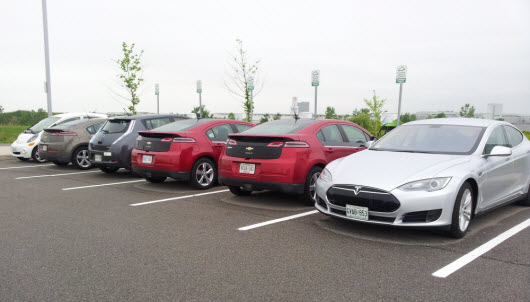 Check out the EV Fest main website here for the latest details!
(Get More Information and Directions there also!)
Also See our Facebook page and see our EV Fest Blog for updates!
Eventbrite Tickets: You can Bring your printed Eventibrite paper ticket, or use the Eventbrite App on your smart phone to display your ticket bar code for scanning upon arrival.
Refunds: will generally only be offered or Available in the Event of any Failure of EV Fest 2016 Proceeding as planned, Changes to Venue after tickets are Purchased, or for errors in ticketing.
Please Note: No Refunds will be issued: - for personal schedule changes, personal planning mistakes, or distractions, causing you to forget the event date, affecting your personal attendance. Consider a Substitution.
However - any ticket Holder buying online, More Than 48 hours before the Event - WILL get not less than an automatic generated 48 hour reminder before the event - to help keep you on track!
If you have concerns about conflicts - wait until you are sure of your schedule before buying your ticket, but remember - Online Purchased Survey Tickets are always less expensive than Online or Cash Quick Tickets, or at the Gate Cash Payment.
If you wish - you can also take advantage of our Newsletter for EV Fest Updates - and subscribe to that of your own wishes!
Tougher Questions? Critical Conditions?  Email us!
Have questions about E.V. Fest 2016 Saturday Electric Vehicle Tailgate Party - Cancelled?
Contact EV Fest
Where

Harry Howell Arena - Formerly North Wentworth Community Centre <br>(Twin Pad Arena + EV Charging)
27 Hwy-5 West, Waterdown, ON
Turn North 300 Meter's West of Highway 6, from Hwy. #5.
Hamilton, ON L9H 7L5
Canada

Organizer
EV Fest
EV Fest is a creation of many people - in the Electric Vehicle Industry, from Committed Electric Vehicle Owners and Enthusiasts; to Electric Vehicle Manufacturers and Dealers and Private Electric Vehicle Conversion Technicians, from Creating to Servicing, Driving, to Enhancing - EV Fest is about what can each of us do to bring forward Electric Propulsion, Transportation, Recreation, and Home Maintenance, to have a cleaner planet, more livable present, and survivable future.
As such, Electric Vehicles of all types, New Energy sources and Alternate Energy Sources like Wind, Solar, Micro-Hydro, BioMAss Electricity and Co-Generation are all relevant Technologies of interest to EV Fest Attendees and Exhibitors.
When we think of Electric Transportation, we might forget Personal Mobility Devices, or Mining Trucks, or even Ships, but they all are looking at increasing their reach to blending technologies, Solar & Wind Powered Cargo Ships, Solar  Car Parking Providing Power to Recharge Electric Vehicles, and even Battery Electric Hybrid Train Engines are all relevant!
Anything that is about reducing dependance on products that contaminate the air, water, or soil, are what EV Fest is really about, so - we hope you like the mix we are putting together, not just to look at, but to participate in, to take action, no matter how little, to help, or assist for those who need it - you are the spirit of EV Fest! Congratulations! This Show is For You!
We Seek to place EV Fest and any related shows at relevant Venues, and any leads you might discover to provide a more suitable, relevant, and beneficial location, we would be pleased if you could forward such Venue information to us, including Address, Emails, and Phone Numbers.
You can see our contact points below, but don't forget to check out our Blog from time to time, as well: http://blog.evfest.ca/
E.V. Fest 2016 Saturday Electric Vehicle Tailgate Party - Cancelled