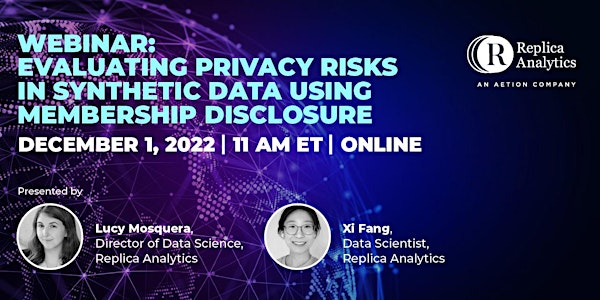 Evaluating Privacy Risks in Synthetic Data Using Membership Disclosure
This technical presentation presents information on evaluating privacy risks in synthetic data using membership disclosure
About this event
Synthetic data generation (SDG) is an innovative technology that has been proposed as a tool to generate healthcare datasets with low privacy risks. Quantifying privacy risks in synthetic data is an essential step in building trust and growing adoption of SDG. However, many measures of privacy risks have been developed for synthetic data where different metrics correspond to different types of risks.
This webinar offers an introduction to membership disclosure risk assessments in synthetic data. Membership disclosure is when an adversary learns that a target individual is in the training dataset based on the information in the synthetic dataset. It is one of the key disclosure risks in our synthetic data privacy framework.
We will present findings from our recent JAMIA Open publication which aimed to validate key parameters in how this risk assessment is implemented. The conclusions of this work will provide valuable guidance on how to assess membership disclosure risks in synthetic data from a practical perspective.