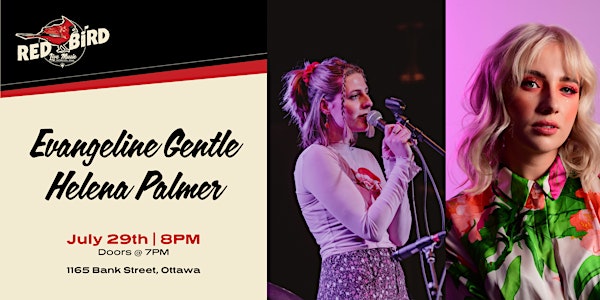 Evangeline Gentle and Helena Palmer
Evangeline Gentle and Helena Palmer co-headline at Red Bird
When and where
Location
Red Bird 1165 Bank Street Ottawa, ON K1S 3X4 Canada
Refund Policy
Contact the organizer to request a refund.
Eventbrite's fee is nonrefundable.
About this event
Helena Palmer
Born in the UK, Helena Palmer is a singer/songwriter who has spent the past two years focusing on her music career within the Ottawa music scene. Her style is soft, yet psychedelic and on stage, Helena's music comes to life in a sequence of dreamy melodies powdered by her sweet vocals.
Evangeline Gentle
Rich, sweet, and lush with vibrato. These are only a few of the unmistakable qualities that constitute Evangeline Gentle's voice. But make no mistake; they are more than an accomplished voice – her songwriting possesses authenticity and depth as rare and unique as her own journey.
Born on the Northeast coast of Scotland, Evangeline has live performance i their blood. Evangeline believes in the good-naturedness of people and our capabilities of growing together.
Evangeline's a cappella EP You and I is streaming now on all platforms. Their debut LP, produced by Jim Bryson (Kathleen Edwards, Oh Susanna) at his Stittsville, Ontario studio Fixed Hinge and mastered by Grammy-nominated engineer Philip Shaw Bova (Bahamas, Feist), is also available now on all platforms via Sonic Unyon Records.
For Gentle, this album is about far more than just musical achievement.
"The album's overarching theme is the pursuit of open-heartedness," they add. "It's driven by the belief that it takes extreme strength to be vulnerable but that the rewards of doing so are far greater than those of being closed-off in the name of self-preservation. That wasn't intentional. Only when the album was finished did it dawn on me that this idea was the thread stitching these songs together."
The album's ten tracks make for a powerful introduction to this Hamilton-based singer songwriter. "Ordinary People" and "The Strongest People Have Tender Hearts" celebrate the strength it takes to stay soft in a world that can harden you with a single headline. "Drop My Name" champions the voice of someone no longer willing to be taken advantage of. "Sundays" is a sweet and honest exploration of insecurity in our romantic relationships. "Neither of Us" and "Long Time Love" are love songs for the modern day world, while "So It Goes" is a nostalgic retelling of teen-hood and summer love. "Even If" and "Digging My Grave" are more meditative tracks that share vulnerable truths about depression and recovery. "Good and Guided" is a hopeful closing song to this album, uniting listeners with the question "How do we become good and guided by the heart?".
Evangeline has shared stages with notable artists such as Basia Bulat, Donovan Woods, Kathleen Edwards, Tim Baker, Jim Bryson
Craig Cardiff, Matt Andersen, Terra Lightfoot, and Lee Harvey Osmond and more.