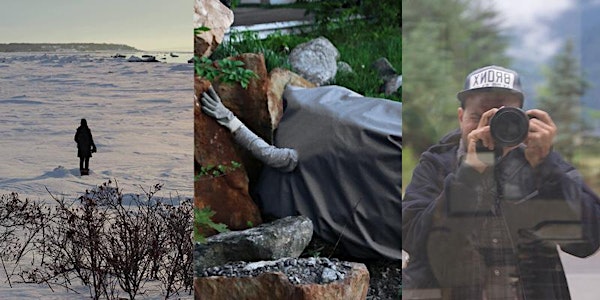 Événement de clôture | Closing event
Valérie Lefebvre-Faucher, Ileana Hernandez Camacho et Franklin Lopez : Événement de clôture | Closing Event
About this event
Le Centre de recherche sur les innovations et les transformations sociales (CRITS) en partenariat avec le Centre des arts actuels Skol, présente un événement multidisciplinaire pour clôturer le colloque "Bâtir l'Après pour affronter la crise climatique : entre transition, résilience et résistances". Nous aurons la chance d'y recevoir trois invité-es : l'auteure et éditrice Valérie Lefebvre Faucher, dont l'écriture porte notamment sur l'écoféminisme, l'artiste de performance Ileana Hernandez Camacho, qui travaille sur notre rapport à l'environnement, ainsi que le réalisateur et producteur Franklin Lopez qui a récemment documenté la résistance de la nation autochtone Wet'suwet'en.
***
The Research Centre on Transformation and Social Innovation (CRITS), in partnership with the Centre des arts actuels Skol, is presenting a multidisciplinary event to conclude the symposium "Building a New World in the Shell of the Old to Face the Climate Crisis : Between Transition, Resilience and Resistance". We will have the chance to receive three guests : author and editor Valérie Lefebvre Faucher, whose writing also focuses on eco-feminism, performance artist Ileana Hernandez Camacho, who works on our relationship to the environment, and director and producer Franklin Lopez, who recently documented the resistance of the Wet'suwet'en First Nation.
 Valérie Lefebvre-Faucher croit assez au pouvoir des mots pour se consacrer à l'écriture et à l'édition. Elle a publié Procès verbal (2019, Écosociété) et bientôt Promenade sur Marx (Remue-ménage). On peut aussi la lire dans Faire partie du monde, réflexions écoféministes.
*
Valérie Lefebvre-Faucher believes enough in the power of words to devote herself to writing and publishing. She has published Procès verbal (2019, Écosociété) and soon Promenade sur Marx (Remue-ménage). She can also be read in Faire partie du monde, réflexions écoféministes.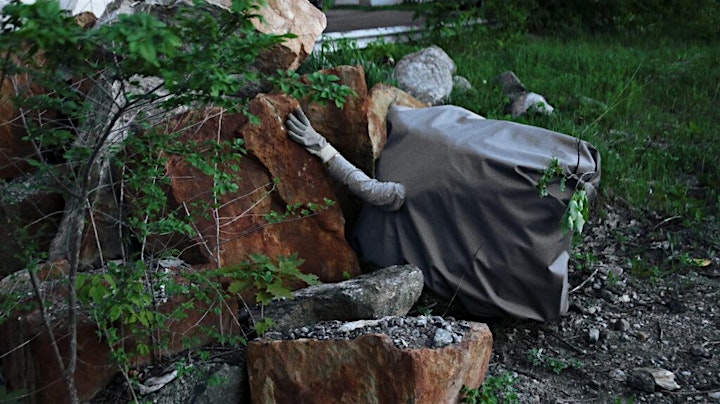 Ileana Hernandez Camacho explore des thèmes liés à la féminité, la nature, la vulnérabilité et la fragilité de l'être. Depuis quelques années, elle travaille avec le camouflage comme fondation de ses recherches artistiques. Elle s'intéresse au camouflage comme survie. Le camouflage lui permet d'analyser des dynamiques d'interaction, des enjeux du pouvoir dans la société, des normes sociales et l'insensibilité de l'humanité envers l'environnement. Elle construit des personnages fictifs et des images surréalistes pour créer et explorer différents types d'interactions humaines. Elle utilise le papier et les textiles comme extensions de son corps.
*
Ileana Hernandez Camacho explores themes related to femininity, nature, vulnerability and the fragility of being. For several years, she has been working with camouflage as the foundation of her artistic research. She is interested in camouflage as survival. Camouflage allows her to analyze the dynamics of interaction, issues of power in society, social norms and humanity's insensitivity to the environment. She builds fictional characters and surreal images to create and explore different types of human interactions. She uses paper and textiles as extensions of my body.
Né à San Juan, Porto Rico, le producteur et monteur Franklin López réalise des films politiques depuis plus de 30 ans, en mettant l'accent sur la justice sociale et les questions environnementales. Il a publié des centaines de films en ligne depuis 1998 sous le nom de subMedia, qui ont été regardés par des millions de personnes, diffusés sur les réseaux de télévision internationaux et projetés dans les ruelles et les salles de cinéma du monde entier. Il a reçu les éloges du New York Times et de Wired Magazine et un chapitre entier est consacré à son travail dans le livre Breaking the Spell: A History of Anarchist Filmakers, Videotape Guerillas, and Digital Ninjas.
*
 Born in San Juan, Puerto Rico, producer and editor Franklin López has been making political films for over 30 years, with a focus on social justice and environmental issues. He has published hundreds of films online since 1998 under the name subMedia, which have been watched by millions, broadcast on international TV networks and screened in alleyways and movie theaters all around the world. He has received accolades from the New York Times and Wired Magazine and had an entire chapter dedicated to his work in Breaking the Spell: A History of Anarchist Filmakers, Videotape Guerillas, and Digital Ninjas.