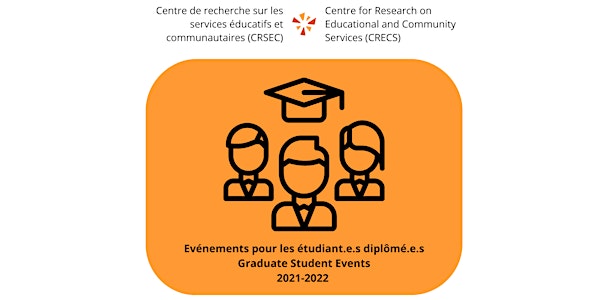 Evénement pour les étudiant.e.s diplômé.e.s no.2|Graduate Student Event #2
L'expérience des étudiant.e.s diplômé.e.s | The Graduate Student Experience
About this event
(English text follows)
L'expérience des études supérieures est une expérience isolante. Aujourd'hui plus que jamais, les étudiants des cycles supérieurs et les boursiers postdoctoraux doivent naviguer dans l'enseignement supérieur en tant qu'indépendants dont on attend qu'ils réussissent dans le milieu universitaire. Outre les responsabilités académiques, de nombreux étudiants des cycles supérieurs mènent tranquillement des vies compliquées tout en poursuivant des études supérieures, ce dont les universités ne tiennent pas toujours compte dans l'évaluation des résultats. Durant cette session de la Série de mobilisation des étudiants des cycles supérieurs et des boursiers postdoctoraux du CRSEC, nous présenterons quatre étudiants des cycles supérieurs qui partageront leur vécu et répondront aux questions que vous vous posez peut-être sur la manière de concilier études et obligations personnelles et professionnelles.
Conférencier.ère.s étudiant.e.s : Elise Guest, Monsurat Raji, Hembadoon (Hemba) Oguanobi, Ph.D., and Kelly McKie.
Cet événement se tiendra en anglais.
---
The graduate school experience is an isolating one. Now more than ever, graduate students and postdoctoral fellows have to navigate higher education as independents who are expected to succeed academically. Academic responsibilities aside, many graduate students quietly live complicated lives while pursuing higher education, which universities do not always consider in valuing achievement. In this session of CRECS' Graduate Student and Postdoctoral Fellow Engagement Series, we will spotlight four graduate students who will share their experiences and offer insight on questions you may have about managing study with personal and professional commitments.
Student Speakers: Elise Guest, Monsurat Raji, Hembadoon (Hemba) Oguanobi, Ph.D., and Kelly McKie.
This event will be delivered in English.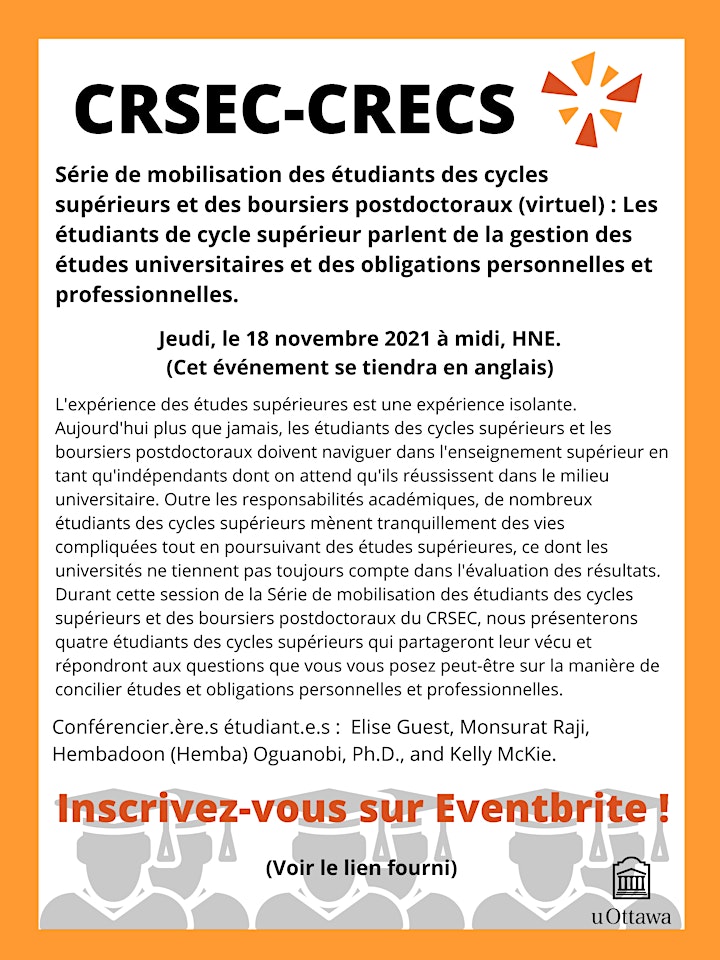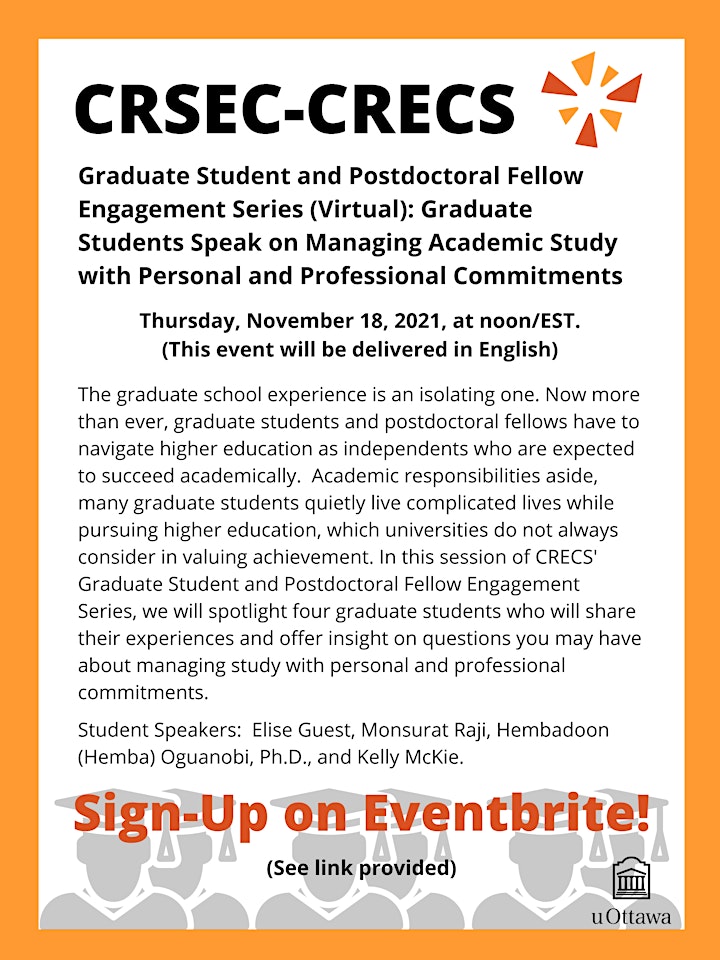 Organizer of Evénement pour les étudiant.e.s diplômé.e.s no.2|Graduate Student Event #2
The Centre for Research on Educational and Community Services (CRECS) collaborates in research, evaluation, and training with organizations in the educational, social service, and health sectors to improve social programs and policies for citizens, especially those facing social exclusion.