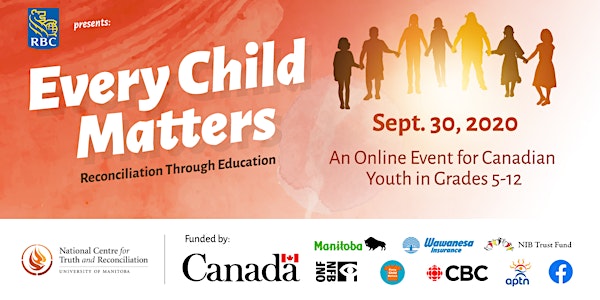 Every Child Matters / Chaque enfant compte
A Virtual Event Open to All Canadian Schools For Youth Grades 5 - 12 to Honour Residential School Survivors, their families and communities
About this event
Every Child Matters: Reconciliation Through Education
You can view the event on www.education.nctr.ca
We look forward to sharing the Every Child Matters Event with you as of September 30th, 2020. Please note the information below.
1) What time does it start?
There is no set time to allow you to schedule the events as you best see fit in your classroom.
2) Where else can I watch this event?
- As of September 30th, you can view the event on www.education.nctr.ca (the event will be available there after September 30th)
- On September 30th, on Facebook Live, on the @nctr.ca page at 11AM CST
- On September 30th, on APTN (time to be confirmed)
- On September 30th, on APTN Lumi (online stream)
- CBC (October 1`1th from 1:00PM-2:30PM, check your TV guide for more details)
3) What if I can't watch on Sept. 30?
The program will be available for viewing afterwards on the NCTR website: www.education.nctr.ca
4) What can I expect?
The event will be divided into two 45 minutes acts; with the first on Truth and the second on Reconciliation.
This program is about Residential Schools and the broad journey of Truth and Reconciliation. You can expect to hear from former students of residential schools, about their experience as children and about their resilience. Some of the stories are told by Elders, Residential School Survivors, their children and grand-children. There is a special segment honouring the children that never returned home from the schools.
The program will also cover a broad range of Indigenous history, the story behind Orange Shirt Day, as told by its founder Phyllis Webstad, music and cultural videos created by Indigenous filmmakers both established and youth.
You will hear from national Indigenous and non-Indigenous leaders; there will be a special birthday celebration for Residential School Survivors, and messages from First Nations, Metis and Inuit people across the country.
---------
Chaque enfant compte : la réconciliation passe par l'éducation
Vous pouvez visionner l'événement sur www.education.nctr.ca
Nous sommes impatients de partager avec vous l'événement 'Chaque enfant compte' à compter du 30 septembre 2020. Veuillez noter les informations ci-dessous.
1) À quelle heure commence-t-il?
Il n'y a pas d'heure fixe pour vous permettre de planifier les événements comme bon vous semble dans votre classe.
2) Où puis-je regarder cet événement?
- À compter du 30 septembre, vous pouvez visionner l'événement sur www.education.nctr.ca (l'événement y sera disponible après le 30 septembre)
- Le 30 septembre, sur Facebook Live, sur la page @ nctr.ca à 11h CST
- Le 30 septembre, sur APTN (détails à venir)
- Le 30 septembre, sur APTN Lumi (flux en ligne)
- CBC (le 11 octobre de 13h-14h30)
3) Et si je ne peux pas regarder le 30 septembre?
Le programme pourra être visionné par la suite sur le site Web du NCTR: www.education.nctr.ca
4) À quoi puis-je m'attendre?
L'événement sera divisé en deux actes de 45 minutes; avec le premier sur la vérité et le second sur la réconciliation.
Ce programme concerne les pensionnats indiens et le vaste parcours de vérité et réconciliation. Vous pouvez vous attendre à entendre d'anciens élèves des pensionnats indiens parler de leur expérience en tant qu'enfants et de leur résilience. Certaines des histoires sont racontées par des aînés, des survivants des pensionnats indiens, leurs enfants et petits-enfants. Il y a un segment spécial en l'honneur des enfants qui ne sont jamais revenus de l'école à la maison.
Le programme couvrira également un large éventail de l'histoire autochtone, l'histoire derrière la Journée du chandail orange, racontée par sa fondatrice Phyllis Webstad, de la musique et des vidéos culturelles créées par des cinéastes autochtones établis et des jeunes.
Vous entendrez des leaders nationaux autochtones et non autochtones; il y aura une célébration d'anniversaire spéciale pour les survivants des pensionnats indiens et des messages des Premières nations, des Métis et des Inuits de partout au pays.