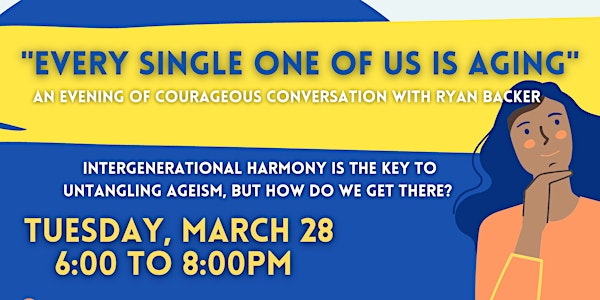 Every Single One of Us Is Aging: An Evening of Courageous Conversation
Explore the concept of aging with Ryan Backer as we untangle the concept and discuss how to reach intergenerational harmony.
Date and time
Tue, Mar 28, 2023 6:00 PM - 8:00 PM EDT
Location
1090 Av. Greene 1090 Avenue Greene Westmount, QC H3Z 1Z9 Canada
About this event
S'il y a une chose que nous avons tous en commun, c'est que nous vieillissons à chaque seconde. Personne ne peut faire autrement, alors pourquoi certains sont-ils discriminés parce qu'ils ont atteint un certain âge? Le sujet de l'âgisme est un sujet dont nous prenons de plus en plus conscience, qu'est-ce que c'est et comment pouvons-nous le démanteler?
Rejoignez-nous pour une soirée de conversation courageuse avec Ryan Backer! Cette discussion captivante explorera l'harmonie intergénérationnelle et le concept de l'âge lui-même. Cet événement est gratuit et ouvert à tous! Des rafraîchissements légers seront servis.
If there's one thing we all have in common, it's that we are all getting older by the second. No one can help it, so why are some discriminated against because they've reached a certain age? The subject of ageism is something that we are becoming more and more aware of, what is it and how can we dismantle it?
Join us for an evening of Courageous Conversation with Ryan Backer! This engaging talk will explore intergenerational harmony and the concept of age itself. This event is free, and open to all! Light refreshments will be served.