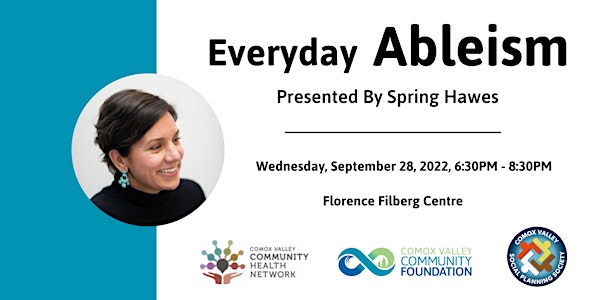 Everyday Ableism
Join us to learn about the concept of Ableism, including how to recognize Ableism and how to re-envision an 'inclusive' society.
When and where
Location
Florence Filberg Centre 411 Anderton Avenue Courtenay, BC V9N 6C6 Canada
About this event
The Comox Valley Community Health Network in partnership with the Comox Valley Community Foundation, the Comox Valley Social Planning Society and the Comox Valley Accessibility Committee are pleased to present Everyday Ableism. This event is open to the general public.
What is Ableism? Where does it come from, how does it affect me, and what can I do about it?
Prepare to be uncomfortable. This presentation about ableism in an ableist and capitalist society will challenge your assumptions and push your comfort boundaries. Illustrated by compelling stories of lived experience, as well as examples from the media, pop culture, and the entertainment industry, this talk is both difficult and powerful.
Understanding ableism is a key component of Diversity and Inclusion work. Increasing your understanding of ableism will bring awareness of the marginalization and exclusion of disabled people and will give you tools to address these realties in your life and work.
Event Details:
Date: Wednesday, September 28
Time: 6:30pm - 8:30pm
Location: Conference Hall, Florence Filberg Centre
This is an in-person event, public health orders as applicable on the day of the event will be followed.
About the Presenter:
Spring Hawes is a tetraplegic. She has been an entrepreneur, an elected official, and is currently an appointed board director for Interior Health. She was a candidate in the previous provincial election. She is co-founder of Dignity Denied, a board member for a large peer group of wheelchair users, and has chaired an accessibility advocacy non-profit for many years. In her public life, she has been outspoken on the rights of women and marginalized and disabled people. She is passionate about working to ensure all people live well and envisions a world that embraces diversity and fully includes all people.