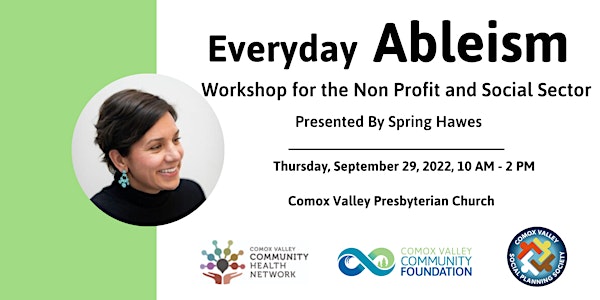 Everyday Ableism Workshop for the Non Profit and Social Sector
Dig deeper into Ableism in this facilitated workshop for staff and volunteers in the non profit and social sectors.
When and where
Location
Comox Valley Presbyterian Church 725 Aspen Road Comox, BC V9M 4E9 Canada
About this event
The Comox Valley Community Health Network in partnership with the Comox Valley Community Foundation, the Comox Valley Social Planning Society and the Comox Valley Accessibility Committee are pleased to present Everyday Ableism Workshop for the non profit and social sectors.
Understanding ableism is a key component of Diversity and Inclusion work. Increasing your understanding of ableism will bring awareness of the marginalization and exclusion of disabled people and will give you tools to address these realties in your life and work. This facilitated workshop is designed to take the information presented in Everyday Ableism to the next level. This workshop will cover:
Applied Ableism: how we experiences it, how we recognize it and how we address it
Visioning interdependence and the problem with 'inclusivity'
Question and answer period
Event Details:
Date: Thursday, September 29
Time: 10 am - 2 pm
Location: Comox Valley Presbyterian Church, 725 Aspen Road, Comox
A gluten-free, plant based, nut-free lunch will be provided.
This is an in-person event, public health orders as applicable on the day of the event will be followed.
Space is limited, to maximize the impact of this workshop in your organization we recommend organizations send two attendees. We strongly recommend all attendees also attend Everyday Ableism on Wednesday, September 28 at 6:30 PM for a deeper understanding of Ableism.
About the Presenter:
Spring Hawes is a tetraplegic. She has been an entrepreneur, an elected official, and is currently an appointed board director for Interior Health. She was a candidate in the previous provincial election. She is co-founder of Dignity Denied, a board member for a large peer group of wheelchair users, and has chaired an accessibility advocacy non-profit for many years. In her public life, she has been outspoken on the rights of women and marginalized and disabled people. She is passionate about working to ensure all people live well and envisions a world that embraces diversity and fully includes all people.