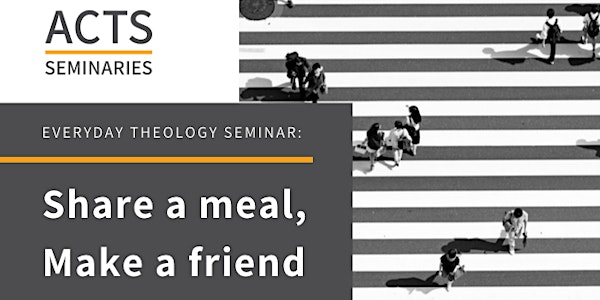 Everyday Theology Seminar: Share a meal, Make a friend
When and where
Location
Faith Fellowship Baptist Church 2551 E 49th Ave Vancouver, BC V5S 1J6 Canada
Description
Learn to build healthy relationships and create trust across cultural boundaries.
An ACTS Seminaries public seminar

*** This event has been postponed due to the COVID-19 situation, and the new date is forthcoming. Thanks for your patience. ***

Location: Faith Fellowship Baptist Church, Vancouver
Price: $30 includes guided lunch at a local ethnic venue (50% discount for ACTS Students)


In this practical 1-day workshop:
Learn how to identify cultural sensitivities connecting outside your comfort zone.

Learn from those who have built trust relationships with urban refugee immigrant, street and artistic communities
Practice asking appropriate questions to engage in conversation about God and faith
Share a meal with members of various urban sub-cultures, in their community



Keynote speaker: Mark Naylor, DTh
Dr. Naylor is a Professor, Missiologist, Bible Translator and Coordinator for the Centre for Intercultural Leadership Development (CILD) at Northwest Seminary.



About ACTS Seminaries

ACTS Seminaries offers theological education and ministry training for anyone interested in deepening their faith or becoming better equipped for ministry and leadership.
Marketplace leaders, Christian professionals, lay ministers, church leaders and those interested in faith development have gained significantly from learning among the theological perspectives and in the mentoring community offered at ACTS Seminaries.