Join us to celebrate nearly 30 years of Public Allies Milwaukee and our commitment to cultivating socially just leadership in Milwaukee!
About this event
For nearly 30 years, Public Allies has gathered young Milwaukeeans committed to justice and has cultivated their growth through our rigorous ten-month community leadership development program. After a year of tremendous growth and uncertainty, we are eager to gather to celebrate another year of Public Allies' role in leading Milwaukee to and through times of great change.
This year, our annual event will showcase music from local Black and Brown musicians whose music embodies the spirit of justice we strive for. During the event, guests will have the opportunity to enjoy food from local restaurants and food trucks in Milwaukee and will experience and participate in art-making, neighborhood exploration, and games throughout the evening.
While we are eager to be in person with you again, safety is still our priority. For that reason we are taking COVID precautions seriously and will encourage reasonable masking and distancing throughout the event. The event will also be limited in capacity and encourage movement in and out of the space, so no formal seated meal or program is planned. Instead, you can expect to move about the indoor and outdoor event spaces freely and gather with as many or as few folks as you feel personally comfortable with.
This event is made possible by our lead "Integrity" sponsors, Rockwell Automation, Public Allies Inc., and Priya Bhatia & Pratik Patel, and our "Collaboration" sponsors; the Greater Milwaukee Committee, Jason Holton, LaShawndra Vernon, MacArthur Antigua & Paru Shah, Northwestern Mutual, PNC Bank, and Radio Milwaukee.
For more information, or to explore sponsorship, please contact our Executive Director at ashleyl@publicallies.org.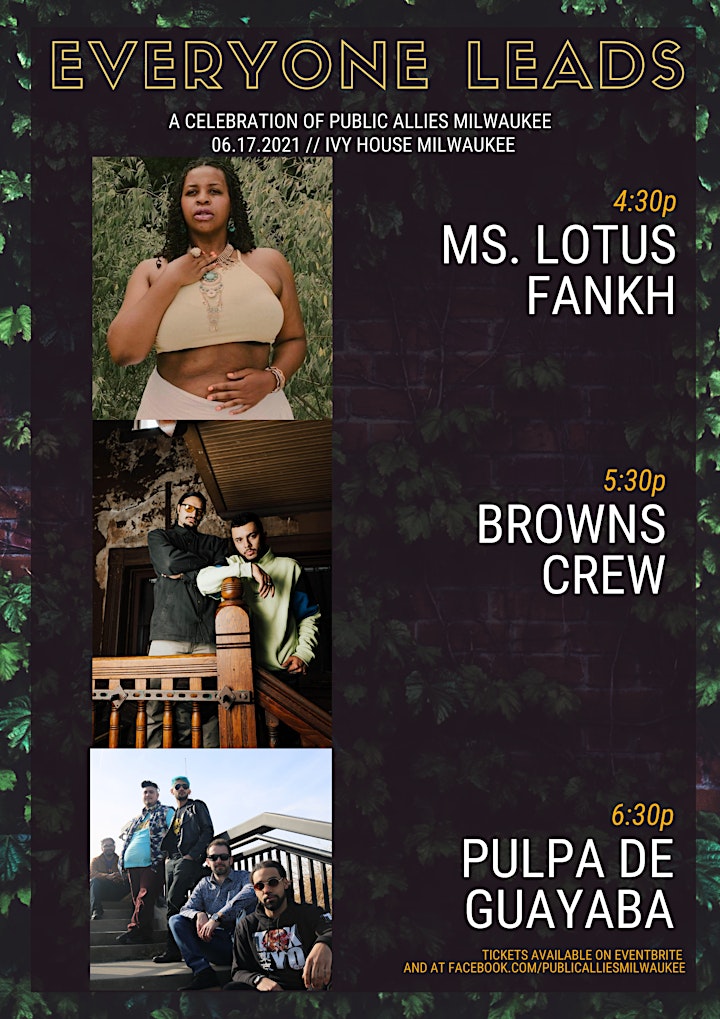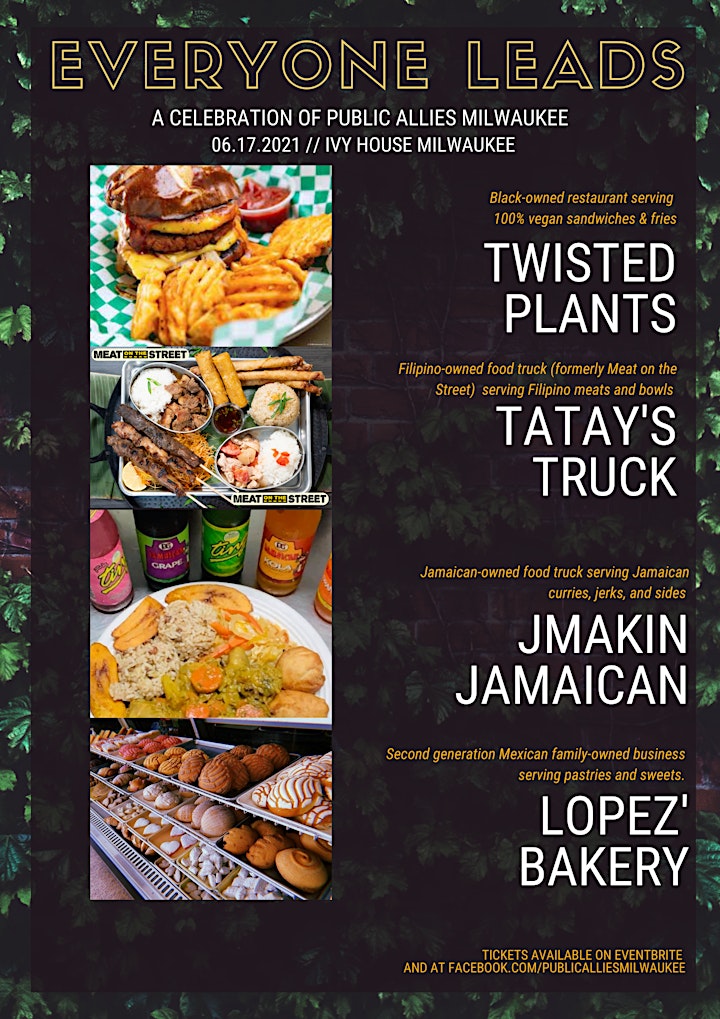 Organizer of Everyone Leads: A Celebration of Public Allies Milwaukee
Public Allies is a national movement committed to advancing social justice and equity by engaging and activating the leadership capacities of our emerging local leaders.
Since 1992, we have helped thousands of underrepresented leaders serve our country, get on successful pathways to higher education and careers, and bring communities together to work for the common good. We operate our signature AmeriCorps program in 25 communities nationwide.
We believe that communities already have the leadership they need to create lasting social change. Public Allies seeks to find and cultivate those leaders and connect them to the issues and causes that ignite their passion.