Description
PRBI's Sr. High College Takeover and Bear Lake Bible Camp Winter Retreat are coming!
PRBI and Bear Lake Bible Camp are partnering together to present a weekend that is going to inspire, encourage, build you up, showcase Bible college, and expand the experiences of Jesus for you and your friends.
We have an amazing line up of events! Everything from coffee experiences, giant games, music events, PRBI classes, chilling with students, worship by Highest Call, youth rallies, dramas by Earthen Vessels, and more are all part of eView and the Winter Retreat Action.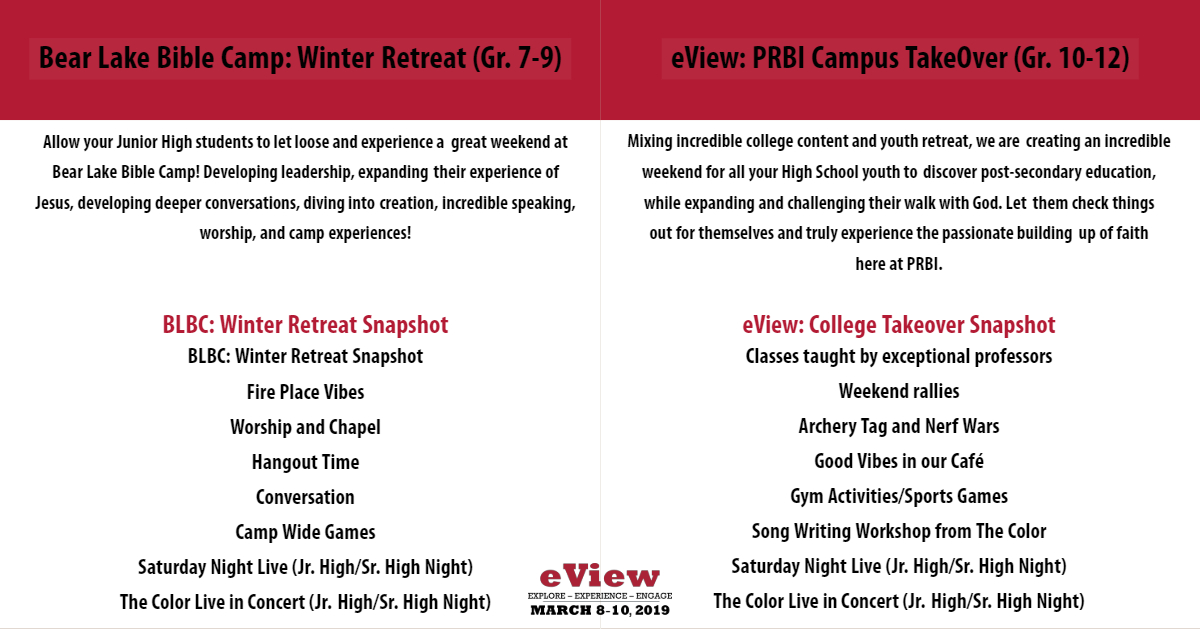 Coming together for an evening to experience the highly anticipated Saturday Night Live, followed by a concert from the internationally performing band, The Color. Hosted at PRBI, everyone attending the Jr. High Winter Retreat at BLBC transporting in for a night of laughter and fun!
Sr. Youth will be accommodated in dorms at PRBI and Jr. Youth in the cabins at Bear Lake. Youth leaders will also have accommodations arranged for them, unless you specify otherwise.
For more information please check our website at www.prbi.edu/eView for more information. Register early to ensure your place.
Come experience, before you decide.
Details:
March 8-10th, 2019.
Grades 10-12, and beyond.
Event check-in starts Friday, March 8, 2019 at 4:00pm.
Event Wrap-up Sunday, March 10 at 12:00pm
This weekend is being highly subsidized by various organizations to enable your entire youth ministry to attend for only $35 per person!
***Details on what to bring for both these events will be emailed to you.***