Description
PARENTAL ADVISORY - EXPLICIT CONTENT
SHOW RUNS 90 MINUTES WITH NO INTERMISSION
Evil Dead The Musical is finally coming to Fort McMurray!

Blood flies!
Limbs are dismembered!
Demons tell bad jokes - all to music!
Prepare yourself for wacky, campy fun at this raucous rock musical! Oh, and did we mention it's Rated R? So leave the kids at home. Don't miss out on this one-of-a-kind musical even the dead will rise for!
This musical tells the tale of five college students going to an abandoned cabin in the woods, where they accidentally unleash an evil force that turns them all into demons. It's all up to Ash (a housewares employee, turned demon-killing hero), and his trusty chainsaw to save the day!
Evil Dead The Musical takes all the elements of the cult classic films The Evil Dead, Evil Dead 2, and Army of Darkness and combines them for one of the craziest, funniest, and bloodiest theatrical experiences of all time!
Want some added excitement to your theatre experience? Check out the awesome VIP SPLASH ZONE and be part of the action! ... Warning: you may get zombie-fied, and have a total blast! VIP Splash Zone ticket holders will receive a goody bag with a poncho and more!
ALSO - be sure to check out the Snack & Show options, brought to you in partnership with Paddy McSwiggins.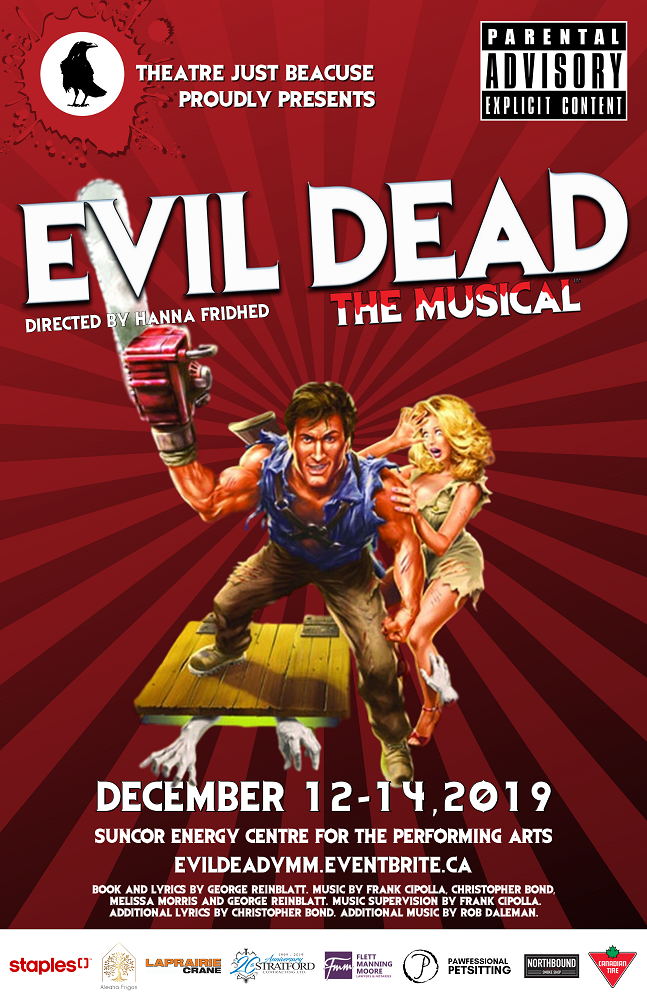 VIP Splash Zone
Patrons in the VIP Splash Zone might be hit with fake blood during the show.

Theatre; Just Because is not responsible for any damage to clothing or personal injury that may occur.

Fake blood contains corn syrup, chocolate syrup, and red food dye.
Rated R/Mature
The show contains simulated gore, adult subject matter, adult language, and violent situations.

No patrons admitted under the age of 14.

Patrons over the age of 14 but under 18 must have parental/guardian consent.

If a patron under the age of 14, or without parental/guardian consent, has purchased a ticket, they will receive a refund. Theatre; Just Because will take their information and process the refund as soon as possible.
For more information about Theatre; Just Because, Fort McMurray's independent theatre company, visit www.theatrejustbecause.com, or follow us on Facebook and Instagram.