Description
KIN Vineyards is happy to announce its second Evolution Series - this is a wonderful gift opportunity!
Winemaker Brian Hamilton will lead this small group through a comprehensive tasting experience as our 2018 vintage wines evolve in barrel. A small group will be led through tastings in January, March and May from malo-lactic fermentations to the finished bottled product. This is perfect for the die hard wine enthusiast!
$120/person. Space limited.
If you have any questions, please contact Event Manager Alan Krueger at alan@kinvineyards.com or call 613-407-6171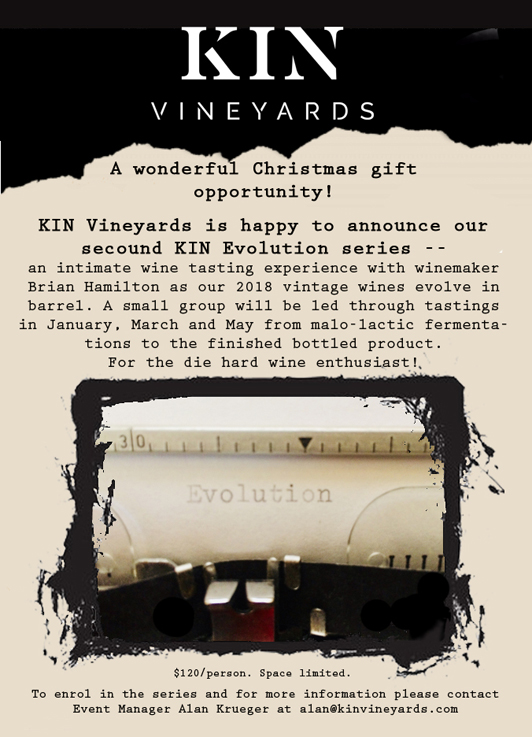 Testimonials
"This series exposed us to the process from vines, to grapes, to juice and to wine and all the steps in between. Winemaker Brian Hamilton's thoughtful analysis and comments along the way made the series come to life. It was also fun to be able to taste the evolution of the wine directly from the barrel through the series! Thanks KIN."
"I gained a great appreciation of the tools and methods available to winemakers to enhance and nuance a wine's natural flavours. Having such an experienced and creative winemaker is one of KIN's biggest assets."
"What an enjoyable way to learn how fermented grape juice becomes interesting, complex and delicious wines. Thank you KIN!"
"My husband and I were blown away by the wonderful wines being produced right here in Carp and became fast fans of KIN after our first bottle. I signed up for this event as a gift for him, but ended up learning far more, myself, than I ever expected. Brian is an interesting, engaging and extremely knowledgeable "teacher" and we both enjoyed the Evolution Series immensely. I would highly recommend this for anyone with an interest in wine."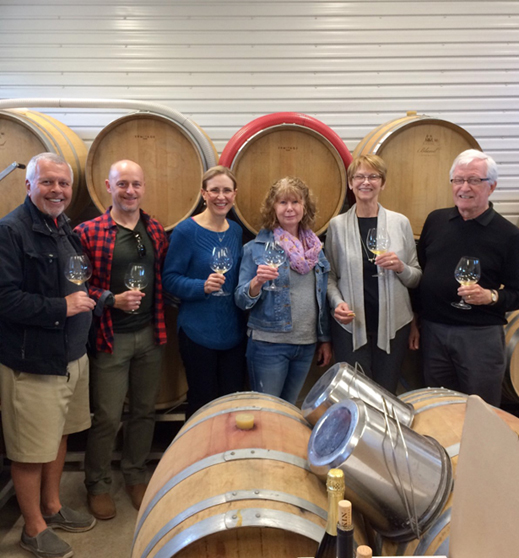 Congratulations

2018

Evolution

Series Graduates!!!
No test. No exam. Just a lot of tasting of wines as they evolve in the Kin Vineyards' Winery over a 6 month period.
Can't wait to meet the future 2019 Evolution Series group, see you all there!!