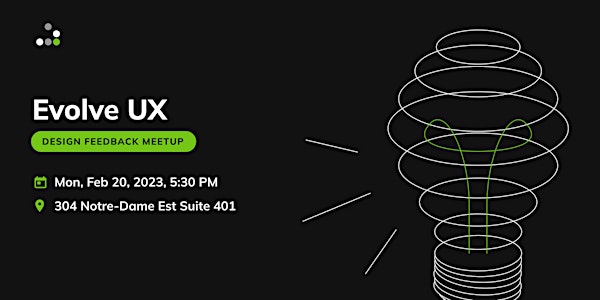 Evolve UX - Design Feedback Meetup
Present your latest design work and get constructive feedback from other designers in our friendly gathering with snacks and drinks.
Date and time
Monday, February 20 · 5:30 - 8pm EST
Location
Evolving Web 304 Rue Notre-Dame Est #401 Montréal, QC H2Y 1C7 Canada
About this event
Join us for a casual evening workshop hosted by designers, for designers.
This is a place where creatives present their current project and get feedback from other designers: think design school critiques in a safe space.
Snacks and drinks provided!
The Event runs 6 - 8 pm
Doors open at 5:30 pm
What We'll Be Doing
We're looking for 4 short and impactful UX/UI presentations. Each presenter has 5 minutes to talk about their design work, whether it is a new app, website, poster or anything related to UX and/or UI. To use the 5 minutes wisely, we recommend highlighting the challenges of the project and to be open to feedback or suggestions from attendees.
After the presentation, the presenter receives constructive feedback on their work, and at the end we'll have time for some networking.
Who Can Attend?
UX and UI designers working in any field will get the most out of this activity.
Everyone is welcome, just bring your ideas and be ready to offer creative, practical feedback.
About the hosts
The event will take place at the Evolving Web office located in the Old Port.
Evolving Web is the agency partner that empowers organizations to adapt to the ever-changing digital landscape with the tools and guidance to own and grow a meaningful online presence.
If you're interested in presenting, select "Presenter" in the RSVP. Please email a link to Figma or URL prototype to us in advance.
Limited capacity of 25 people.
______
Rejoignez-nous pour un atelier informel organisé par des concepteurs, pour des concepteurs.
C'est l'endroit où les créatifs présentent leur projet en cours et obtiennent des commentaires d'autres concepteurs : pensez aux critiques de l'école de design, entre amis.
Des collations et des boissons seront fournies ! L'événement se déroule de 18h à 20h. Les portes s'ouvrent à 17h30.
Ce que nous ferons
Nous recherchons 4 présentations courtes et efficaces en matière d'UX / UI. Chaque présentateur a 5 minutes pour parler de son travail de design, qu'il s'agisse d'une nouvelle application, d'un site web, d'affiche ou de tout ce qui est lié à l'UX et / ou à l'UI. Dans le but de rester efficace, nous vous recommandons de mettre en évidence les défis du projet et d'être ouvert.es aux commentaires et aux suggestions des participants. Après la présentation, le présentateur reçoit des commentaires constructifs sur son travail et à la fin, nous aurons du temps pour des échanges professionnels.
Qui peut participer?
Les concepteurs d'UX et d'UI travaillant dans tous les domaines profiteront le plus de cette activité. Tout le monde est le bienvenu, il vous suffit de venir avec vos idées et d'être prêt à offrir des commentaires créatifs et pratiques.
A propos des hôtes
L'événement aura lieu au bureau d'Evolving Web situé dans le vieux port. Evolving Web est une agence qui permet aux partenaires de s'adapter au paysage numérique en constante évolution en fournissant des outils et des conseils aux organisations souhaitant développer ou améliorer leur présence en ligne de manière impactante.
Si vous aimeriez présenter, sélectionnez "Présentateur" lors de votre inscription. Veuillez envoyer un lien (URL) vers Figma ou un autre prototype à l'avance par courrier électronique.
La capacité est limitée à 25 personnes.
About the organizer
Evolving Web is an Open Source Web Agency. We specialize in providing collaborative, tech-driven approaches to brand-building, and training tomorrow's digital professionals.
Formed by leaders in the Drupal community and staffed by problem-solvers with proven expertise, Evolving Web helps clients discover the digital solutions developed by an open source community in constant evolution.
Our training helps you decide whether Drupal is right for your organization, how to get up-to-speed quickly, and get the most out of Drupal's advantages. Our approach has helped organizations like the Princeton University Press, McGill University, Western Digital, and the Linux Foundation.
We offer both public and private workshops and we can tailor the curriculum for private workshops to your organization's needs.

Get in touch with us to find out how we can work together!