EWeek Discussion Series: Out-of-the-box Startups

Thursday, 19 November 2015 from 2:30 PM to 4:00 PM (EST)
Event Details
All EWeek events are FREE and open to the public. 
Please reserve your ticket here.
 We have door prizes!
Out-of-the-box Startups
with your host: Robert Soroka
Alexandre McLean, Co-Founder, Alvéole
Augusto Sotelo, Chief Philanthropy Officer, GOOWI
Francois Poirier, CEO MakerBloks
Nathon Kong, Founder, Tailor2Go
 ______________________________

Meet these four amazing entrepreneurs with unique businesses. These out-of-the-box startups are disrupting the way we learn, the way we give, to way we eat, and the way we dress.
About
Alexandre McLean, Co-Founder, Alvéole
Alex McLean is a young social entrepreneur evolving at the core of a new global movement of local and sustainable food production. He has been in the food industry for several years: he worked on the development and growth of Crudessence, a Montreal raw and vegan restaurant chain and worked in western Canada as a commercial apiarist. After a trip to New York City, where he had the opportunity to visit several beehives in the heart of the city, the idea of implementing such a project in his hometown came naturally. In 2013 he founded Alveole, a growing company that installs and maintains urban beehives across Montreal for companies and individuals. Alex loves urban beekeeping and urban agriculture and is determined to change rooftops in cities forever.
 Augusto Sotelo, Chief Philanthropy Officer, GOOWI

Social-entrepreneur, Founder & Philanthropy Executive Officer of Goowi.
Augusto Sotelo has extensive experience in business development. He co-founded and managed multiple companies. A creative & analytical thinker, engaging communicator, innovative marketer, he is an avid advocate of entrepreneurship.
Augusto is drawn to disruptive business models and is passionate about technology start-ups, social entrepreneurship, philanthropy, coding, strategic planning, M&A, venture capital and value investing.
Augusto is currently involved in a number of non-profit organizations, in advisory, consulting & coaching roles and has recently founded Goowi, a startup reinventing philanthropy.
 Francois Poirier, CEO MakerBloks
"Francois Poirier, founder of MakerBloks, is a product designer, a hacker and a builder. He graduated from the Founder Institute and Startup NEXT with the jury award in his pocket. Since then, he has been collecting awards and mentions like Montreal TechCrunch Pitch-Off and the Fundica Funding Roadshow. He showcased MakerBloks in Toronto, New York, Las Vegas and San Francisco. He just came out of a successful crowdfunding campaign funded at 191%. He now puts all his energy into bringing MakerBloks to the world and change the way children learn electronics."
Nathon Kong, Founder, Humble Founder at TAILOR2GO.COM
Nathon Kong is experienced in project management, operations, business analysis and consultancy. He was raised in a family of entrepreneurs and started a few start-up projects prior Tailor2go, including managing a multiplex building and worked/ volunteered for a few SMEs in Montreal area. Tailor2Go was featured in Les Affaires, CBC, and Financial Post. Tailor2Go won many startup contests including the McGill Dobson Cup, the Concours Quebecois en Entrepreneuriat, the CBC Media pitch during Startup International Festival, the Spin Master and many more.
TAILOR2GO is an innovative, exciting and convenient way to shop for clothes. We come to you, 3D scan your body and deliver custom-made apparel.
 
Did you know that the more EWeek events you attend the greater your chances of winning a Google Chromebook? Exchange your passport for the contest draw on Thursday. See Passport for details.
When & Where

Dawson College, Conrod's Lounge
4001 Boulevard de Maisonneuve Ouest
Montreal, QC H3Z 3G4
Canada

Thursday, 19 November 2015 from 2:30 PM to 4:00 PM (EST)
Add to my calendar
Organizer
Eweek @ Dawson College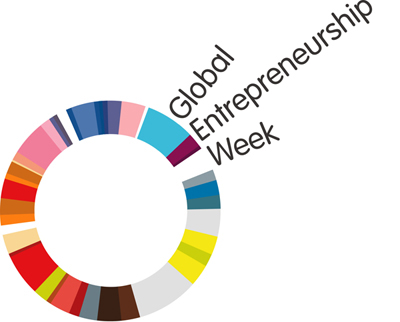 The place to be 
November 13 to 16, 2017!!
Dawson College's Centre for Innovation and Entrepreneurship Education will host Entrepreneurship Week (Eweek) coinciding with Global Entrepreneurship Week, November 13 to 16, 2017. 
Global Entrepreneurship Week (GEW) is an international movement to inspire millions of young people to embrace innovation, imagination and creativity through entrepreneurship. It is estimated over 15 million youngsters participated worldwide in tens of thousands of events and competition for Global Entrepreneurship Week. In Montreal, Dawson College's EWeek will provide a diverse and strong line-up of speakers, networking events, contests and activities for Montrealers and Dawson College students alike.
Many young students will have their first glimpse of a possible alternative career path and connect with seasoned entrepreneurs. All Montrealers are invited and all events are free. Hear inspiring stories of successful entertainers, photographers, illustrators, designers, dancers, programmers and farmers who launched their own businesses.
Dawson College is ideally placed to be a gathering place of high-profile community events. Situated in the heart of Montréal's downtown core, at the Atwater metro station, Dawson is Québec's largest CEGEP with roughly 8,250 full-time day students, 2,400 continuing education students, 600 faculty and  a 200+ team of support staff. The college currently offers over 30 programs in 50+ fields of study, including a variety of programs in the creative sector.
We hope to inspire the next generation of entrepreneurs.  Do you have a big idea??? Would you like to sponsor and event?  Do you want to connect with like-minded people or maybe just observe what the buzz is all about?  Join us for Eweek in November!!
Check out the calendar of events on our site and like us on
Thank you to our sponsors for their invaluable support of Dawson College's Eweek.
______________________________

______________________________
EWeek Discussion Series: Out-of-the-box Startups