EWeek Keynote Speaker: Ingrid Vanderveldt: Empowering a Billion Women by 2020

Monday, 17 November 2014 from 6:00 PM to 8:30 PM (EST)
Event Details
All EWeek events are FREE and open to the public.
Please reserve your ticket here.
We have door prizes!
You do not want to miss this talk!


 presents

Empowering a Billion Women by 2020
Ingrid Vanderveldt
 Chairman and CEO of Empowering a Billion Women by 2020 (EBW2020)
____________________________________________________
 followed by The Initial Pitches of Dawson's Den __________________________________________________
"I believe if we're going to get our global world where we want it to be,
we really need to do it through a new set of eyes. The eyes of women."  
Ingrid Vanderveldt 

Women are one of the fastest growing economic forces across the globe, owning more businesses than ever and controlling 70% of global spending. With her platform of "Empowering a Billion Women By 2020" and working with companies like Dell, The United Nations Foundation, Northwestern Mutual and Forbes, Ingrid Vanderveldt intends to provide women around the world with the tools, technology and resources they need to see themselves not only as leaders, but also as successful entrepreneurs. In this talk, Ingrid will speak about empowering women globally, focusing on three main areas: 1) Business 2) Policy and 3) Media, including the important tools of mentorship, financial literary, confidence, and more.

About the Speaker
Ingrid Vanderveldt 
Chairman and CEO of EBW2020
Ingrid Vanderveldt (iV) is the Chairman and CEO of Empowering a Billion Women by 2020 (EBW2020). Previously, she was the first Entrepreneur-in-Residence ("EIR") for Dell Inc. where she oversaw entrepreneurial initiatives worldwide helping to build a $250 million business segment and founded the $125M Dell Innovators Credit Fund, Dell Founders Club and the Dell Center for Entrepreneurs during her three-year term. 
iV sits on the United Nations Foundation's Global Entrepreneurs Council, is a Managing Partner of Belle Capital, a founding organizer of the GLASS Forum (Global Leadership & Sustainable Success), and a co-founder of The Billionaire Girls Club. She also created and hosted CNBC's first original primetime series, "American Made," reaching over one million viewers around the globe and serves on the advisory boards of Springboard Enterprises and Current Motor, and is a Dell Women's Entrepreneur Network (DWEN) member. 

iV has been featured on outlets including NBC, CNBC, FOX, ABC, USA Today, The Wall Street Journal, Forbes, Bloomberg, CNN Money, Fortune Magazine, Fast Company, Inc Magazine and Entrepreneur Magazine. She holds a Master's in Architecture from the Savannah College of Art and Design and an MBA in Entrepreneurship from UT at Austin.


Dawson's Den Initial Pitches
Student teams will be presenting their big idea after Ingrid's presentation. If you are presenting an idea, the initial pitches will be on Monday, so please make sure that you register here as well:
https://dawsonsden2014-initial-pitch.eventbrite.ca
When & Where

Dawson College, Conrod's Lounge
4001 Boulevard de Maisonneuve Ouest
Montreal, QC H3Z 3G4
Canada

Monday, 17 November 2014 from 6:00 PM to 8:30 PM (EST)
Add to my calendar
Organizer
Eweek @ Dawson College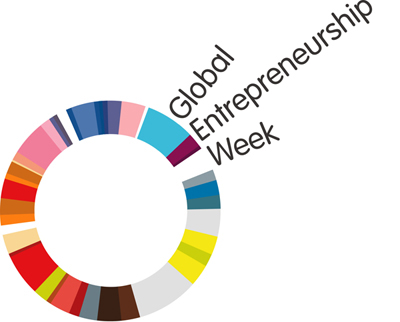 The place to be 
November 12 to 15, 2018!!
Dawson College's Centre for Innovation and Entrepreneurship Education will host Entrepreneurship Week (Eweek) coinciding with Global Entrepreneurship Week, November 12 to 15, 2018. 
Global Entrepreneurship Week (GEW) is an international movement to inspire millions of young people to embrace innovation, imagination and creativity through entrepreneurship. It is estimated over 15 million youngsters participated worldwide in tens of thousands of events and competition for Global Entrepreneurship Week. In Montreal, Dawson College's EWeek will provide a diverse and strong line-up of speakers, networking events, contests and activities for Montrealers and Dawson College students alike.
Many young students will have their first glimpse of a possible alternative career path and connect with seasoned entrepreneurs. All Montrealers are invited and all events are free. Hear inspiring stories of successful entertainers, photographers, illustrators, designers, dancers, programmers and farmers who launched their own businesses.
Dawson College is ideally placed to be a gathering place of high-profile community events. Situated in the heart of Montréal's downtown core, at the Atwater metro station, Dawson is Québec's largest CEGEP with roughly 8,250 full-time day students, 2,400 continuing education students, 600 faculty and  a 200+ team of support staff. The college currently offers over 30 programs in 50+ fields of study, including a variety of programs in the creative sector.
We hope to inspire the next generation of entrepreneurs.  Do you have a big idea??? Would you like to sponsor and event?  Do you want to connect with like-minded people or maybe just observe what the buzz is all about?  Join us for Eweek in November!!
Check out the calendar of events on our site and like us on
Thank you to our sponsors for their invaluable support of Dawson College's Eweek.
______________________________

______________________________