EWeek Lunchtime Art and Design Series: The World by Design

Wednesday, 15 November 2017 from 1:30 PM to 2:30 PM (EST)
Event Details

All EWeek events are FREE and open to the public.
Please reserve your ticket here.
We have door prizes!!
______________________________________________________________________________
 with
Stépahine Cardinal, President and founder of HUMÀ design inc.
____________________________________________________________________________
Meet Stépahine Cardinal, president and founder of Huma design and learn about her entrepreneurial journey as a founder of a design firm. 
Humà started with residential projects, ranging from the interior design of private homes to large-scale residential towers, such as La Tour des Canadiens and Les Bassins du Nouveau Havre and now works with a wide range real estate developers from Montreal. Eager to develop unique and exclusive concepts Stephanie found herself entrusted with leading the creation of festive spaces for the new venture of Cirque du Soleil.
Humà currently has many important clients, such as the Pierre Elliott Trudeau International Airport, Cadillac Fairview, Canderel, Concordia University, Cirque du Soleil, Elad Canada, Groupe Dayan, SSENSE, SSP Food Expert US, Cominar, and BCF business lawyers.
About Stéphanie Cardinal
Passionate about her art, Stephanie believes that creativity, a sense of place and personal narratives are the pillars of architectural and design projects. Known for her creativity and her originality in the elaboration of her unique concepts, she has carved a significant place for herself through the realization of projects where the final product and brand identity become signature pieces and foster new experiential worlds. Her collaborations with a multitude of designers, from the various fields related to those projects, have given her the professional expertise to oversee and realize projects that unite the quality of both the architectural spaces and the design at home and abroad, Stephanie is proud of the expertise that she has gained during more than 15 years of experience in the field.
After completing her studies in Barcelona, she cofounded Humà in 2006. Her goal was to develop a creative studio focused on a human approach, innovation, and quality, while adhering to rigorous standards of excellence and entrepreneurship.  Humà won several important awards for prestigious clients, such as Bloomberg.
In addition to interior design projects, she has worked on many branding projects such as restructuring the International Commercial Pier of the Pierre Elliott Trudeau International Airport, branding many sectors of Concordia University, many residential projects and most recently the Rockland Centre.
Professional activities and awards
-Member of the interior designers of Québec Association (APDIQ)
-Member (intern)of the Order of Architects of Quebec (OAQ)
-Finalist of the Grand Prix de l'entrepeneur EY 2017 for Quebec- category: real estate & construction
-Member of the board of directors of MU
-Member of the jury for the IIDA global excellence award 2017
-Participant in a research project on female entrepreneurship
-Guest critic, University of Montréal-Scholarship, University Politècnica de Catalunya (1996)
-Exploration scholarship, Canada Council for the Arts.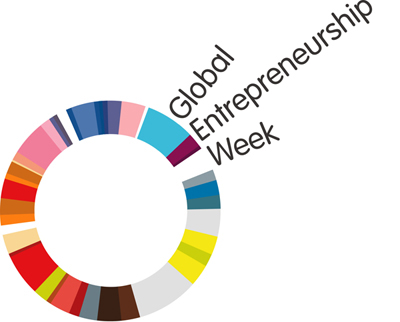 Did you know that the more EWeek events you attend the greater your chances of winning a Google Chromebook? Exchange your passport for the contest draw on Thursday. See Passport for details
When & Where

Dawson College, Conrod's Lounge
4001 Boulevard de Maisonneuve Ouest
Montreal, QC H3Z 3G4
Canada

Wednesday, 15 November 2017 from 1:30 PM to 2:30 PM (EST)
Add to my calendar
Organizer
Eweek @ Dawson College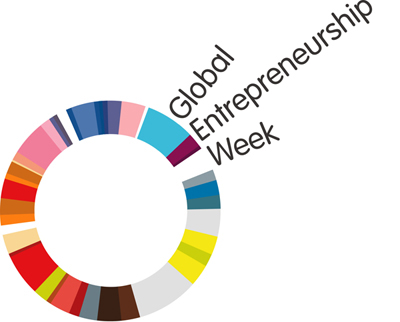 The place to be 
November 12 to 15, 2018!!
Dawson College's Centre for Innovation and Entrepreneurship Education will host Entrepreneurship Week (Eweek) coinciding with Global Entrepreneurship Week, November 12 to 15, 2018. 
Global Entrepreneurship Week (GEW) is an international movement to inspire millions of young people to embrace innovation, imagination and creativity through entrepreneurship. It is estimated over 15 million youngsters participated worldwide in tens of thousands of events and competition for Global Entrepreneurship Week. In Montreal, Dawson College's EWeek will provide a diverse and strong line-up of speakers, networking events, contests and activities for Montrealers and Dawson College students alike.
Many young students will have their first glimpse of a possible alternative career path and connect with seasoned entrepreneurs. All Montrealers are invited and all events are free. Hear inspiring stories of successful entertainers, photographers, illustrators, designers, dancers, programmers and farmers who launched their own businesses.
Dawson College is ideally placed to be a gathering place of high-profile community events. Situated in the heart of Montréal's downtown core, at the Atwater metro station, Dawson is Québec's largest CEGEP with roughly 8,250 full-time day students, 2,400 continuing education students, 600 faculty and  a 200+ team of support staff. The college currently offers over 30 programs in 50+ fields of study, including a variety of programs in the creative sector.
We hope to inspire the next generation of entrepreneurs.  Do you have a big idea??? Would you like to sponsor and event?  Do you want to connect with like-minded people or maybe just observe what the buzz is all about?  Join us for Eweek in November!!
Check out the calendar of events on our site and like us on
Thank you to our sponsors for their invaluable support of Dawson College's Eweek.
______________________________

______________________________