Eweek Lunchtime Series: From Rags to Riches to Purpose

Thursday, 19 November 2015 from 11:00 AM to 12:00 PM (EST)
Event Details
All EWeek events are FREE and open to the public.
Please reserve your ticket here.
We have door prizes!!
From Rags to Riches to Purpose
 Host: : Fuller Landau's Josh Miller
Liza Charbel & Joey El-Khoury
Co-founder, Jardins Sans Frontières
From Corporate Executives to Social Entrepreneurs: A story about finding your passion
The presentation shares Joey and Liza's journey from Corporate Executives in Dubai to Social Entrepreneurs as co-founders of Gardens Without Borders.

 -        Why they left behind them a lucrative career and lifestyle in Dubai.
-        What ignited in them a passion for ecological agriculture and social innovation.
-        How did they start Gardens Without Borders and what challenges have they faced.
-        What have they learned about themselves, the world and entrepreneurship along the way.
-        What are their future plans for Gardens Without Borders.
---
About:
Liza Charbel

Permaculture teacher and community development facilitator.
Driven by personal and social innovation, Liza co-founded the social enterprise Gardens without borders in 2011; after more than seven years working in the corporate world in Dubai. Through Gardens Without Borders, she has developed urban and rural community-food projects in places such as Montreal, Costa Rica, Ecuador, Senegal, and Lebanon. She shares her experiences and learnings in social innovation and food sustainability through conferences and workshops related to permaculture. Recently trained in geobiology, she is currently exploring ways to integrate art and spirituality in her community garden projects.
Joey El-Khoury                                                                                   
Sustainability and social innovation lecturer and researcher                                                    
After a corporate career of ten years in Dubai, Joey has developed an expertise in sustainable development and management. Co-founder of Gardens Without Borders, he has developed international cooperation projects in Mali, Senegal and Lebanon; while teaching sustainability and social innovation at HEC Montreal. Currently he is undertaking a PhD in social innovation at the Université de Montréal, his theme being that of the "Transition" movement.
Did you know that the more EWeek events you attend the greater your chances of winning a Google Chromebook? Exchange your passport for the contest draw on Thursday. See Passport for details.
When & Where

Dawson College, Conrod's Lounge
4001 Boulevard de Maisonneuve Ouest
Montreal, QC H3Z 3G4
Canada

Thursday, 19 November 2015 from 11:00 AM to 12:00 PM (EST)
Add to my calendar
Organizer
Eweek @ Dawson College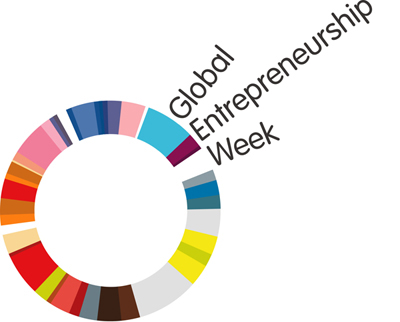 The place to be 
November 13 to 16, 2017!!
Dawson College's Centre for Innovation and Entrepreneurship Education will host Entrepreneurship Week (Eweek) coinciding with Global Entrepreneurship Week, November 13 to 16, 2017. 
Global Entrepreneurship Week (GEW) is an international movement to inspire millions of young people to embrace innovation, imagination and creativity through entrepreneurship. It is estimated over 15 million youngsters participated worldwide in tens of thousands of events and competition for Global Entrepreneurship Week. In Montreal, Dawson College's EWeek will provide a diverse and strong line-up of speakers, networking events, contests and activities for Montrealers and Dawson College students alike.
Many young students will have their first glimpse of a possible alternative career path and connect with seasoned entrepreneurs. All Montrealers are invited and all events are free. Hear inspiring stories of successful entertainers, photographers, illustrators, designers, dancers, programmers and farmers who launched their own businesses.
Dawson College is ideally placed to be a gathering place of high-profile community events. Situated in the heart of Montréal's downtown core, at the Atwater metro station, Dawson is Québec's largest CEGEP with roughly 8,250 full-time day students, 2,400 continuing education students, 600 faculty and  a 200+ team of support staff. The college currently offers over 30 programs in 50+ fields of study, including a variety of programs in the creative sector.
We hope to inspire the next generation of entrepreneurs.  Do you have a big idea??? Would you like to sponsor and event?  Do you want to connect with like-minded people or maybe just observe what the buzz is all about?  Join us for Eweek in November!!
Check out the calendar of events on our site and like us on
Thank you to our sponsors for their invaluable support of Dawson College's Eweek.
______________________________

______________________________