EWeek Panel: Connecting People

Thursday, 20 November 2014 from 2:30 PM to 4:00 PM (EST)
Event Details
All EWeek events are FREE and open to the public. Please reserve your ticket here.
 We have door prizes!
CONNECTING PEOPLE 
Mikhail Levkovsky, Founder of Spoil (App) 
& Dawson College Computer Science graduate 
Chris Gaulin,Dawson College Commerce graduate & President/Chair
at The Gaulin Foundation and President of Wi-Fi Country Inc.
Tristan Williams, Founder of the Tristan WilliaMS Foundation
Nathalie Hazan, Founder Raison d'art
______________________________
There are many ways to look at social entrepreneurship. According to J. Gregory Dees in the Meaning of Social Entrepreneurship, social entrepreneurship is the process of pursuing innovative solutions to social problems. More specifically, social entrepreneurs adopt a mission to create and sustain social value. They draw upon appropriate thinking in both the business and nonprofit worlds and operate in a variety of organizations: large and small; new and old; religious and secular; nonprofit, for-profit, and hybrid.
Business entrepreneurs typically measure performance in profit and return, but social entrepreneurs also take into account a positive return to society.

Meet these four entrepreneurs to understand how they have created social value by connecting people.
About the Speakers
Mikhail Levkovsky
Founder, Spoil
Mikhail worked, as a QA at EA Mobile, was a teaching assistant at Concordia University and lead the web development for their School of Graduate Studies. He holds a degree in B.Eng. in Software as well as a technical degree in Computer Science from Dawson College. Prior to founding Spoil, he founded a company called Airborne. Airborne allowed people to view curated itineraries from Montreal's top celebrities (i.e. Alexandre Bilodeau, Normand Laprise, Charles Hamelin...). While the product in itself was good, he and his team quickly realized the drawbacks of monetizing Airborne. It was important to know when to realize failure, cut your sunk costs and take another opportunity when it is presented.
His current company Spoil allows people to send gifts in an extremely easy and convenient manner. Whether you want to say "thank you", "I love you" or "pleasure doing business" Spoil is the easiest way to send a high quality gift without any hassle. We are bringing back that moment of joy and excitation of being a kid on Christmas!
Chris Gaulin
President /Chair, The Gaulin Foundation and President, Wi-Fi Country Inc.
Chris is an independent IT consultant based in Winnipeg. Chris owns and operates a wireless Internet service provider, which offers high-speed Internet access to rural communities in Manitoba. For over 15 years, he has deployed web-hosting infrastructures, countless custom web applications, as well as voice-over-IP solutions.
Chris holds a Commerce diploma from Dawson College in Montreal, where he spearheaded a number of disability campaigns as part of his role on Dawson Student Union's Executive Council. He has extensive experience advising and managing not-for-profit organizations, stemming from numerous roles with national charitable organizations.
Tristan Williams
Founder, Tristan WilliaMS Foundation
Tristan Williams is 24 years old and he is a young entrepreneur. At the age of 21, Tristan started his own non-profit organization called the Tristan WilliaMS Foundation to provide support and educational resources as well as raise awareness for young adults living with Multiple Sclerosis (MS).
Tristan has spent many years of his life dealing with the effects of coping and living with chronic illness. At the age of 12, Tristan was diagnosed with thyroid cancer, at the age of 19 he was diagnosed with Multiple Sclerosis and at 21 he was diagnosed with cancer for a second time. Through his experience living with disease, Tristan learned to harness the power of optimism and opportunity. He is an individual who chooses to create opportunities out of defeat. At this stage of Tristan's journey, he is embarking upon a new chapter in his life as a public speaker. As Tristan continues to share his story, he is committed to providing light, love, honesty, truth, and inspiration. He can testify that with support, dedication and faith, anything is possible.
Nathalie Hazan
Founder Raison d'art
Over the past 15 years Nathalie has been working as an artist and a professional therapist, all with a penchant for social entrepreneurship. Her love for art and positive connection are the driving forces behind raison d'art™. Nathalie's newest venture is the 3arts Project, which draws people together to prevent violence in schools. Nathalie holds a Bachelors of Arts from Concordia University (Canada), and a Masters in Art Therapy from Norwich University (USA) and is a Marital and Family Therapist, with post graduate training from The Institute of Family and Community Psychiatry (Canada). She is the creator of art walls all around the world.
When & Where

Dawson College, Conrod's Lounge
4001 Boulevard de Maisonneuve Ouest
Montreal, QC H3Z 3G4
Canada

Thursday, 20 November 2014 from 2:30 PM to 4:00 PM (EST)
Add to my calendar
Organizer
Eweek @ Dawson College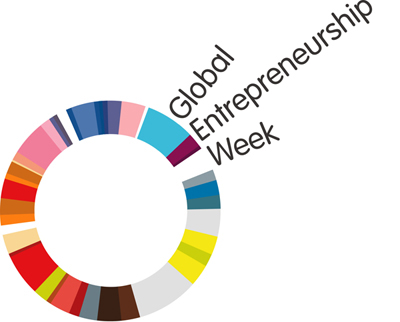 The place to be 
November 12 to 15, 2018!!
Dawson College's Centre for Innovation and Entrepreneurship Education will host Entrepreneurship Week (Eweek) coinciding with Global Entrepreneurship Week, November 12 to 15, 2018. 
Global Entrepreneurship Week (GEW) is an international movement to inspire millions of young people to embrace innovation, imagination and creativity through entrepreneurship. It is estimated over 15 million youngsters participated worldwide in tens of thousands of events and competition for Global Entrepreneurship Week. In Montreal, Dawson College's EWeek will provide a diverse and strong line-up of speakers, networking events, contests and activities for Montrealers and Dawson College students alike.
Many young students will have their first glimpse of a possible alternative career path and connect with seasoned entrepreneurs. All Montrealers are invited and all events are free. Hear inspiring stories of successful entertainers, photographers, illustrators, designers, dancers, programmers and farmers who launched their own businesses.
Dawson College is ideally placed to be a gathering place of high-profile community events. Situated in the heart of Montréal's downtown core, at the Atwater metro station, Dawson is Québec's largest CEGEP with roughly 8,250 full-time day students, 2,400 continuing education students, 600 faculty and  a 200+ team of support staff. The college currently offers over 30 programs in 50+ fields of study, including a variety of programs in the creative sector.
We hope to inspire the next generation of entrepreneurs.  Do you have a big idea??? Would you like to sponsor and event?  Do you want to connect with like-minded people or maybe just observe what the buzz is all about?  Join us for Eweek in November!!
Check out the calendar of events on our site and like us on
Thank you to our sponsors for their invaluable support of Dawson College's Eweek.
______________________________

______________________________