EWeek Panel: Creators and Designers

Wednesday, 19 November 2014 from 2:30 PM to 4:00 PM (EST)
Event Details
 All EWeek events are FREE and open to the public.
Please reserve your ticket here.
 We have door prizes!
CREATORS & DESIGNERS
 Dana Edmonds, CEO of Creation Hotcomb Design
Bess Pappas, President and Creative Director - Pappas Design Studio Inc

Jason Goldsmith, Dawson College Industrial Design graduate &
Founder of Big Blue Hug
Nick Younes,Dawson College Cinema/Video/Communications graduate &
Co-Founder and Creative Director of the IX entertainment collective
About the Speakers
Dana Edmonds
CEO of Création Hotcomb Design

Great design is not superficial, but essential to your competitive advantage.

Creation Hotcomb Design is a graphic and web design studio based in Montreal, working globally. An international web and graphic design studio that creates clean, cutting-edge, professional and custom designs for clients.

With over 15 years of experience in the design industry and a BFA from Nova Scotia College of Art & Design University, Dana has received Best Urban Publication at the Canada Urban Music Awards two years in a row for Word Magazine and first prize in the Poster Design Competition for the McGill University Health Centre. Dana is also an oil painter, singer/songwriter/musician and is relentlessly renovating her home.
Bess Pappas
President and Creative Director - Pappas Design Studio Inc
Bess Pappas, a native Montrealer, has been in the design business for 30 years. After graduating from the Interior Design program at Dawson College in Montreal in 1984, she worked as a designer and then partner for Camdi International Design, a trailblazing Montreal based interior design firm that pierced the shopping centre design industry, which had been dominated by architects at the time.

After having worked at Camdi International for 9 years she started Pappas Design Studio, a boutique design firm that specialized in retail, shopping centre and food retail design projects. Having secured contracts with major supermarket and shopping centre clients early on, Pappas Design Studio continued to develop a blue chip clientele in this area of expertise and now counts many of the major Canadian commercial real estate developers as regular clients. Her firm is now recognized as one of Canada's leading design firms in this niche industry. Over the years, she has assembled a diverse, talented and creative team to bring her client's dreams to reality.
Jason Goldsmith
Communication Artist, Special Needs Consultant, Autism Advocate Founder, The Big Blue Hug
Named after a drawing Jason Goldsmith's son drew to ask him for a bedtime hug, The Big Blue Hug creates heartwarming yet profound gifting art inspired by drawings Ellis makes to communicate.

Ellis has autism. When he was five years old, Ellis lacked a means to communicate. Then Jason discovered his son thinks in pictures, not in words. So he began drawing to communicate with Ellis. A few months later they had a life-changing breakthrough when Ellis began drawing back!

In 2006 Jason began reproducing Ellis' drawings with glass paint, placing the art in shadow boxes and giving each piece its own unique story. All themes revolve around succeeding in life's challenges and the joy of connecting with others.

The Big Blue Hug supplies foundations across Canada with unique and custom inspirational awards and appreciation gifts. The art is a paradigm shift towards a more contemporary and people-centric way of giving thanks.

Jason is a 2002 graduate of the Dawson Industrial Design Program. Not only did Jason's education at Dawson teach him the design skills he needed to develop his gifting art but Jason also credits his Dawson education with the discovery of drawing as a powerful communication medium.

The Big Blue Hug received national media attention through interviews with CBC (Montrealer of the week), CJAD, and CTV. Jason received an award for his contribution to the Montreal autism community from the Montreal Autism Awareness Gala 2011 and The Big Blue Hug has been awarded Le Concours québécois en entrepreneuriat 2007, Montreal West.
Nick Younes
Co-Founder and Creative Director of the IX entertainment collective (www.ixdaily.com).
Launched in 2006 as a special events company, today Indecent Xposure (IX) continues to showcase what really matters to young adults through various digital and traditional platforms in fields such as music, fashion and nightlife culture. IX was conceived at Dawson College and is now primarily an online publication and social media business based out of Toronto, New York and Montreal, catering primarily to the 17-28 age demographic.

Nick Younes is 25 years old and has accomplished much more than anyone else would at his age. He has a background in Film Studies and is certified as an instructor/technician for Apple products. He also works as a freelance consultant in the music industry for emerging acts and talents for major labels such as Universal Canada and Sony Music. When it comes to entrepreneurship, nothing will ever stop him from accomplishing any goal he sets his mind to.
When & Where

Dawson College, Conrod's Lounge
4001 Boulevard de Maisonneuve Ouest
Montreal, QC H3Z 3G4
Canada

Wednesday, 19 November 2014 from 2:30 PM to 4:00 PM (EST)
Add to my calendar
Organizer
Eweek @ Dawson College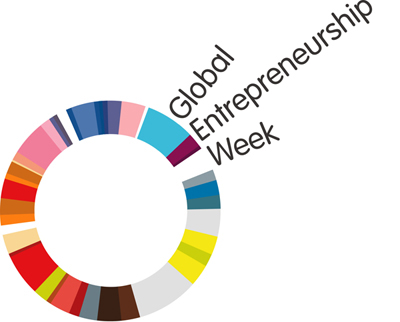 The place to be 
November 12 to 15, 2018!!
Dawson College's Centre for Innovation and Entrepreneurship Education will host Entrepreneurship Week (Eweek) coinciding with Global Entrepreneurship Week, November 12 to 15, 2018. 
Global Entrepreneurship Week (GEW) is an international movement to inspire millions of young people to embrace innovation, imagination and creativity through entrepreneurship. It is estimated over 15 million youngsters participated worldwide in tens of thousands of events and competition for Global Entrepreneurship Week. In Montreal, Dawson College's EWeek will provide a diverse and strong line-up of speakers, networking events, contests and activities for Montrealers and Dawson College students alike.
Many young students will have their first glimpse of a possible alternative career path and connect with seasoned entrepreneurs. All Montrealers are invited and all events are free. Hear inspiring stories of successful entertainers, photographers, illustrators, designers, dancers, programmers and farmers who launched their own businesses.
Dawson College is ideally placed to be a gathering place of high-profile community events. Situated in the heart of Montréal's downtown core, at the Atwater metro station, Dawson is Québec's largest CEGEP with roughly 8,250 full-time day students, 2,400 continuing education students, 600 faculty and  a 200+ team of support staff. The college currently offers over 30 programs in 50+ fields of study, including a variety of programs in the creative sector.
We hope to inspire the next generation of entrepreneurs.  Do you have a big idea??? Would you like to sponsor and event?  Do you want to connect with like-minded people or maybe just observe what the buzz is all about?  Join us for Eweek in November!!
Check out the calendar of events on our site and like us on
Thank you to our sponsors for their invaluable support of Dawson College's Eweek.
______________________________

______________________________