Looks like this event has already ended.
Check out upcoming events by this organizer, or organize your very own event.
EWeek Panel: Driven by Passion: Food and Sports Entrepreneurship

Tuesday, 18 November 2014 from 2:30 PM to 4:00 PM (EST)
Event Details
All EWeek events are FREE and open to the public. Please reserve your ticket here.
We have door prizes!!
Driven by Passion
Gert Janssens, Founder, Ferme d'ORée 
Caithrin Ritoul, Entrepreneur & CEO, Provender
Ralph D'Iorio, Founder, Hockey Balle Montréal
Domenico Ciarallo, Founder Global Premiums, Rocket Sport, Proudly Canadian
What does Food Entrepreneurship, Hockey and Sports Equipment have in common? Why don't you drop by and find out what drives these four awesome entrepreneurs.
About the Speakers
Gert Janssens
Founder, Ferme d'ORée
Gert Janssens is an economics teacher at Dawson College. He holds Master's degrees in Economics (with great distinction) and Education. He is currently finishing a Ph.D. in Administration (quantitative methods) at HEC Montreal. Together with his wife Sarah, his children Rosalie and Camille and the help of many international volunteers, he operates an alternative family farm in the Eastern Townships. The Ferme d'ORée Farm produces grass-fed beef, pastured lamb, woodlot pork and unpasteurised honey. The Ferme d'ORée Farm operates under the principles of environmental agriculture. Almost all produce is sold directly to local clients and clients in Montreal via the farm website www.fermedoree.com.
Caithrin Ritoul
Food+Tech Entrepreneur and CEO, Provender
Cai is a food and tech entrepreneur and speaker, currently the CEO of Provender, farm-to-fork marketplace based in Montreal, QC.
Cai has extensive experience with the production and distribution of local food as a former co-director of the Marché Fermier. He has also worked with Lufa Farms as a consultant and later Product Manager. He has managed the distribution of over 1000 weekly produce baskets destined for consumers in Montreal, acted as a consultant on the topic of urban agriculture in Canada, leading workshops and seminars in Montreal, Toronto and Vancouver on the influence of Urban Agriculture on cities, and leveraged this expertise to win a global competition to design a system for Plantagon in Sweden involving waste-to-energy conversions from biogas facilities to greenhouse agriculture.
Cai caught the startup bug and founded Provender in 2013 with Kyra and Jeff after two years of debate and discussion around the role of technology in food systems. www.provender.com
He loves competitive show jumping, Moksha Yoga, making stuff from scratch, permaculture, Wendell Berry, and the blossoming tech scene in Montreal.
Ralph A. D'Iorio
Founder, Hockey Balle Montréal
Ralph A. D'Iorio graduated from McGill University's Desautels Faculty of Management in 2006. Shortly after, Ralph entered the workforce as an Account Manager for HSBC Bank Canada.  Four years later, he decided to take on other challenges and accepted a position as Management Consultant for BDO Canada. During this period, he was given the opportunity to work on numerous risk management projects hand in hand with many influential people amongst the biggest financial institutions in Canada. Nevertheless, Ralph was unable to satisfy his need to undertake projects that were closer to his areas of interest. He has been a diehard hockey fan for as long as he can remember. Seven years ago, having completed his junior hockey, Ralph couldn't imagine himself calling it quits... It was at that time that he decided to begin a pickup ball hockey league with friends. During its first season, over 50 different people actively participated. The organization of these gatherings was so popular that word of mouth managed to double the number of participants within 6 months.
Two years later, Ralph found himself managing over 70 teams (a total of 700 participants) in a school gym, 6 days a week, while having to work for his employer during the day. Ralph is now the owner and president of four different ball hockey leagues located within and around the Montreal area. With over 3000 members, Regroupement Hockey Balle Montréal is now one of the biggest recreational businesses in the province. The popularity of the sport is so big that it has been given its own television series on RDS. Regroupement Hockey Balle Montréal has been presented on the air during the last two years with ratings of over 50 000 viewers per episode. Ralph has recently given his resignation from BDO Canada in order to concentrate on developing his business. The numerous ball hockey complexes now allow children, adolescents and adults to practice an affordable sport with friends and colleagues all year long within a secure and well structured environment. You can follow the company's activities and offerings by visiting their website at www.hockeyballemtl.com
Domenico Ciarallo
Global Premiums Corp & Inventor of the Rocket Sport Dryer, Corporate Promotional Expert & Entrepreneur
Domenico Ciarallo is a serial entrepreneur who has accumulated 25 years of experience in the corporate incentive and promotional industry. As with most Canadians, hockey has played an important role in Domenico Ciarallo's life and his passion for the sport helped motivate his latest business endeavor — the Rocket Sport Dryer.
This West Island entrepreneur grew up in Beaconsfield and went to Italy to play professional hockey after graduating university. Upon his return to Montreal, Ciarallo put his economics degree to good use. He founded Global Premiums, a marketing company located on the West Island that specializes in premium sportswear, accessories and related services. In 2004 Ciarallo founded the Proudly Canadian line of clothing and accessories and quickly turned the company into a recognized brand for Canadians around the world. A few years ago he added a new line for his Québécois customers — Fièrement Québécoise. You can find his products in North America & International retail markets. http://rocketsportdryer.com/
When & Where

Dawson College, Conrod's Lounge
4001 Boulevard de Maisonneuve Ouest
Montreal, QC H3Z 3G4
Canada

Tuesday, 18 November 2014 from 2:30 PM to 4:00 PM (EST)
Add to my calendar
Organizer
Eweek @ Dawson College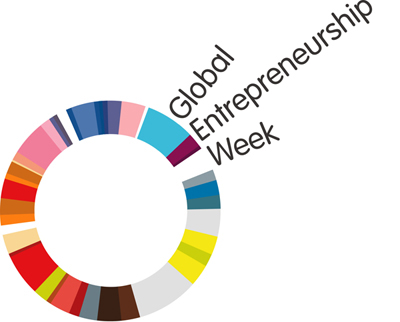 The place to be 
November 12 to 15, 2018!!
Dawson College's Centre for Innovation and Entrepreneurship Education will host Entrepreneurship Week (Eweek) coinciding with Global Entrepreneurship Week, November 12 to 15, 2018. 
Global Entrepreneurship Week (GEW) is an international movement to inspire millions of young people to embrace innovation, imagination and creativity through entrepreneurship. It is estimated over 15 million youngsters participated worldwide in tens of thousands of events and competition for Global Entrepreneurship Week. In Montreal, Dawson College's EWeek will provide a diverse and strong line-up of speakers, networking events, contests and activities for Montrealers and Dawson College students alike.
Many young students will have their first glimpse of a possible alternative career path and connect with seasoned entrepreneurs. All Montrealers are invited and all events are free. Hear inspiring stories of successful entertainers, photographers, illustrators, designers, dancers, programmers and farmers who launched their own businesses.
Dawson College is ideally placed to be a gathering place of high-profile community events. Situated in the heart of Montréal's downtown core, at the Atwater metro station, Dawson is Québec's largest CEGEP with roughly 8,250 full-time day students, 2,400 continuing education students, 600 faculty and  a 200+ team of support staff. The college currently offers over 30 programs in 50+ fields of study, including a variety of programs in the creative sector.
We hope to inspire the next generation of entrepreneurs.  Do you have a big idea??? Would you like to sponsor and event?  Do you want to connect with like-minded people or maybe just observe what the buzz is all about?  Join us for Eweek in November!!
Check out the calendar of events on our site and like us on
Thank you to our sponsors for their invaluable support of Dawson College's Eweek.
______________________________

______________________________