Eweek Speaker Series: "We do it in Public"

Tuesday, 14 November 2017 from 11:00 AM to 12:00 PM (EST)
Event Details

All EWeek events are FREE and open to the public.
Please reserve your ticket here.
We have door prizes!!!
"We do it in Public"

by Special Invitation
Sakchin Bessette
Cofounder and Executive Creative Director
Moment Factory
Guided by the credo "we do it in public," Moment Factory creates new forms of entertainment, be it rock shows, enchanted forests, or transforming the way we experience an airport. Co-Founder and Executive Creative Director Sakchin Bessette will share the story of how Moment Factory began in Montreal in 2001 with 3 friends creating visuals for the rave scene. Through his experience of growing Moment Factory to a company with innovative projects around the world, the audience will see how factors in Sakchin's approach contribute to Moment Factory's success. Some of these include working with collaborators, striving to create epic moments, and having fun while getting it done.


About Sakchin
Sakchin Bessette co-founded Moment Factory in 2001. His vision was to create a new media art studio that seamlessly merged content creation with an avant-garde use of technology. Trained in photography, he combines technological and artistic ingenuity with a passion for surpassing the boundaries of new media art.
Sakchin leads Moment Factory's creative team of creative directors, multimedia directors, artistic directors, designers, concept artists, animators, editors, directors of photography and managers. Altogether, Moment Factory comprises more than 250 in-house employees plus dozens of project-based freelancers and subcontractors. Sakchin is actively involved in many of the studio's projects, inspiring and directing teams to ensure that every production bears Moment Factory's unique signature and exceptional standards.
Sakchin strives to tell stories in new and unexpected ways while engaging the public with new forms of entertainment on stages, in public spaces, museums and through immersive and interactive experiences. He has been the creative lead behind many of Moment Factory's most prominent productions, most notably for the permanent installation at Los Angeles International Airport, Ode to Life on the Sagrada Familia in Barcelona, Madonna's Super Bowl halftime show, and AURA at Montreal's Notre-Dame Basilica.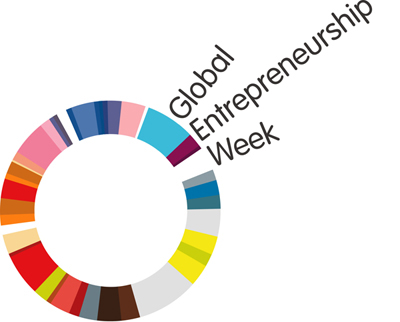 Did you know that the more EWeek events you attend the greater your chances of winning a Google Chromebook? Exchange your passport for the contest draw on Thursday. See Passport for details
When & Where

Dawson College, Conrod's Lounge
4001 Boulevard de Maisonneuve Ouest
Montreal, QC H3Z 3G4
Canada

Tuesday, 14 November 2017 from 11:00 AM to 12:00 PM (EST)
Add to my calendar
Organizer
Eweek @ Dawson College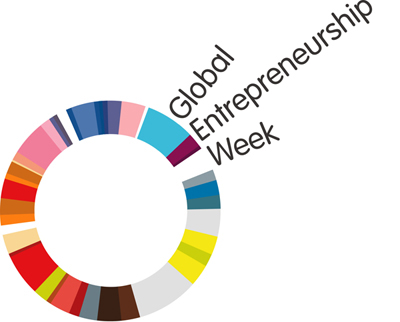 The place to be 
November 12 to 15, 2018!!
Dawson College's Centre for Innovation and Entrepreneurship Education will host Entrepreneurship Week (Eweek) coinciding with Global Entrepreneurship Week, November 12 to 15, 2018. 
Global Entrepreneurship Week (GEW) is an international movement to inspire millions of young people to embrace innovation, imagination and creativity through entrepreneurship. It is estimated over 15 million youngsters participated worldwide in tens of thousands of events and competition for Global Entrepreneurship Week. In Montreal, Dawson College's EWeek will provide a diverse and strong line-up of speakers, networking events, contests and activities for Montrealers and Dawson College students alike.
Many young students will have their first glimpse of a possible alternative career path and connect with seasoned entrepreneurs. All Montrealers are invited and all events are free. Hear inspiring stories of successful entertainers, photographers, illustrators, designers, dancers, programmers and farmers who launched their own businesses.
Dawson College is ideally placed to be a gathering place of high-profile community events. Situated in the heart of Montréal's downtown core, at the Atwater metro station, Dawson is Québec's largest CEGEP with roughly 8,250 full-time day students, 2,400 continuing education students, 600 faculty and  a 200+ team of support staff. The college currently offers over 30 programs in 50+ fields of study, including a variety of programs in the creative sector.
We hope to inspire the next generation of entrepreneurs.  Do you have a big idea??? Would you like to sponsor and event?  Do you want to connect with like-minded people or maybe just observe what the buzz is all about?  Join us for Eweek in November!!
Check out the calendar of events on our site and like us on
Thank you to our sponsors for their invaluable support of Dawson College's Eweek.
______________________________

______________________________