EWeek Workshop: Creativity: Bringing Ideas to Life

Wednesday, 19 November 2014 from 4:30 PM to 5:30 PM (EST)
Event Details
All EWeek events are FREE and open to the public.
Please reserve your ticket here. We have door prizes!!
CREATIVITY WORKSHOP
Bringing Ideas to Life
Francis Gosselin, Co-founder f& co.
How to use co-creation techniques to build your value proposition.
About Francis Gosselin
Founding Partner of f. & co.
Francis holds a Ph.D. in Economics from the University of Strasbourg. A HEC Montréal graduate in International Business, he has worked with several administrative bodies in Canada, France and the United States, in the fields of economic and cultural development. His dissertation focused on bureaucratic creativity within large international organizations. In France, he was editor-in-chief of La Gazette Cournot, a monthly publication focused on economic, political and social affairs. He has been the "creative community manager" of the MosaiC HEC Montréal platform for several years. He has also organized and managed the Fall School on Management of Creativity in Strasbourg. Writer, avid blogger and keynote speaker, Francis is the Editor in Chief of cllbr.com, an ambassador for the C2-MTL business conference and the Head of Content of Creative Mornings/Montréal.
What is Creative Mornings?
A global event, Creative Morinings is a breakfast-lecture series for the creative community.
In 2008, Tina Roth Eisenberg (Swissmiss) started CreativeMornings out of a desire for an ongoing, accessible event for New York's creative community. The concept was simple: breakfast and a short talk one Friday morning a month. Every event would be free of charge and open to anyone.
Today, attendees gather in cities around the world to enjoy fresh coffee, friendly people, and an international array of breakfast foods. Volunteer hosts and their team members organize local chapters that not only celebrate a city's creative talent, but also promote an open space to connect with like-minded individuals.
The growing archive of past breakfast talks is humbling. From design legends to hometown heroes, speakers are selected by each chapter based on a global theme. CreativeMornings remains free thanks to the support of local sponsors, generous venues, and longterm partners.
Anyone can attend. Just register beforehand to reserve your spot. Remember to set your alarm, and we'll see you in the morning!
http://creativemornings.com/
When & Where

Dawson College, Conrod's Lounge
4001 Boulevard de Maisonneuve Ouest
Montreal, QC H3Z 3G4
Canada

Wednesday, 19 November 2014 from 4:30 PM to 5:30 PM (EST)
Add to my calendar
Organizer
Eweek @ Dawson College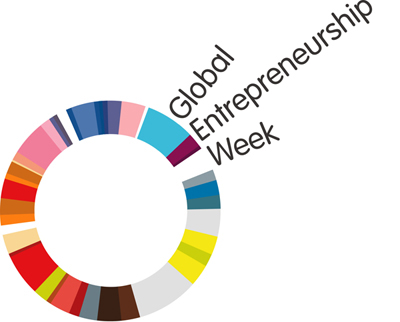 The place to be 
November 12 to 15, 2018!!
Dawson College's Centre for Innovation and Entrepreneurship Education will host Entrepreneurship Week (Eweek) coinciding with Global Entrepreneurship Week, November 12 to 15, 2018. 
Global Entrepreneurship Week (GEW) is an international movement to inspire millions of young people to embrace innovation, imagination and creativity through entrepreneurship. It is estimated over 15 million youngsters participated worldwide in tens of thousands of events and competition for Global Entrepreneurship Week. In Montreal, Dawson College's EWeek will provide a diverse and strong line-up of speakers, networking events, contests and activities for Montrealers and Dawson College students alike.
Many young students will have their first glimpse of a possible alternative career path and connect with seasoned entrepreneurs. All Montrealers are invited and all events are free. Hear inspiring stories of successful entertainers, photographers, illustrators, designers, dancers, programmers and farmers who launched their own businesses.
Dawson College is ideally placed to be a gathering place of high-profile community events. Situated in the heart of Montréal's downtown core, at the Atwater metro station, Dawson is Québec's largest CEGEP with roughly 8,250 full-time day students, 2,400 continuing education students, 600 faculty and  a 200+ team of support staff. The college currently offers over 30 programs in 50+ fields of study, including a variety of programs in the creative sector.
We hope to inspire the next generation of entrepreneurs.  Do you have a big idea??? Would you like to sponsor and event?  Do you want to connect with like-minded people or maybe just observe what the buzz is all about?  Join us for Eweek in November!!
Check out the calendar of events on our site and like us on
Thank you to our sponsors for their invaluable support of Dawson College's Eweek.
______________________________

______________________________