EWeek Workshop: Crowdfunding: Show Me The Money

Tuesday, 18 November 2014 from 4:30 PM to 5:30 PM (EST)
Event Details
All EWeek events are FREE and open to the public. Please reserve your ticket here.
 We have door prizes!
CROWDFUNDING WORKSHOP
Show Me The Money!!
Christa Fairchild, Director of Marketing for Vrvana
Crowdfunding has become THE biggest trend in financial support for small business. With a seemingly endless list of projects launched every day, it seems like a pot of gold without sacrificing equity. Since launching in 2009, over $1.22 billion has been pledged through Kickstarter by more than 6.6 million people, funding over 69,000 creative projects.
Through her own experiences, Christa shares the benefits and pitfalls of using crowdfunding.
About Christa Fairchild
As Chief Operating Office at Neptune Computer, Christa helped raise $800,000 dollars on Kickstarter last year for the Pine smartwatch. She is currently the Director of Marketing for Vrvana who launched in September a Kickstarter campaign for the Totem Virtual Reality headset. Her drive is to commercialize world wide the Totem for gaming as well as B2B. She falls back on her skills in business as well as the arts - an MBA graduate, she is an accomplished fine art photographer and speaker.
When & Where

Dawson College, Conrod's Lounge
4001 Boulevard de Maisonneuve Ouest
Montreal, QC H3Z 3G4
Canada

Tuesday, 18 November 2014 from 4:30 PM to 5:30 PM (EST)
Add to my calendar
Organizer
Eweek @ Dawson College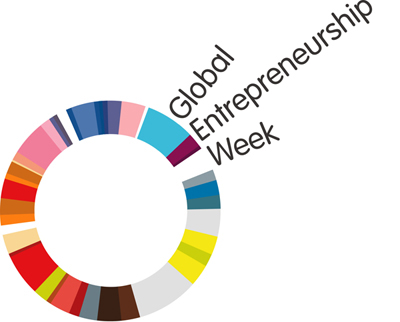 The place to be 
November 12 to 15, 2018!!
Dawson College's Centre for Innovation and Entrepreneurship Education will host Entrepreneurship Week (Eweek) coinciding with Global Entrepreneurship Week, November 12 to 15, 2018. 
Global Entrepreneurship Week (GEW) is an international movement to inspire millions of young people to embrace innovation, imagination and creativity through entrepreneurship. It is estimated over 15 million youngsters participated worldwide in tens of thousands of events and competition for Global Entrepreneurship Week. In Montreal, Dawson College's EWeek will provide a diverse and strong line-up of speakers, networking events, contests and activities for Montrealers and Dawson College students alike.
Many young students will have their first glimpse of a possible alternative career path and connect with seasoned entrepreneurs. All Montrealers are invited and all events are free. Hear inspiring stories of successful entertainers, photographers, illustrators, designers, dancers, programmers and farmers who launched their own businesses.
Dawson College is ideally placed to be a gathering place of high-profile community events. Situated in the heart of Montréal's downtown core, at the Atwater metro station, Dawson is Québec's largest CEGEP with roughly 8,250 full-time day students, 2,400 continuing education students, 600 faculty and  a 200+ team of support staff. The college currently offers over 30 programs in 50+ fields of study, including a variety of programs in the creative sector.
We hope to inspire the next generation of entrepreneurs.  Do you have a big idea??? Would you like to sponsor and event?  Do you want to connect with like-minded people or maybe just observe what the buzz is all about?  Join us for Eweek in November!!
Check out the calendar of events on our site and like us on
Thank you to our sponsors for their invaluable support of Dawson College's Eweek.
______________________________

______________________________